Elevate your breakfast or brunch with this Spinach Artichoke Frittata. It's bursting with flavor and wholesome ingredients and can be on your table in 35 minutes.
This post was originally published on April 29, 2019, and has been fully updated.
Spinach Artichoke Frittata with Feta and Lemon
If you love savory breakfast dishes as much as I do, you will love this Spinach and Artichoke Frittata. We're going heavy on veggies and cheese for a hearty and satisfying meal.
Made with readily available ingredients.
Flavors are familiar and well-balanced.
Ready in just 35 minutes.
Delicious when served warm or at room temperature.
Ideal for breakfast and brunch or serve as a light lunch or dinner with Strawberry Avocado Salad.
What is a Frittata?
A frittata is essentially a quiche without a crust. Beaten eggs are combined with any variety of veggies, meat, and cheese.
A frittata is started on the stovetop and finished in the oven. A non-stick oven-safe skillet is a must to ensure the finished frittata will slide right out of the pan.
Frittatas are ideal for cleaning out your refrigerator and using whatever you have on hand. Like quiche, frittatas can be served warm or at room temperature.
Ingredient notes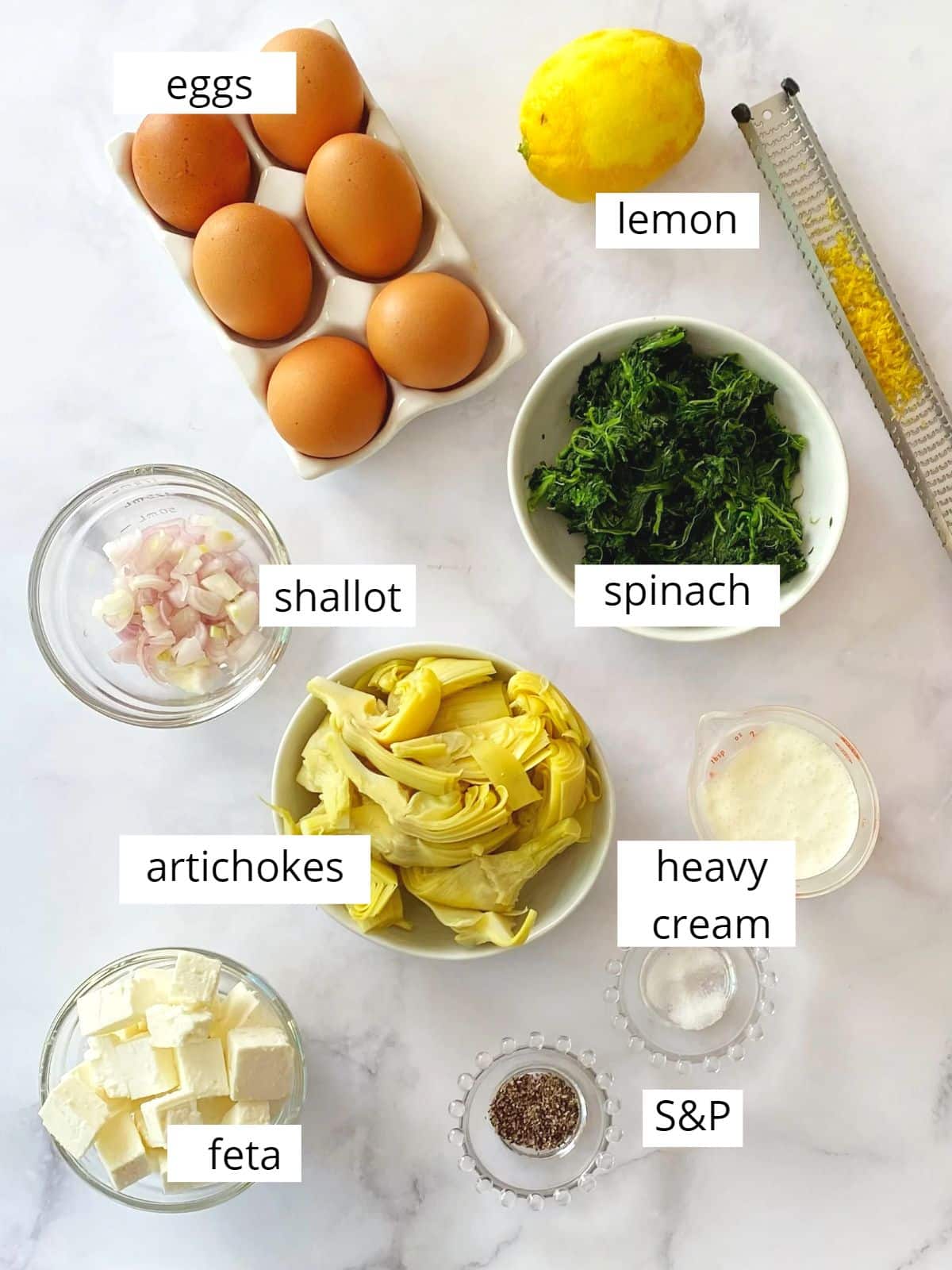 Shallots have a mild onion flavor. Red or sweet onions can also be used.
Artichoke hearts - I use canned artichoke hearts because I always have them in my pantry. Frozen can also be used. Be sure to thaw and drain first.
Spinach - I used frozen chopped spinach, thawed and drained. Fresh can also be used. You will need approx. 1 pound of fresh spinach to equal a 10-ounce package of frozen. Trim the stems off for the best texture.
Heavy cream adds richness to the egg mixture. Half-and-half or whole milk can also be used.
Lemon zest adds acidity and brightens up all of the flavors.
Feta cheese - Tangy feta pairs beautifully with spinach and artichokes. I prefer goat and sheep's milk feta such as this Mt. Vikos Barrel Aged Feta. I recommend buying a block as it stays fresh longer than pre-crumbled. If feta isn't your favorite, Gruyere, Mozzarella, and Parmesan are all great options.
Step-by-step instructions
See the recipe card for complete instructions and ingredient amounts.
Preheat the oven to 375 degrees. Heat 2 teaspoons of oil in an oven-safe skillet over medium heat.
Add the shallots and artichoke hearts and sauté for 2-3 minutes until the shallots have softened.
Meanwhile, add the eggs and cream to a mixing bowl and whisk to combine.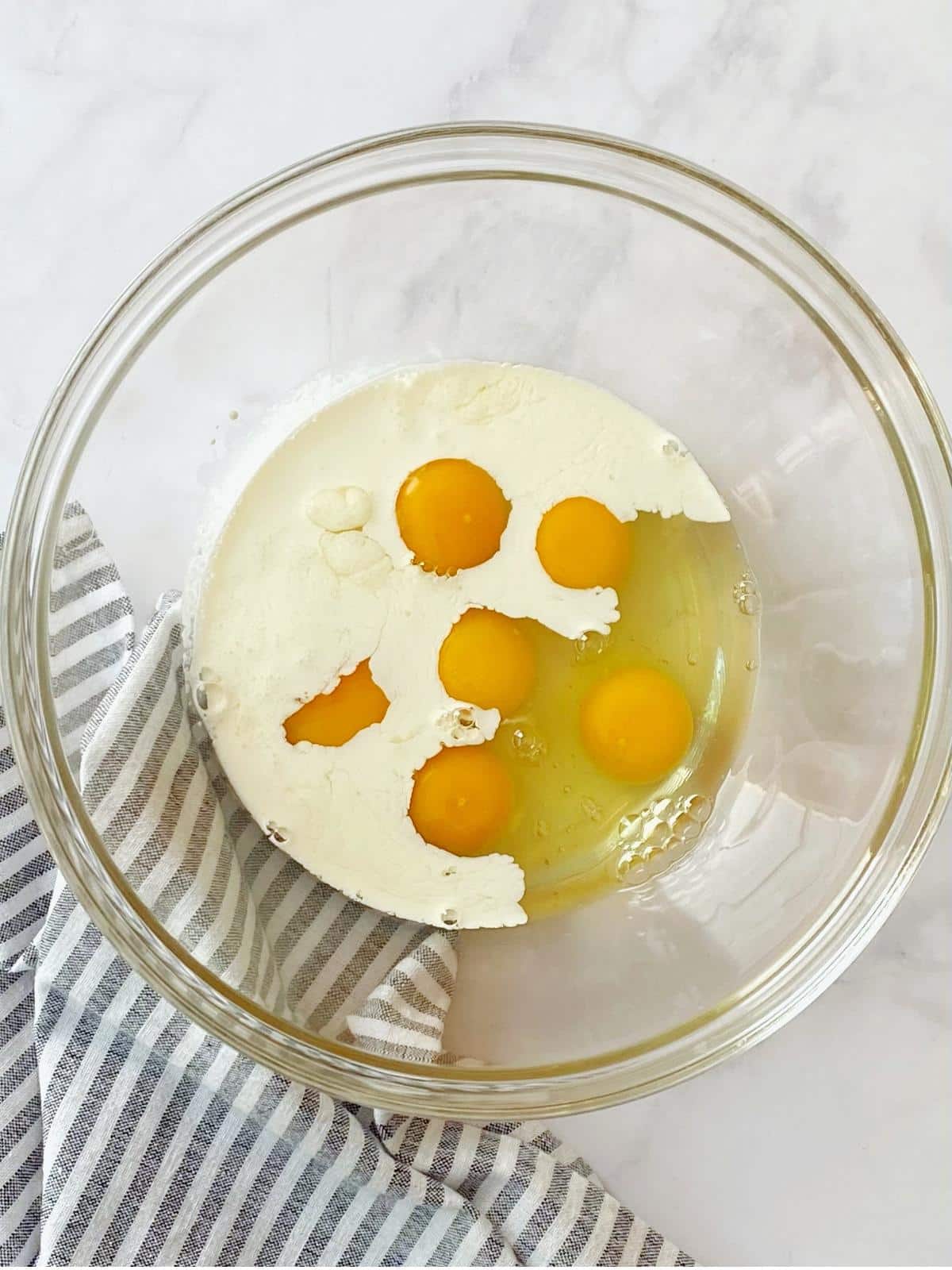 Add the spinach, lemon zest, salt, and pepper. Whisk to combine.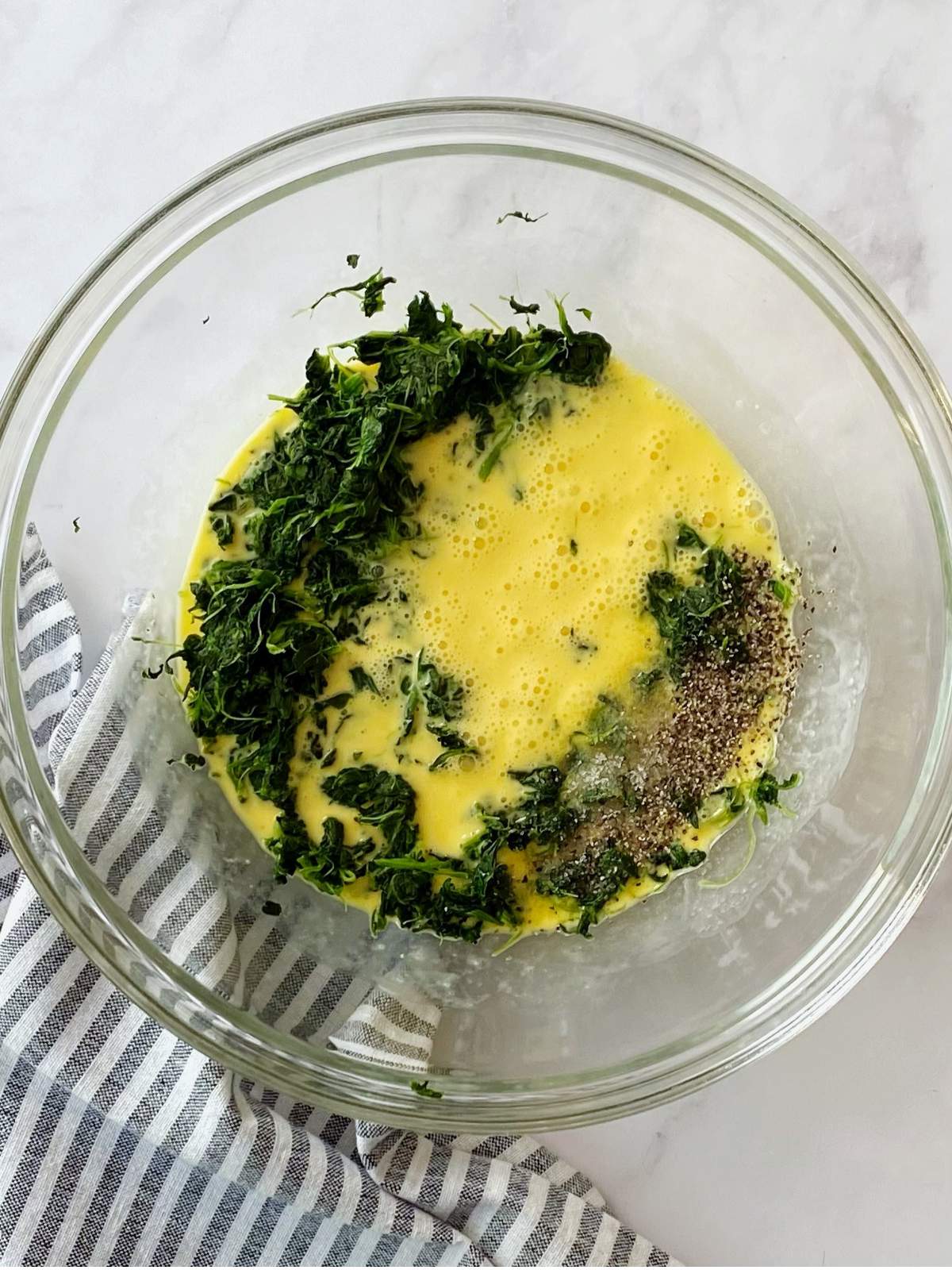 Add the egg mixture to the skillet with the artichokes and shallots. Top with the feta.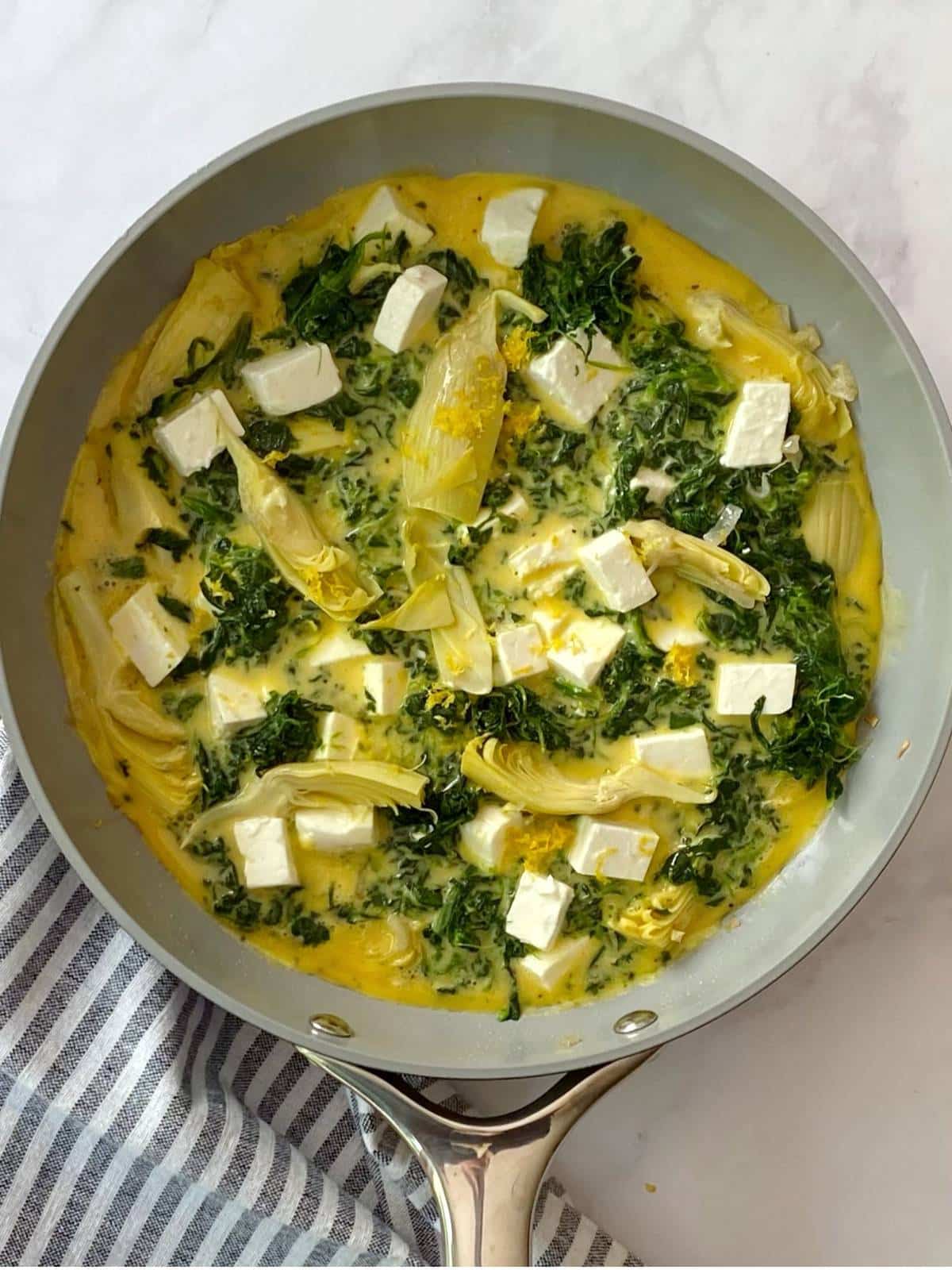 Bake for 13-15 minutes until the eggs are set and the edges are lightly browned. Rest for 5 minutes before sliding the frittata onto a serving platter or cutting board.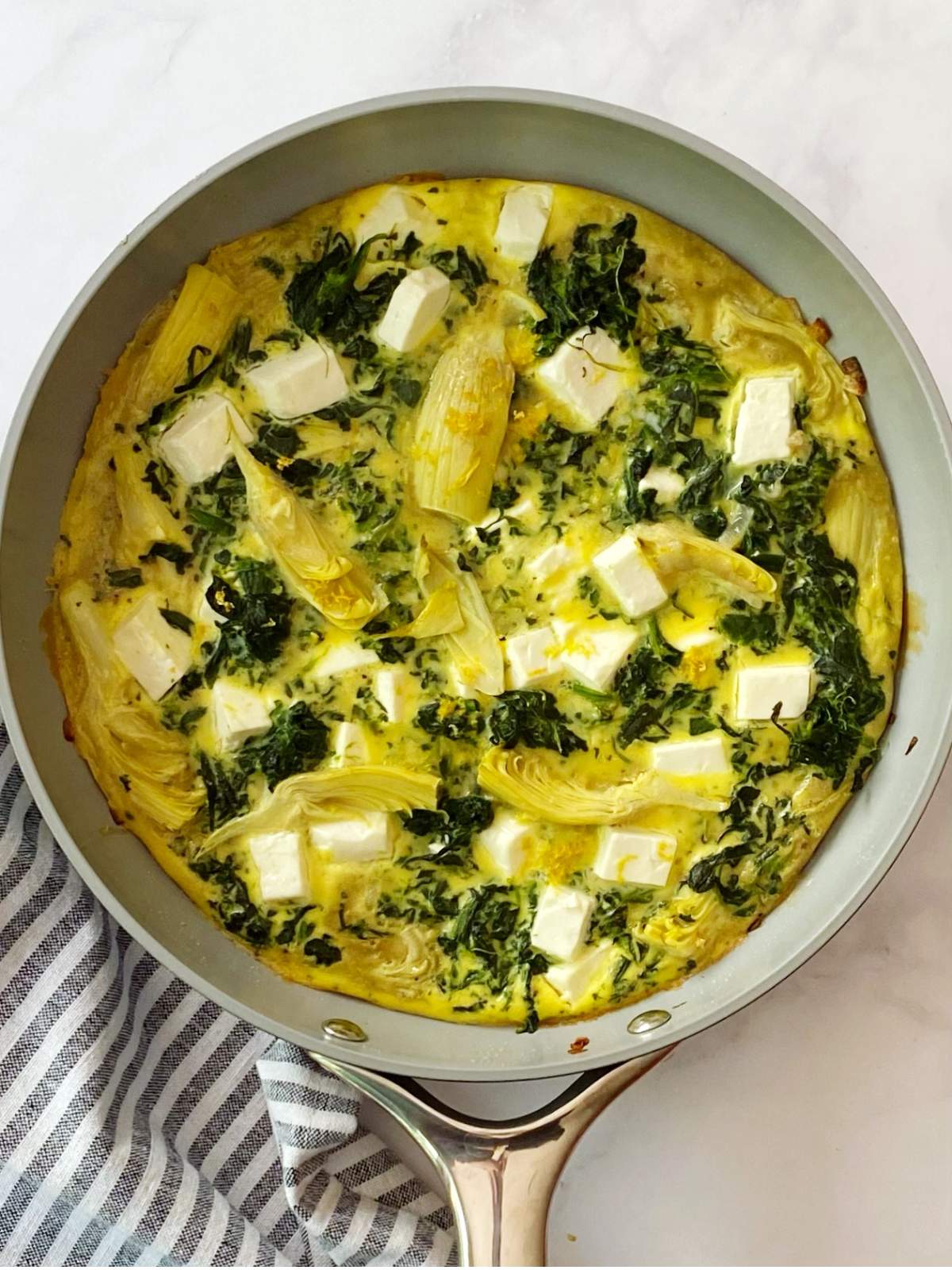 What to serve with a frittata
Frittatas can be served warm or at room temperature - for breakfast, brunch, lunch, or a light dinner. Here are some delicious ideas for serving:
Tips
Use a non-stick pan to ensure the frittata will slide right out of the pan. If you prefer to use a well-seasoned cast-iron skillet, you can serve the frittata in the skillet.
Be sure to squeeze the excess water out of the spinach and drain the artichokes. Nobody wants a watery frittata.
Use a block of feta - not pre-crumbled - for the freshest flavor.
Store leftovers in the refrigerator for 1-2 days. Reheat individual slices in the microwave.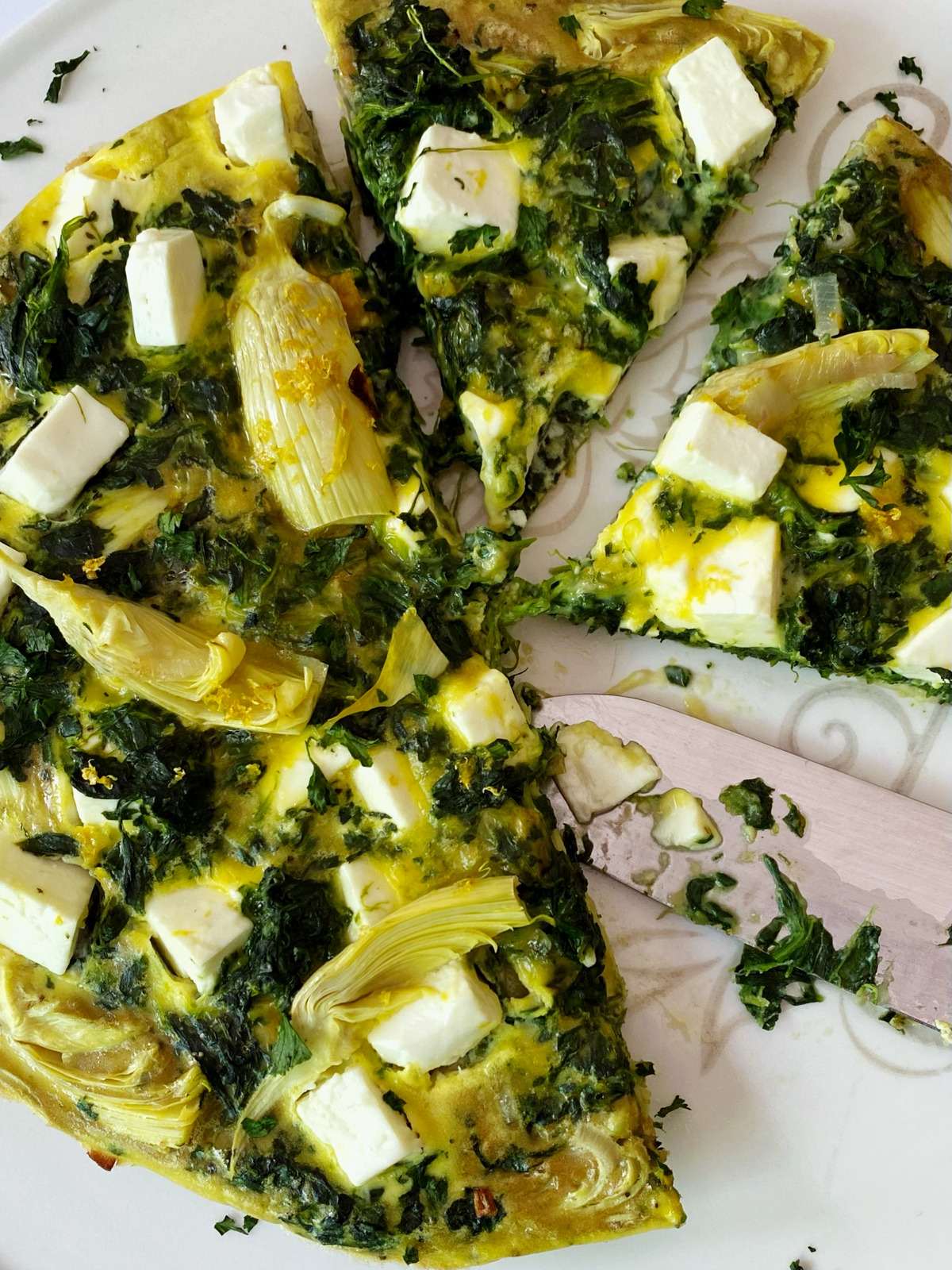 FAQs
Why do I need to add milk to a frittata?
Dairy adds a creamy and fluffy texture to the frittata. Without it, the frittata would be dense. Milk, cream - even yogurt or cottage cheese - can all be used.
Can I add meat to spinach artichoke frittata?
If you want to add extra protein to this frittata, bacon (or pancetta) is a delicious option. Cook the bacon (or pancetta) until brown and crisp before adding it to the frittata.
More egg-tastic recipes to try