Prosciutto Melon Basil Skewers pair sweet melon and salty prosciutto with basil and chili lime salt for a sweet-salty appetizer.  Quick and easy with no cooking required.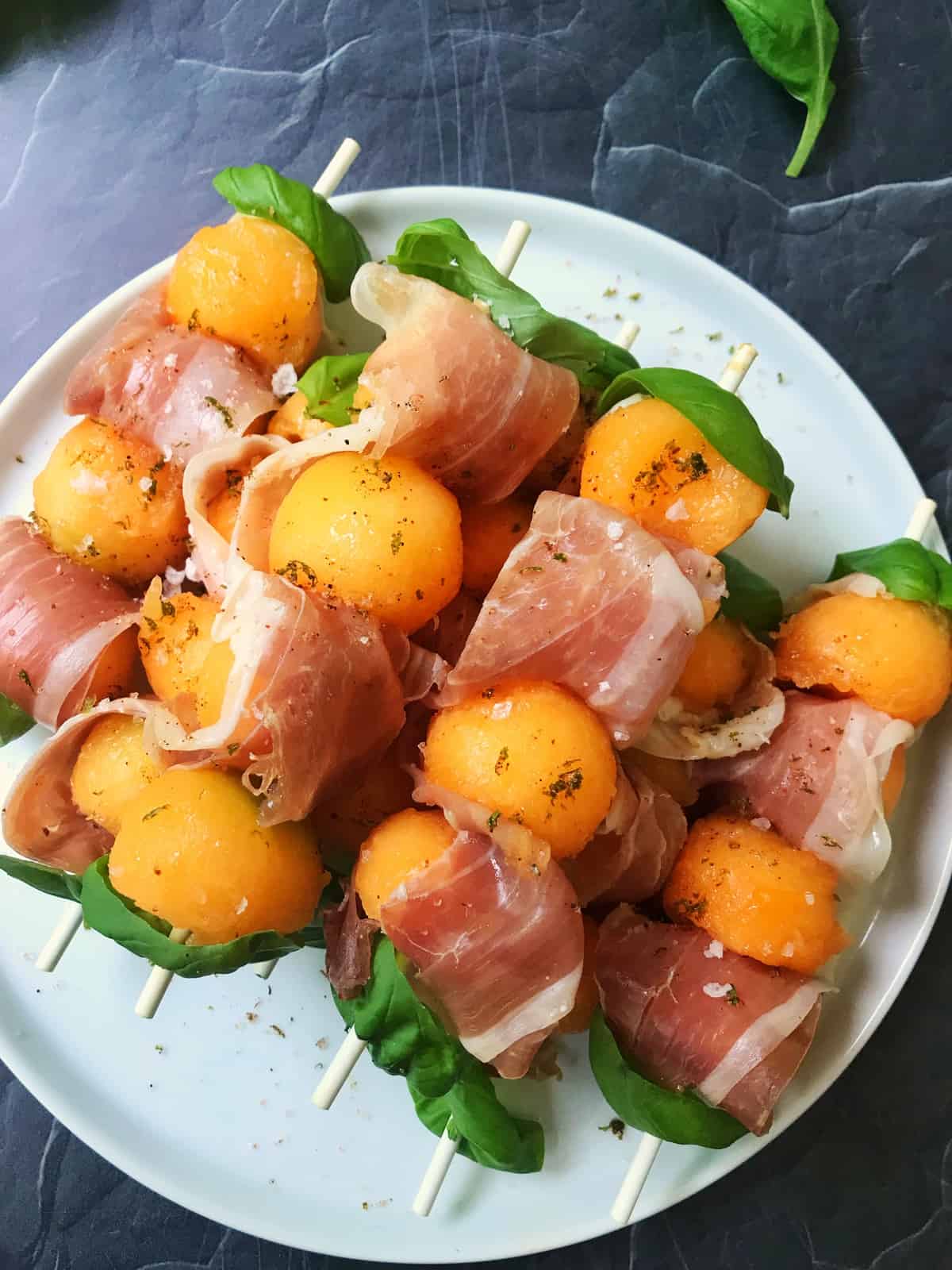 Prosciutto and melon is a classic combination. There's something a little bit fancy about this pairing, yet it is so fuss-free. And, there's no cooking involved. Perfect for summer. Serve these skewers as an appetizer or snack. Or add these alongside some grilled chicken or fish for a twist on a salad.
Assembling the skewers
These skewers have prosciutto woven in between balls of cantaloupe and fresh basil leaves capping each end. This makes for a pretty presentation.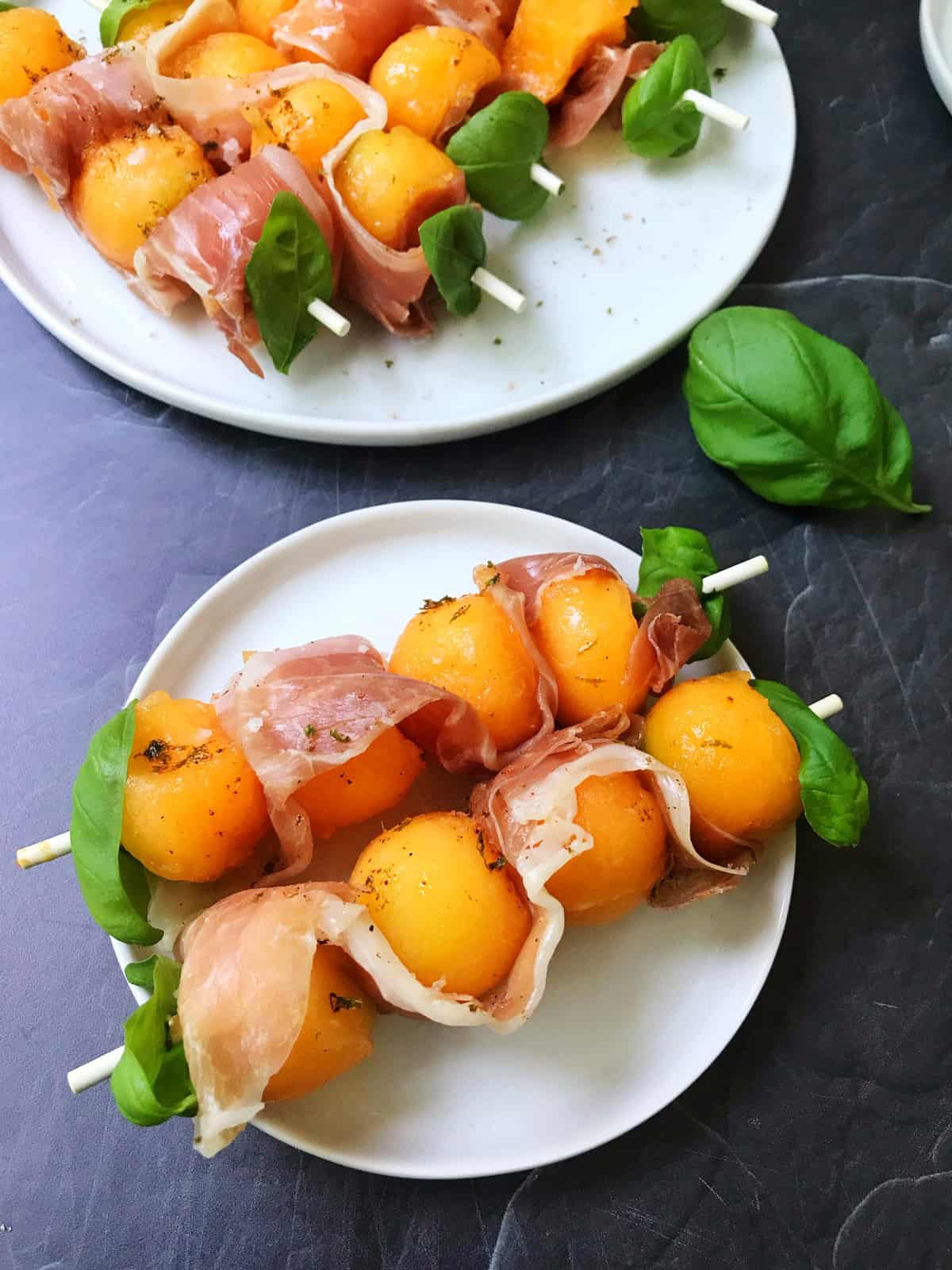 To weave the prosciutto around the cantaloupe, start by folding each slice of prosciutto in half lengthwise and poking the skewer through one end. Push the skewer through so there is just enough room to thread on one melon ball. Next, pull the prosciutto up under the melon and poke the skewer through it again. Next, thread on another melon ball and pull the prosciutto over the top of the melon and thread the skewer back through. Keep alternating with the melon ball and prosciutto. One slice of prosciutto should wrap around four melon balls, which will fit on a 6-inch skewer.
This weaving action is easy to get the hang of. But if it seems too fussy, smaller pieces of prosciutto can simply be threaded on the skewers alternating with the melon.
Chili Lime Salt
Prosciutto and melon is such a fabulous combination because the salty and sweet work so well together. To enhance this, I like to finish the skewers with a sprinkling of chili lime salt. This salt is a blend of lime zest, chili powder, and fleur de sel or flaky sea salt. I love the zip of the lime zest and the chili powder adds the slightest bit of heat.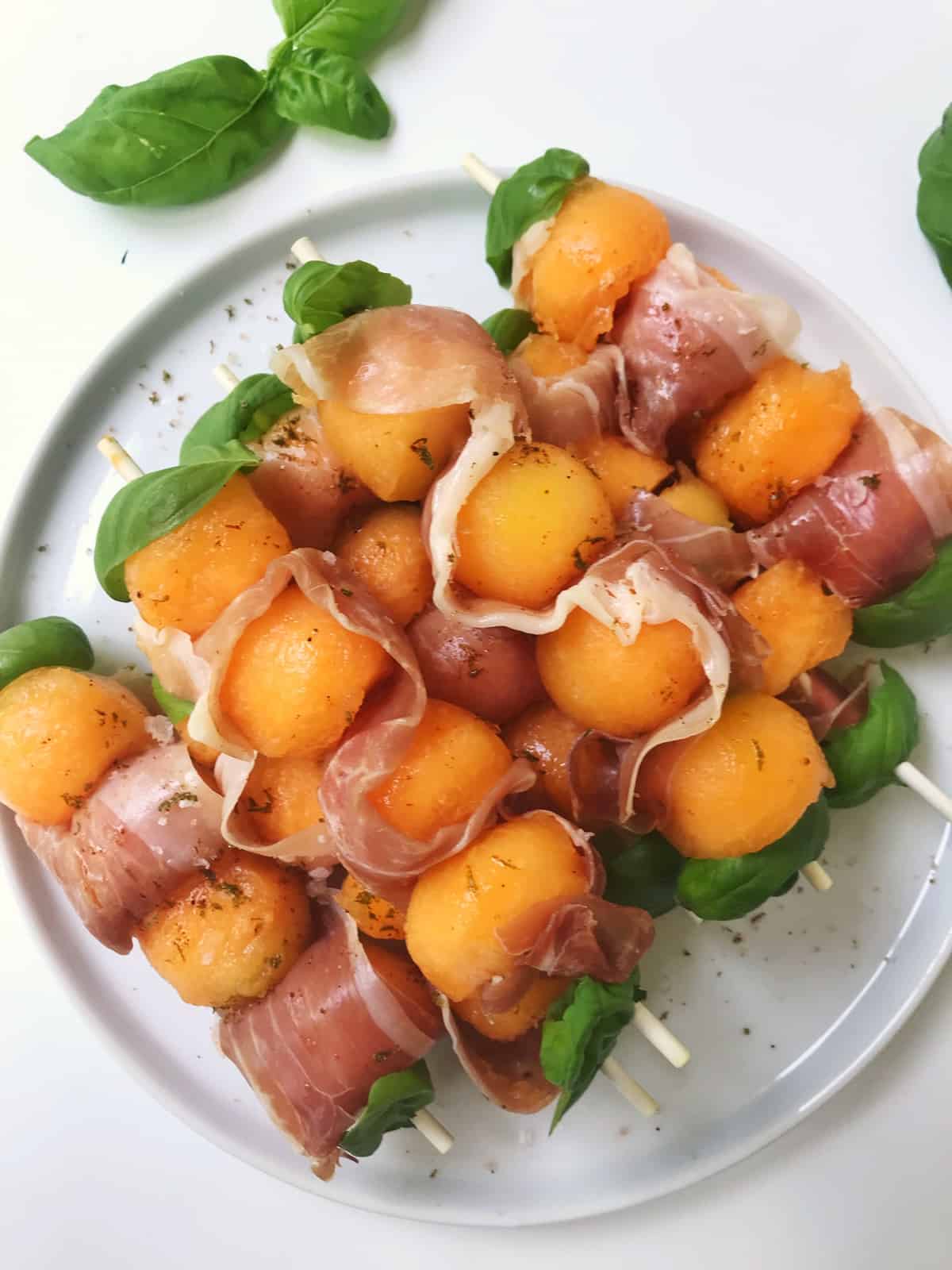 Prosciutto Melon Basil skewers make a delicious addition to a party, picnic, or brunch table.  If you try this recipe, please leave me a comment below and tag me on Instagram @mycasualpantry so I can see your creation.
Other party-perfect recipes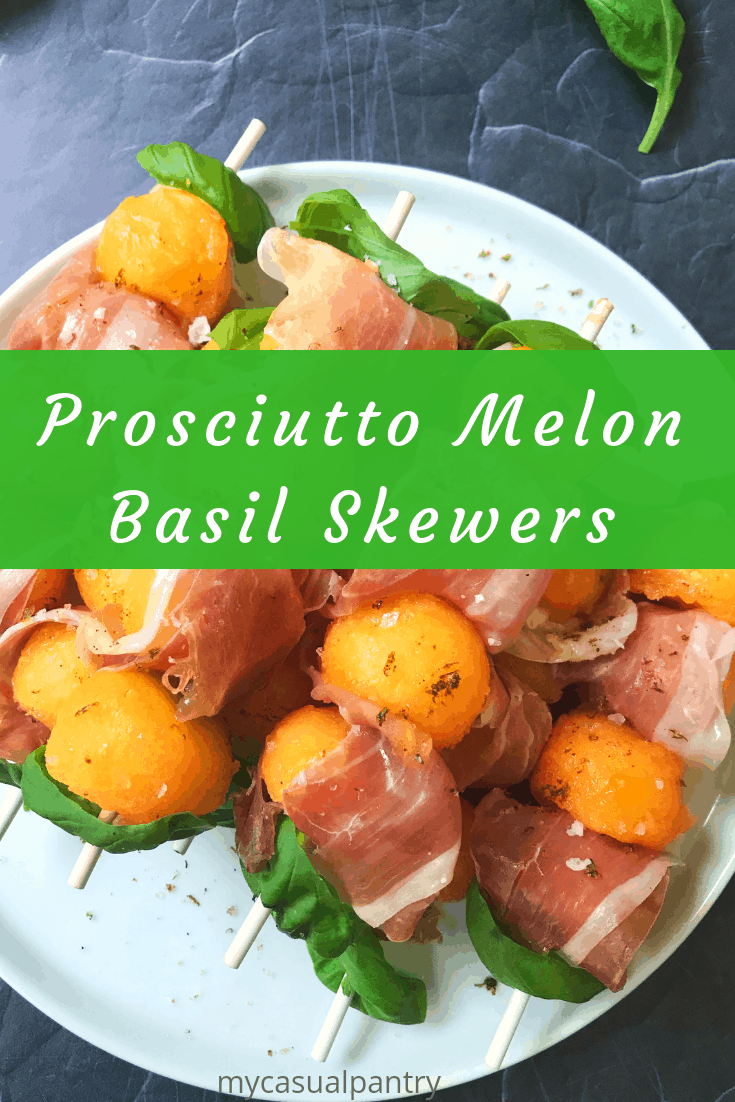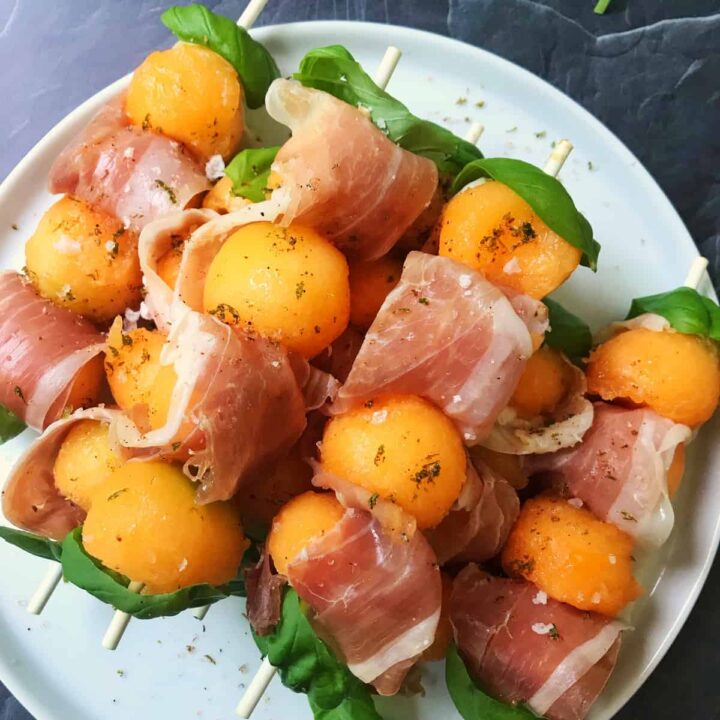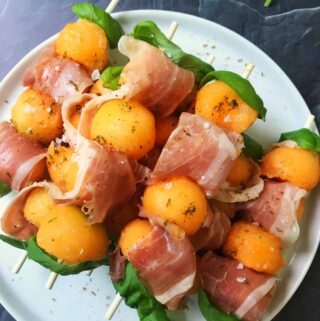 Prosciutto Melon Basil Skewers with Chili-Lime Salt
Skewers of prosciutto, melon, and basil are garnished with chili lime salt. Serve as an appetizer or snack.
Ingredients
1

cantaloupe (yields approx. 28 melon balls)

7

slices prosciutto

14

basil leaves

1

lime, zested

¼

teaspoon

fleur de sel or flaky sea salt

⅛

teaspoon

chili powder
Instructions
Cut the cantaloupe in half lengthwise. With a spoon, scoop out the seeds and discard. Using a melon baller or small cookie scoop, scoop out the melon into balls. An average cantaloupe should yield approx. 28 melon balls.

Fold each slice of prosciutto in half lengthwise. To assemble the skewers, push the end of the skewer through one end of the prosciutto. Thread on one melon ball. Pull the prosciutto under the melon and back through the skewer. Thread on another melon ball. Then, pull the prosciutto over the melon ball and thread back onto the skewer.

Keep alternating melon and prosciutto so the prosciutto looks like its weaving over and then under the melon. Thread a total of 4 melon balls with one slice of prosciutto on each skewer. Finish each skewer with a basil leaf on both the top and the bottom. Continue assembling the remaining 6 skewers.

For the chili lime salt, in a small bowl, combine the lime zest, chili powder, and salt. Sprinkle the salt over the skewers.
Notes
Equipment:  7   6-inch skewers are needed for this recipe.