This Barbecue Beef Stew has tender pieces of beef slow-roasted with onions in a barbecue-based sauce. This tangy stew is delicious served over rice, mashed potatoes, or egg noodles.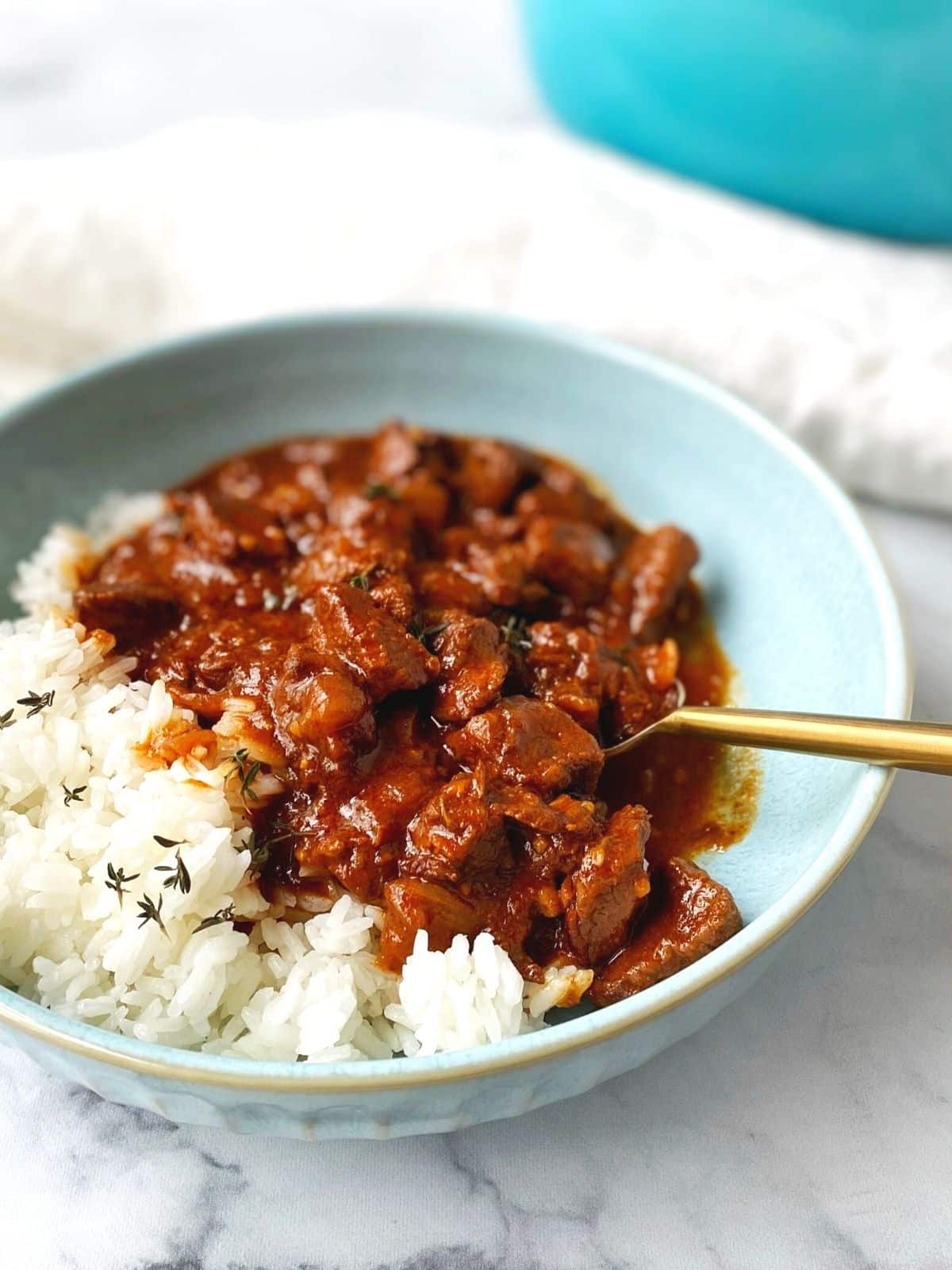 You will love this
Slow-roasted to perfection! This barbecue beef stew cooks low and slow in the oven which creates the most tender morsels. You can cook the stew over the weekend and reheat it during the week for an easy weeknight meal.
Bold and delicious flavor! The beef is slow-roasted in a barbecue-infused sauce which adds a sweet, tangy, and slightly spicy flavor. Fresh herbs add more wonderful flavor.
A delicious twist on traditional beef stew. This bbq beef stew is a mash-up of barbecue ribs meets beef stew. The rich, tangy sauce pairs perfectly with rice, mashed potatoes, or egg noodles.
Ingredients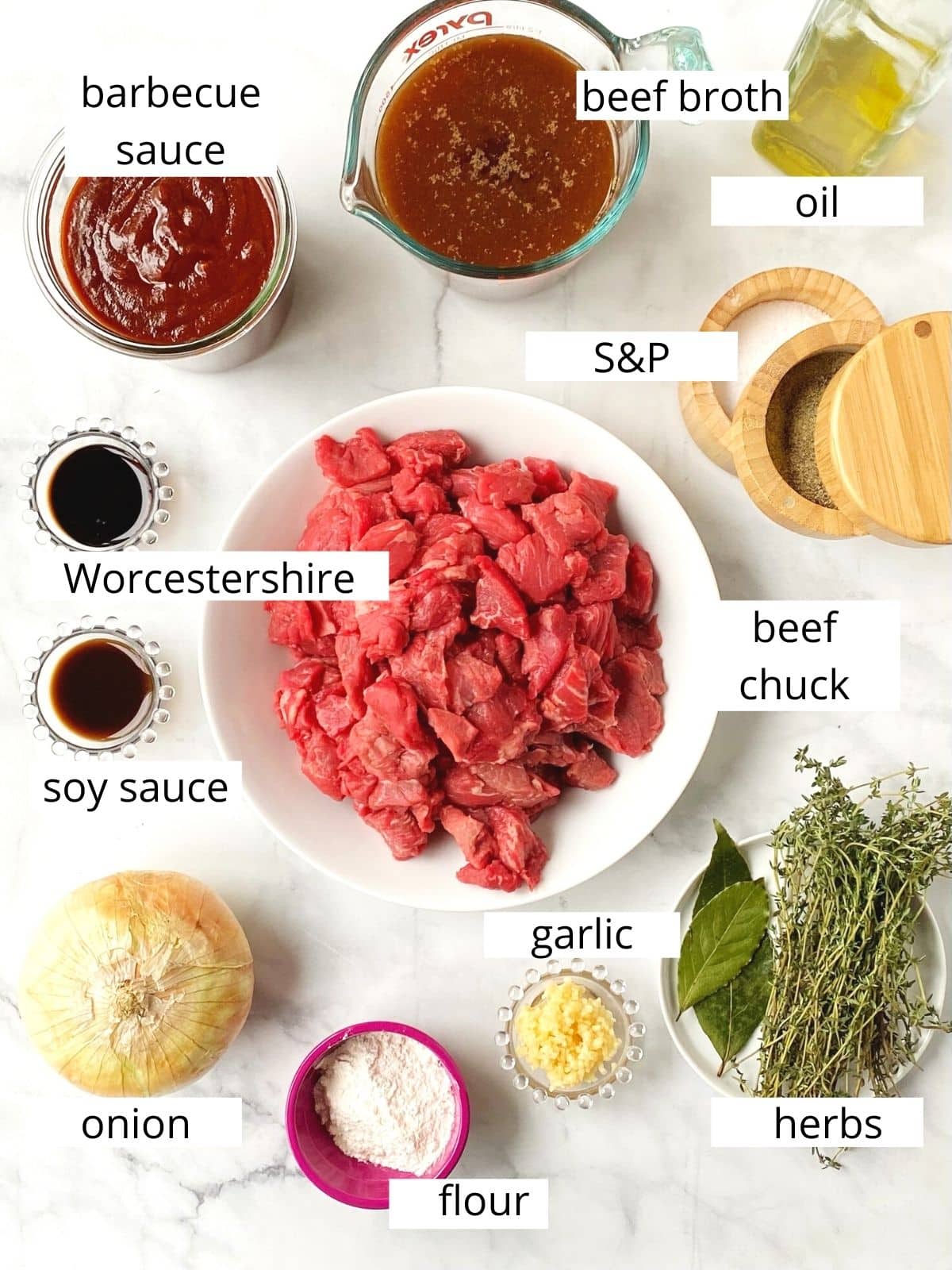 beef chuck or round are tougher cuts of meat that are ideal for stew because the slow-roasting process will completely tenderize them. These cuts are also less expensive. You can buy larger cuts and cube the meat yourself, but this meat is often sold already cubed as "beef stew meat".
aromatics - onion, garlic, fresh thyme and bay leaves infuse wonderful flavor
barbecue sauce adds a tangy and slightly spicy vibe to the stew. My go-to sauce has great depth of flavor with a hoisin, soy, and Dijon base. Feel free to use your favorite barbecue sauce - both homemade and store-bought are fine. Use a sauce with a flavor profile you like - whether it is sweet or spicy or smoky. The final dish will impart those flavors.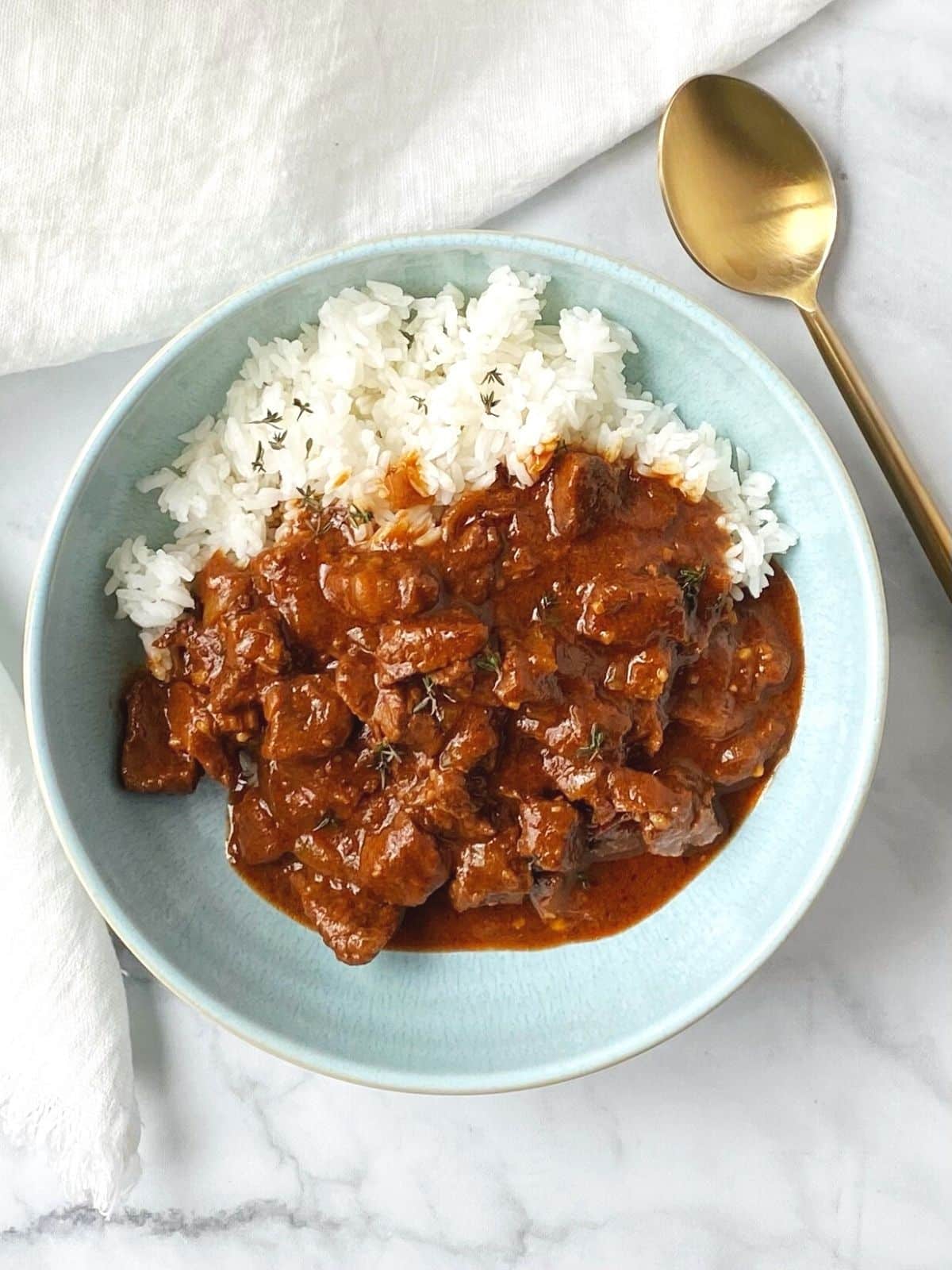 Tips for making
Brown the meat in batches. If the pan is overcrowded, the meat will steam instead of brown. Searing the meat adds flavor.
Make ahead, then heat and serve. This stew can be slow-roasted on the weekends and then reheated during the week for fuss-free meals.
Add vegetables for heartier appetites. You can add carrots and potatoes for a traditional beef stew vibe if desired.
Serve over rice, mashed potatoes, or noodles. The sauce is so delicious, you'll want to soak up every drop.
FAQ's
How do you cook beef stew meat so it's tender?
Beef stew meat is a tougher cut, so cooking it slowly at a low temperature will ensure tender results. Using a dutch oven, cover the meat with liquid and roast, covered, at 325 degrees until tender.
Do you have to brown stew meat?
Browning or searing meat creates flavor and a beautiful brown exterior. Browning the meat isn't required, but it is recommended for the flavor it lends to the dish.
Do you cook beef stew covered or uncovered?
Stewing is a moist heat cooking method, so beef stew should be cooked with a tight-fitting lid. Cover the meat with liquid, fit with a lid, and cook low and slow until the meat is tender.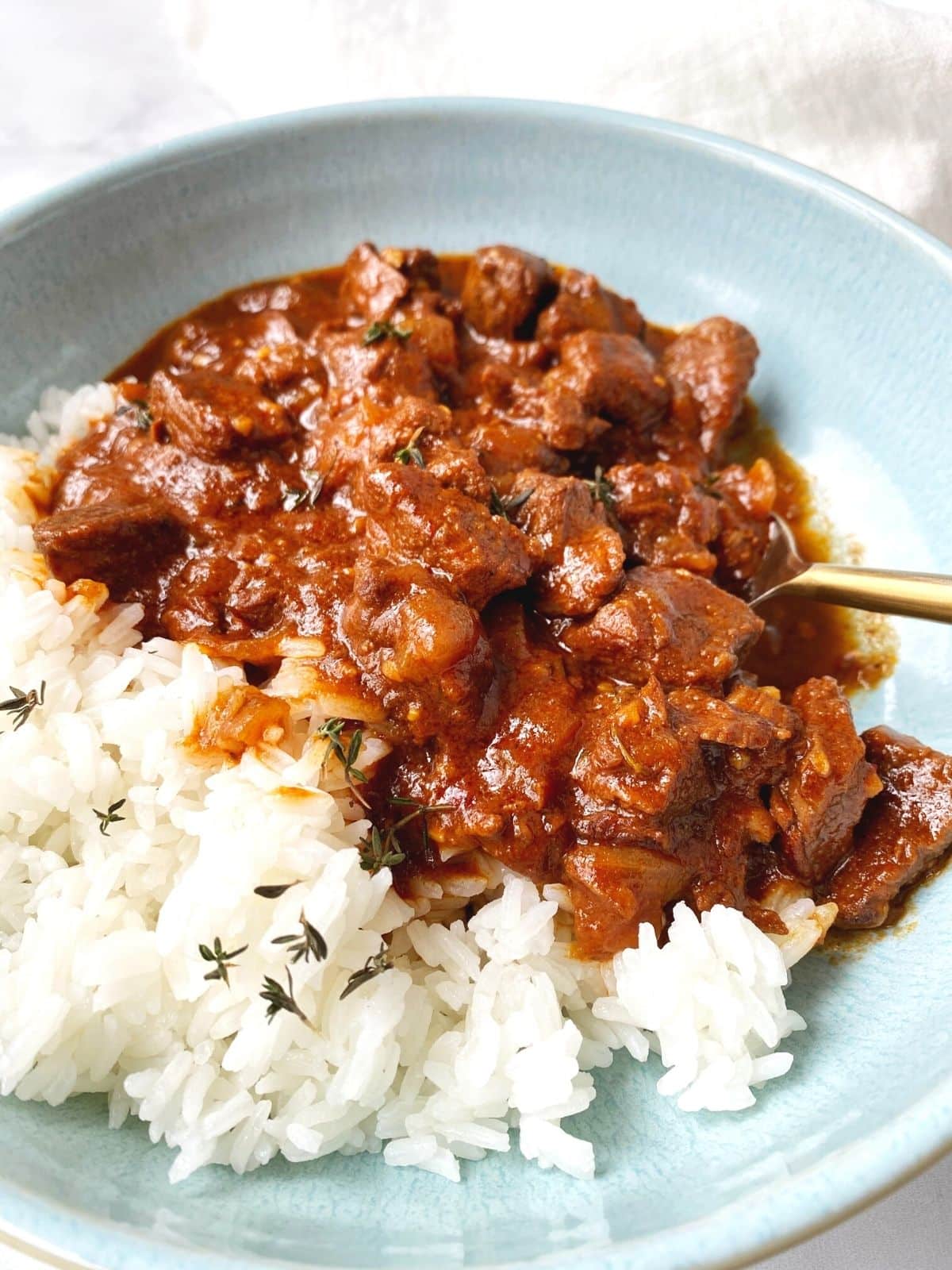 Equipment
Dutch oven | Liquid measuring cup | Measuring spoons
Related recipes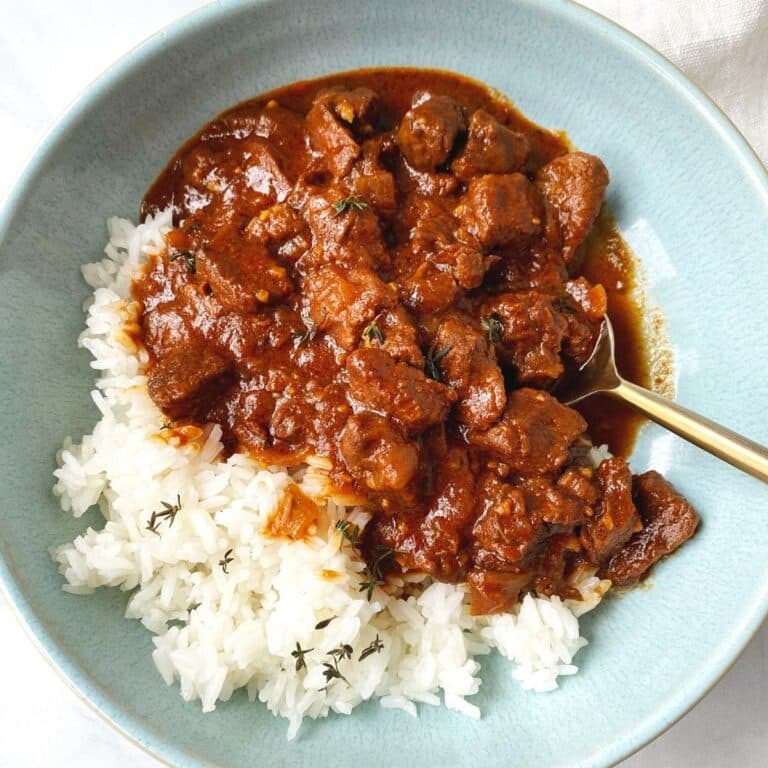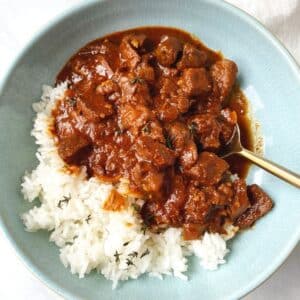 Barbecue Beef Stew
Tender pieces of beef slow-roasted in a barbecue-infused sauce. Serve over a bed of rice or mashed potatoes.
Ingredients
3

tablespoons

olive oil

divided

2

pounds

boneless beef chuck

cut into 2-inch cubes

½

teaspoon

salt

½

teaspoon

black pepper

1

large

yellow onion

chopped

1

tablespoon

minced garlic

about 3 cloves

1

tablespoon

flour

2

cups

beef broth

1

tablespoon

Worcestershire sauce

1

tablespoon

balsamic vinegar

1½

cups

barbecue sauce

2

fresh bay leaves

1

bunch

fresh thyme

or rosemary, oregano

cooked jasmine rice

for serving
Instructions
Heat a Dutch oven pan over medium-high heat.  Season the meat with salt and pepper. Add one tablespoon of oil to the pan and half of the meat, being careful not to crowd the pan. Cook to brown on all sides, about 6-8 minutes.  Transfer the meat to a plate. Add another tablespoon of oil and the remaining half of the meat. Cook to brown on all sides and then transfer the meat to the plate.

Add the remaining tablespoon of oil and the onions. Cook until slightly softened, about 5 minutes. Stir in the garlic and cook for one minute. Sprinkle the flour over the onions and garlic and stir to combine. Cook for 1-2 minutes.

Add in the beef broth, Worcestershire sauce, and balsamic vinegar, stirring to scrape up any brown bits on the bottom of the pan. Stir in the barbecue sauce. Add the meat back to the pan along with any juices. Add the fresh herbs and stir.

Cover and transfer to the oven at 325 degrees for two hours or until meat is fork-tender.  Discard fresh herbs and serve over rice.
Author's note: This post was originally published in December 2018 and has been updated.