Ultimate Breakfast Sandwich - a hearty sandwich loaded with two kinds of bacon, sausage, onion, egg, cheese, and a basil pesto mayo spread.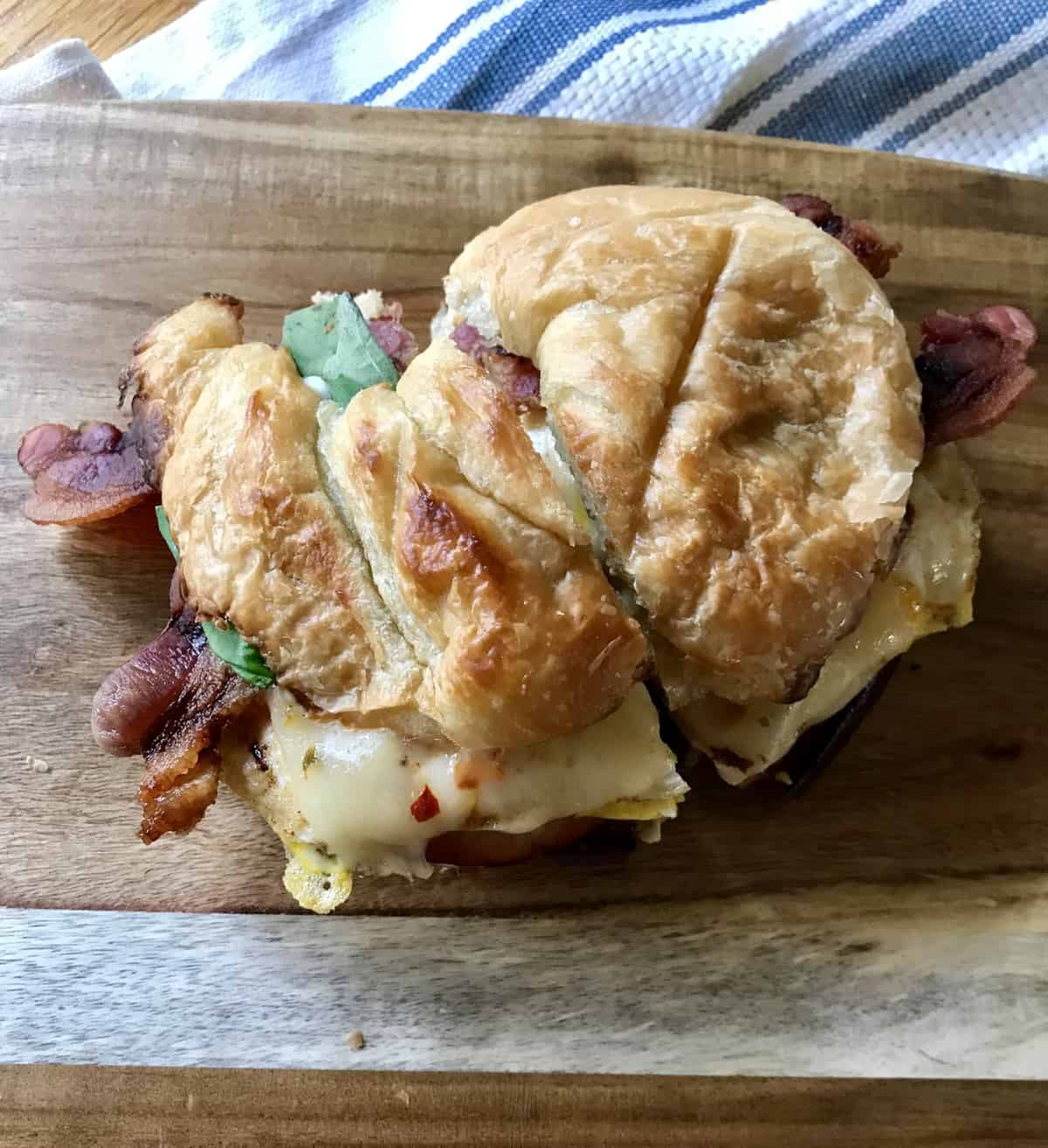 This Ultimate Breakfast sandwich is a great way to start the weekend.  It is very hearty and will sustain you through busy weekend activities.  For smaller appetites, this sandwich is perfect for sharing.
There are so many delicious components in this sandwich.  It's loaded with three types of breakfast meat - yes, I said three!  Bacon, turkey sausage, and Canadian bacon.  There is also a slice of sauteed or grilled onion, a fried egg topped with cheese, and fresh basil.  All of this is loaded on a toasted croissant spread with a basil pesto mayo.  Hungry yet?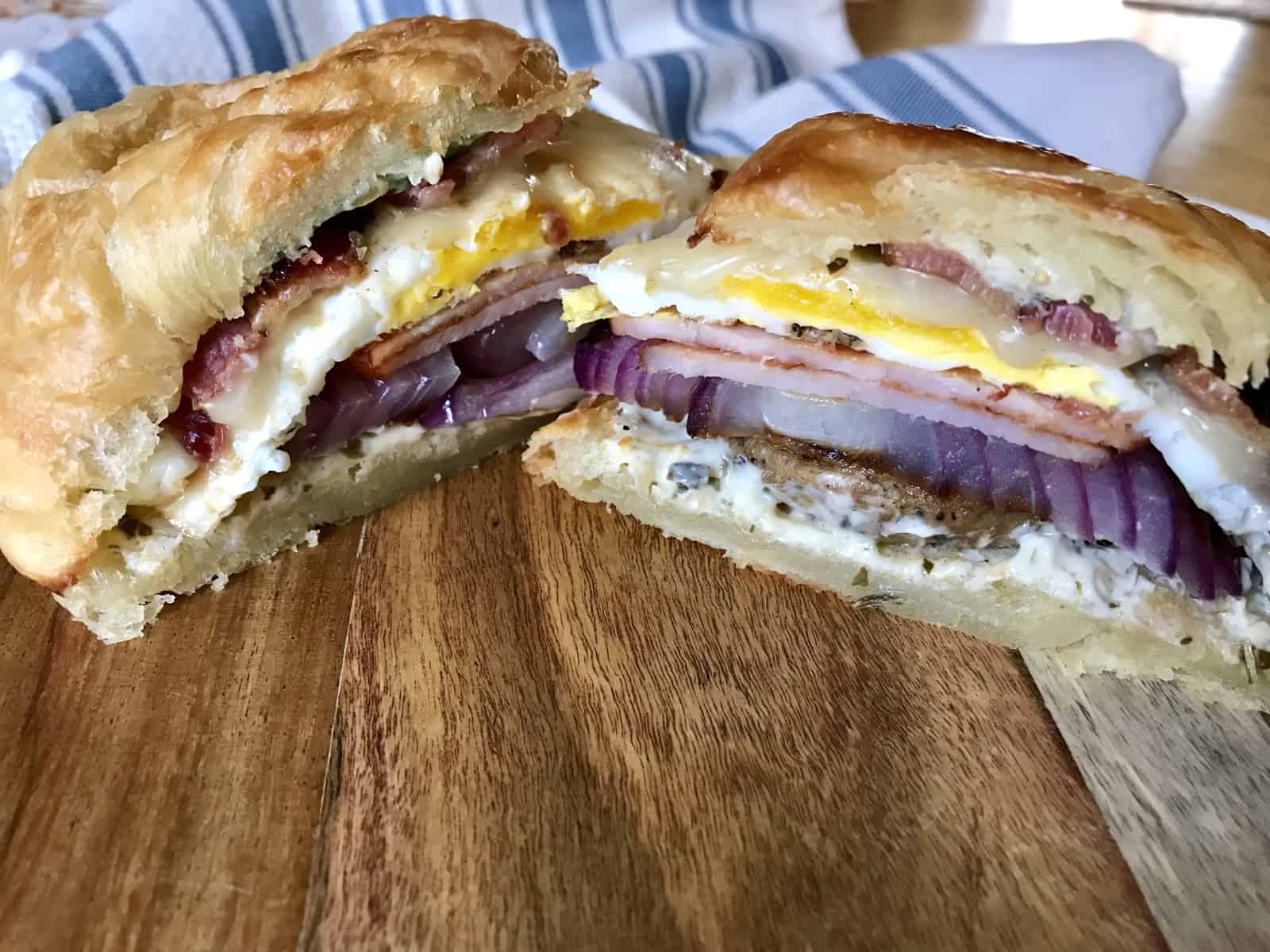 There are so many ways to personalize this sandwich.  The croissant can be swapped out with toast, a bagel, or an English muffin.  I make this sandwich with a fried egg over medium, but you can fix the egg any way you like - scrambled, sunny side up, or over easy.  I like Pepperjack cheese, but any favorite cheese will be tasty.  Add a slice of tomato or some lettuce.  Use pork sausage in place of the turkey sausage.  Or serve this open-faced.  There's something for everyone in this sandwich.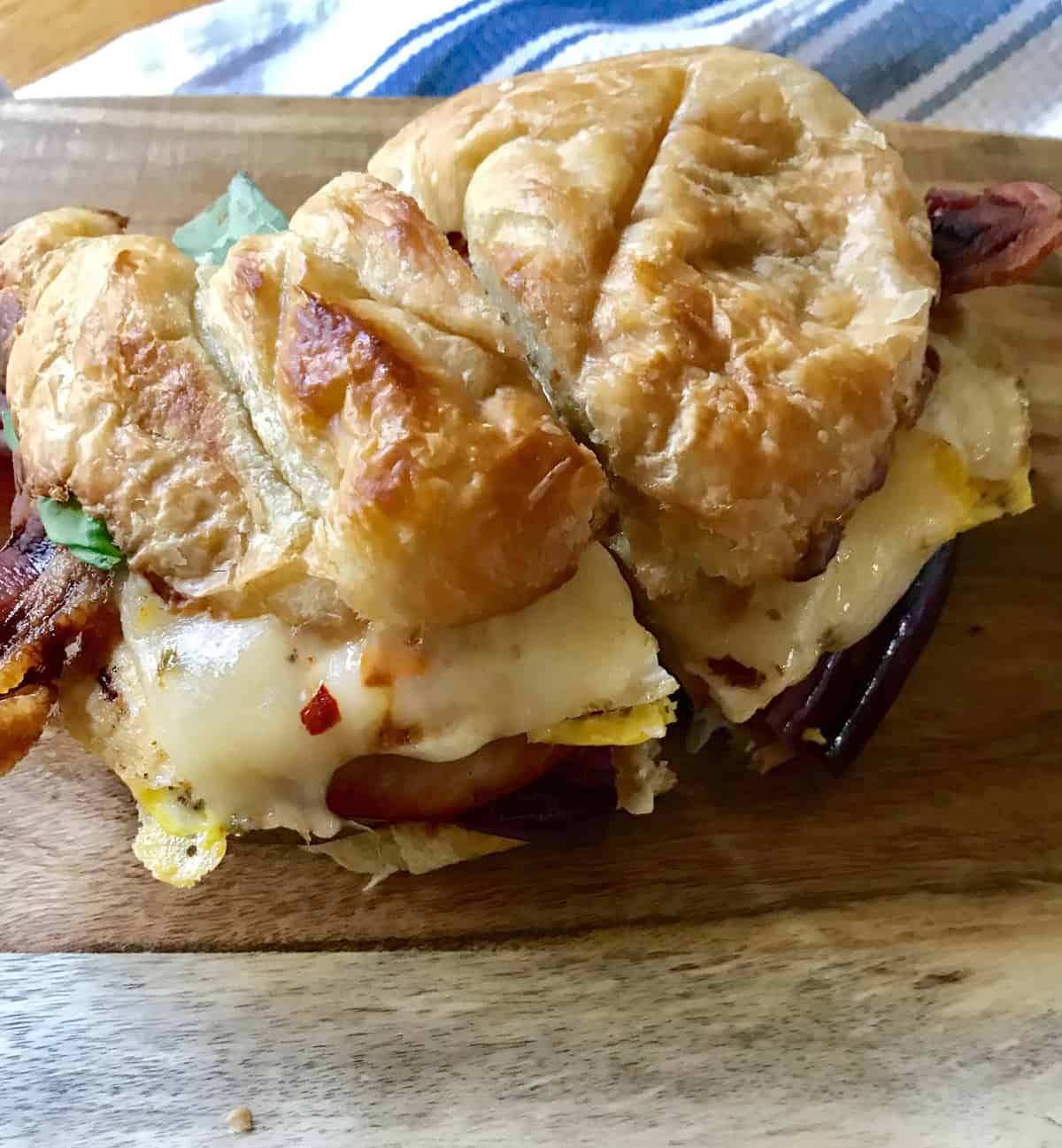 Try starting your weekend with this hearty sandwich!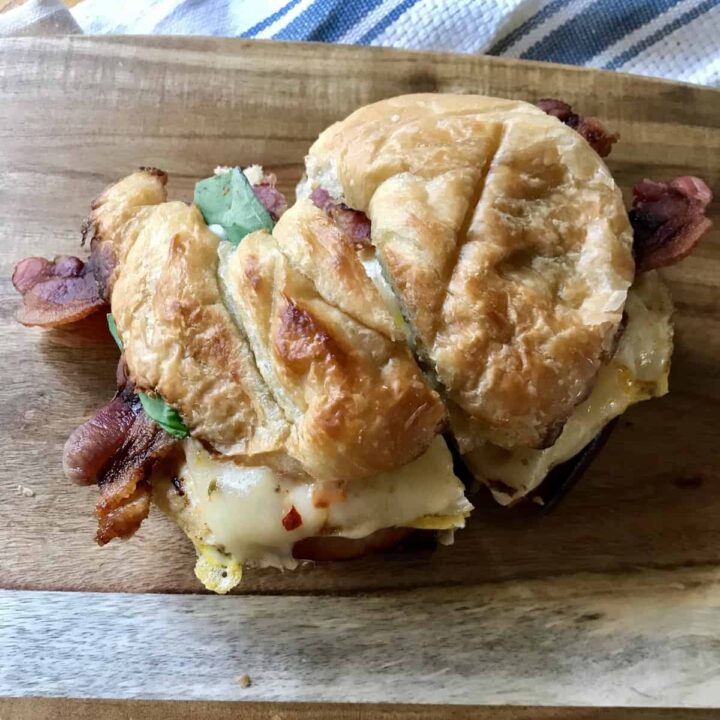 Ultimate Breakfast Sandwich
This sandwich is loaded with bacon, turkey sausage, Canadian bacon, onion, a fried egg, cheese, and a pesto mayo spread. Hearty and delicious.
Ingredients
1

croissant, sliced in half

2

turkey sausage patties, pre-cooked

2

slices Canadian bacon

2

slices bacon, cooked

1

egg

1

slice of cheese, such as Pepperjack

1

slice of red onion

2

tablespoons

mayonnaise

1

teaspoon

basil pesto, store-bought or homemade

fresh basil leaves
Instructions
In a small bowl, stir together mayonnaise and pesto. Set aside.

In a small non-stick skillet set over medium heat, add a drizzle of oil. Saute the slice of onion until slightly softened and caramelized on both sides, being careful to keep the whole slice intact. Remove the onion slice and set aside.

In the same skillet, add the turkey sausage patties and Canadian bacon, heating until warmed through. Remove from pan.

To the same skillet, add another drizzle of oil and crack the egg into the skillet. Cook the egg to your liking and top with a slice of cheese.

Meanwhile, toast the croissant and then spread a thin layer of the pesto mayo on each half of the croissant. On the bottom half, layer the sausage, onion, Canadian bacon, egg with cheese, and bacon. Top with fresh basil and the other half of the croissant. Serve and enjoy!