Pesto Cauliflower - jazz up your side dish routine with oven-roasted cauliflower topped with spinach walnut pesto.  Roasting requires little effort and the brown, caramelized edges bring all the wonderful flavor.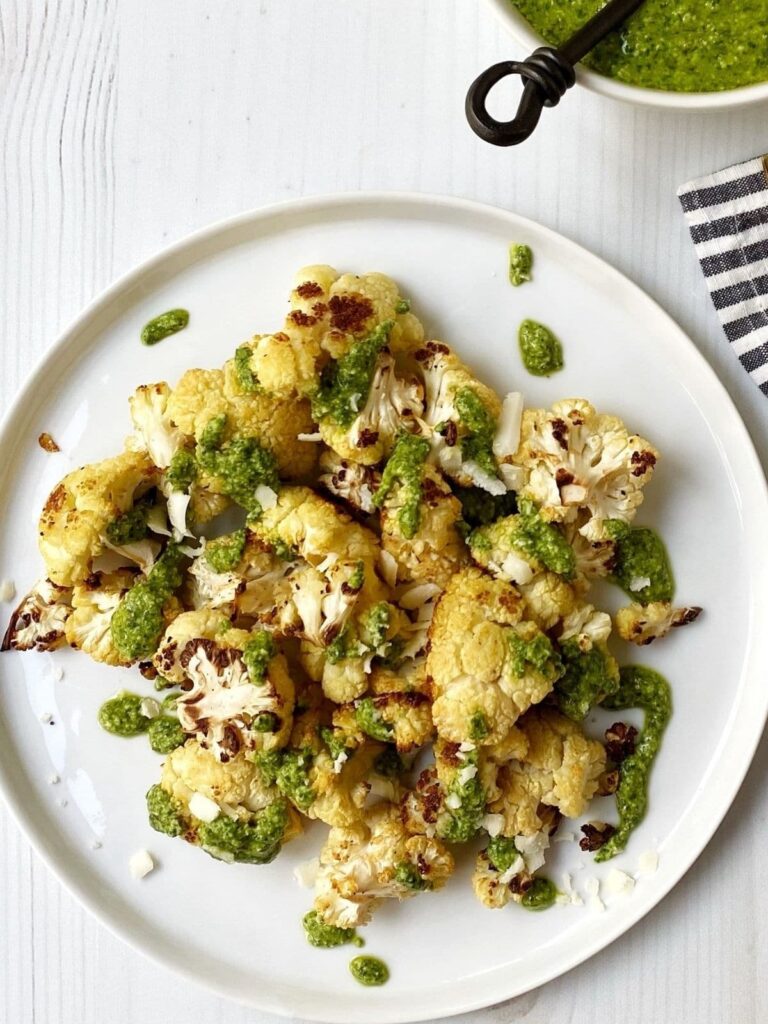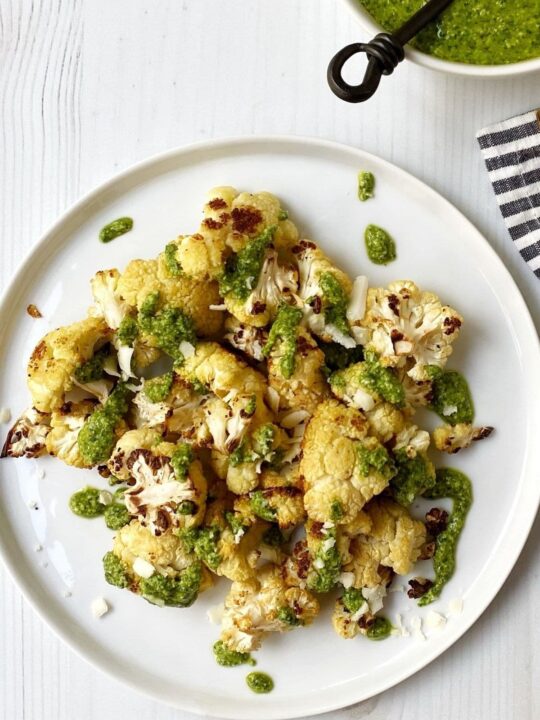 I have been totally obsessed with roasted cauliflower lately, and pesto cauliflower is my new obsession.  Cauliflower can be rather drab if not cooked properly.  But, it's delicious when roasted to caramelized perfection.  Roasting creates crispy brown bits on the exterior which translate to flavor.  On the inside, the florets become soft and tender.
I can easily eat a whole head of roasted cauliflower.  The toasted nuttiness is just SO good, and drizzling it with fresh, nutty pesto is just BEYOND.  Pesto cauliflower is simple, not fussy... but the flavor is anything but simple.  The spinach and walnut pesto is full of fresh flavor and the color is bright, which makes this dish so pretty, for any season.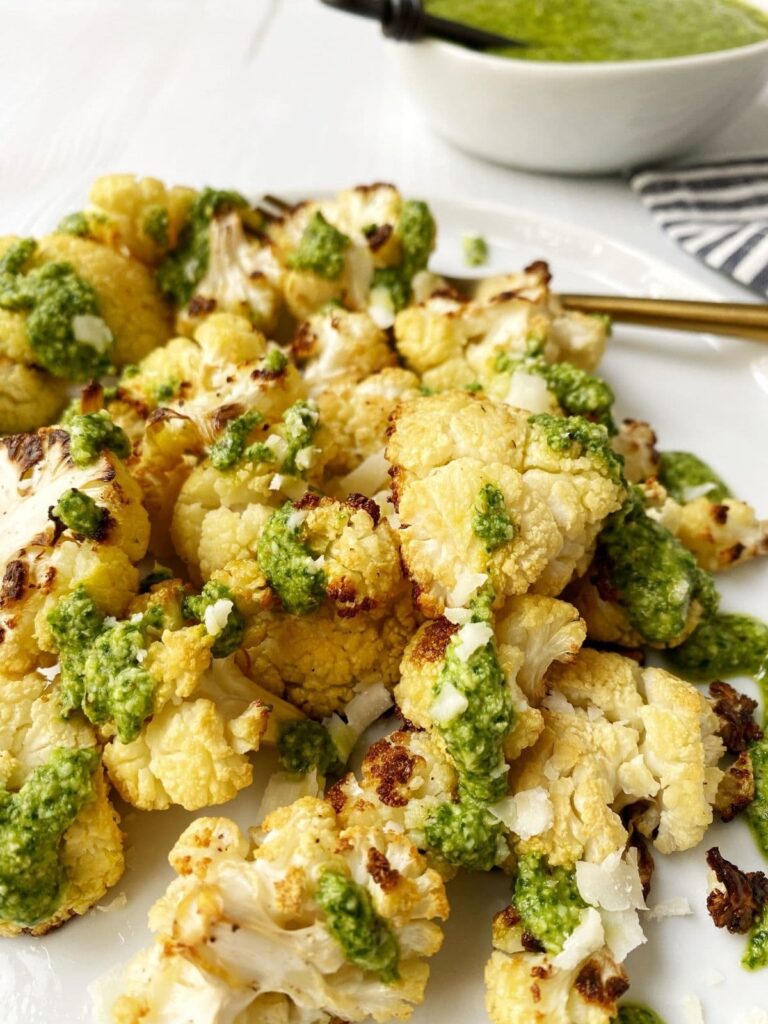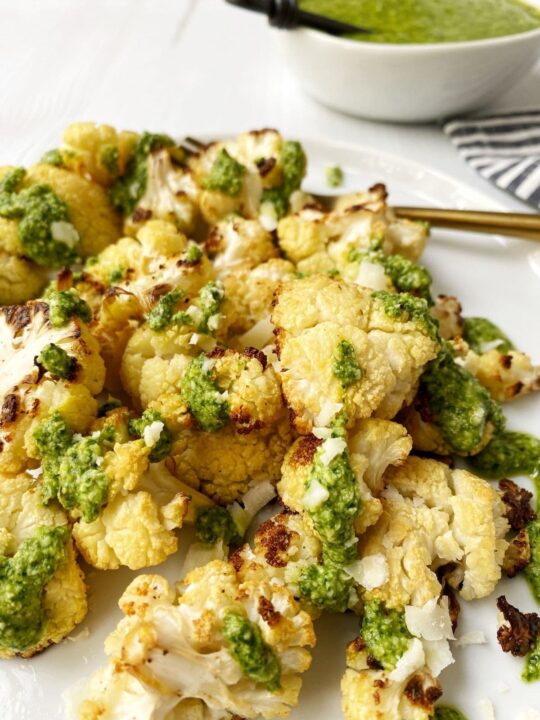 Buying cauliflower
When buying, look for firm and compact heads.  The florets should be white.  Avoid heads with brown discoloration and a banged-up appearance.  The leaves should be green and fresh.  An unwashed head of cauliflower will keep in the refrigerator for up to one week.  Washed florets will keep for four or five days.
How to roast cauliflower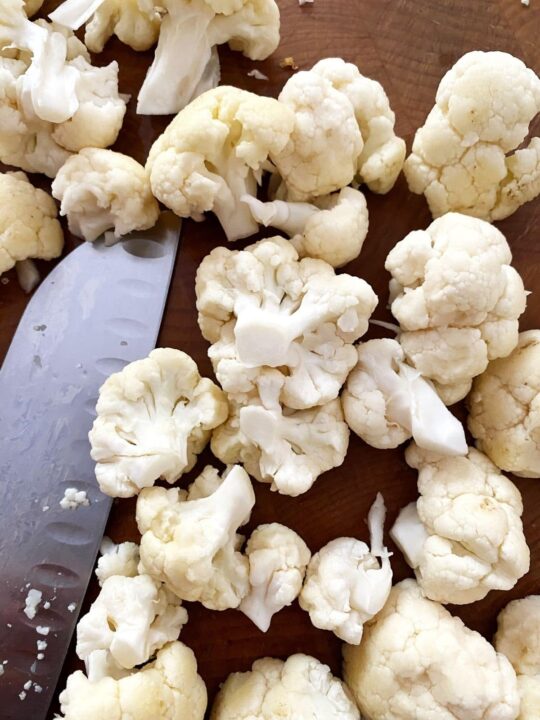 Pesto cauliflower starts with nutty, roasted cauliflower.  Roasting the florets requires little effort, but I have a few tips that will ensure perfect results every time.
Roast at 450 degrees.  High heat is necessary to get the brown and caramelized edges that scream flavor.  At lower temperatures, the florets tend to steam and don't brown well.
Cut the florets into similar sizes for even roasting.
Toss the florets with oil to help them brown during roasting.
Spinach walnut pesto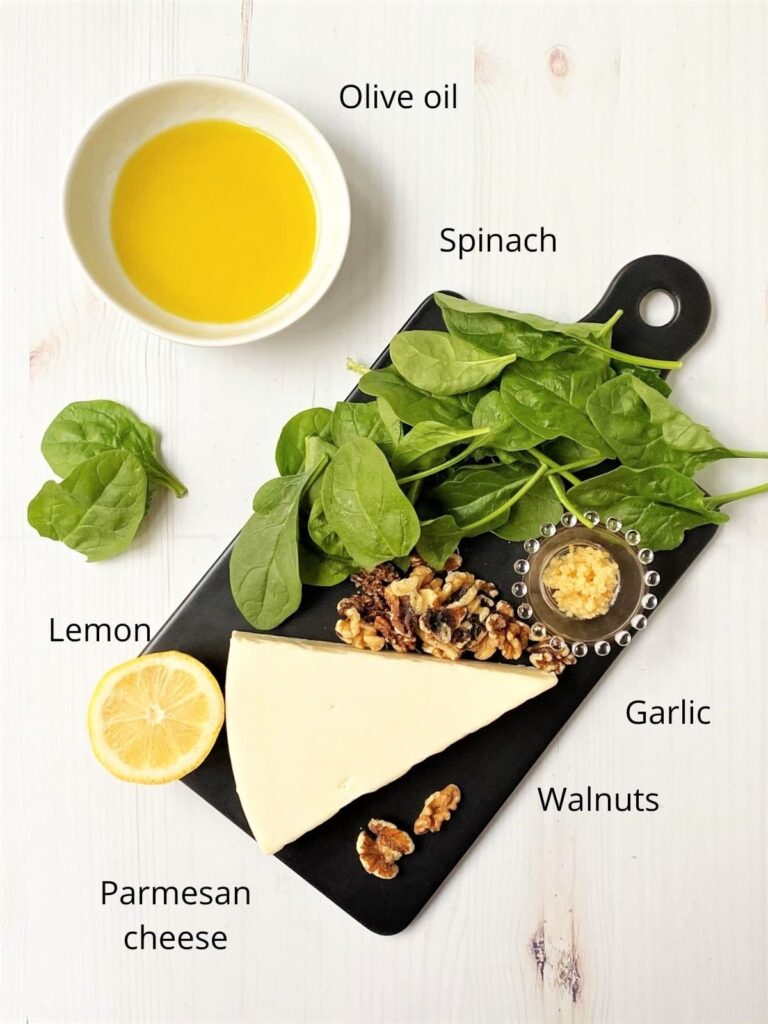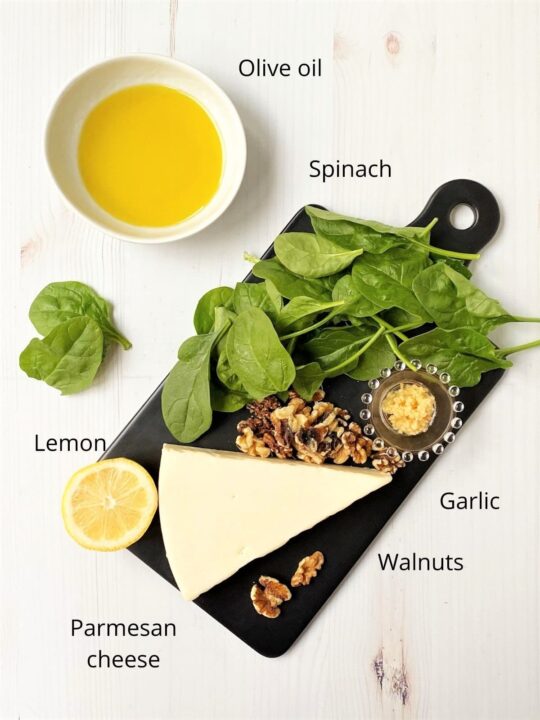 Since we're talking about pesto cauliflower, let's talk pesto.  Pesto is a versatile sauce made with a handful of flavor-packed ingredients.   This version is made with spinach and walnuts, but a traditional basil pesto can also be used.
While the cauliflower roasts, add the spinach, walnuts, and garlic to a food processor.  Process until well chopped.  Add the cheese and lemon juice, and process to combine.  With the food processor running, slowly pour in the oil.  Season with salt and pepper.
Leftover pesto will keep in the refrigerator for one week.  Use the pesto as a spread on sandwiches, add to sauces, or toss with pasta.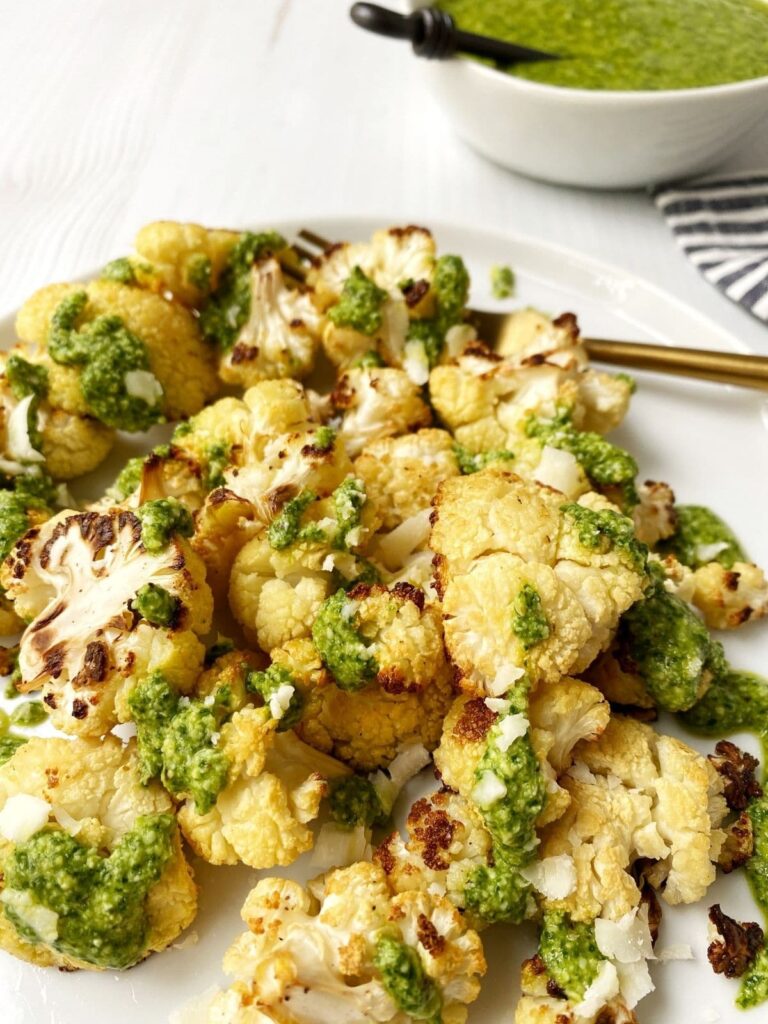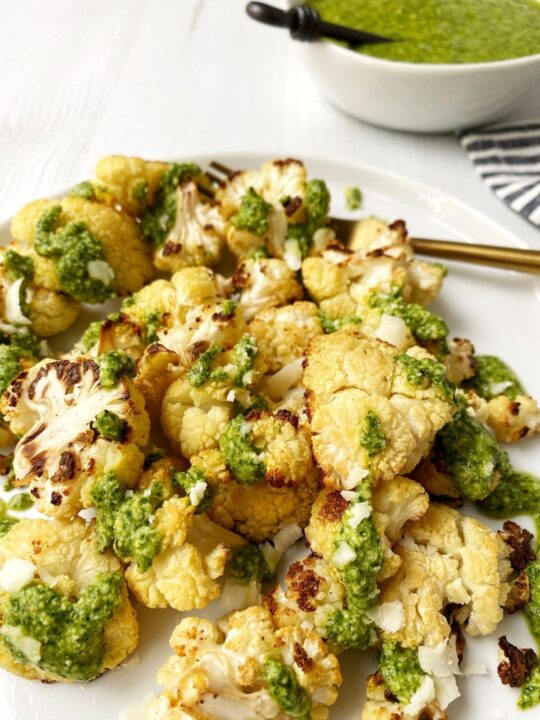 How to serve roasted cauliflower
Pesto cauliflower is delicious on its own or as an ingredient in other dishes and meals.
Serve as a side dish with beef, chicken, pork, and fish.
Use to build veggie tacos
Add to rice bowls
Add to salads
Use in a veggie wrap
Equipment
Half sheet pan | Food processor | Measuring cups and spoons | Liquid measuring cup | Grater
More cauliflower recipes you may enjoy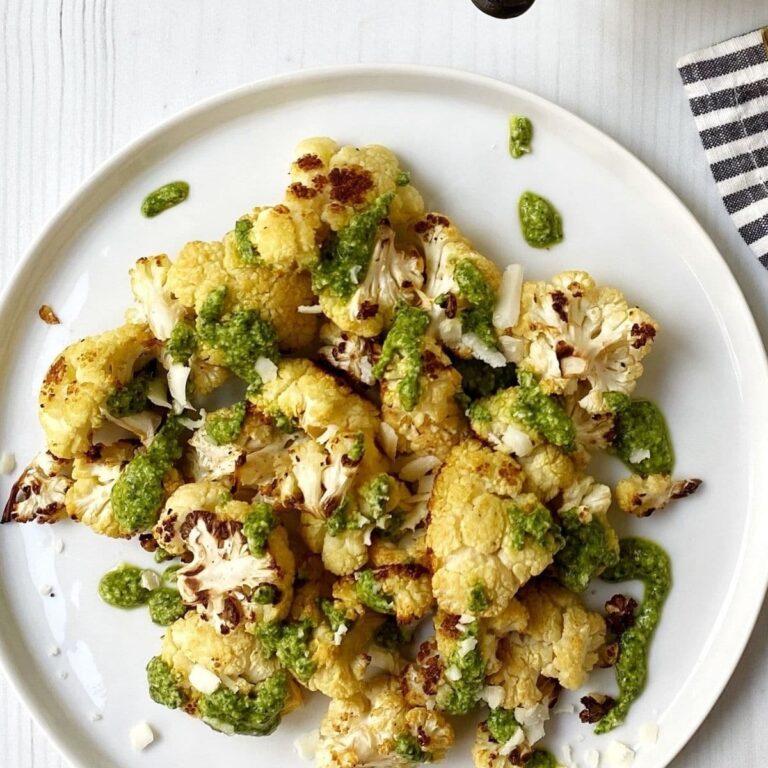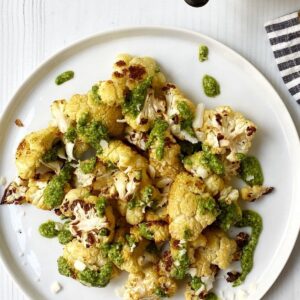 Pesto Cauliflower
Cauliflower is roasted until brown and caramelized, then topped with spinach walnut pesto. An easy, flavorful, and colorful way to jazz up a vegetable side dish.
Ingredients
1

head

cauliflower

cut into florets

1-2

teaspoons

olive oil

salt

to taste

freshly ground black pepper

to taste
Pesto
2 1/2

cups

fresh baby spinach

packed

1/4

cup

walnuts

toasted

1/2

cup

Parmesan cheese

shredded

2

teaspoon

minced fresh garlic

1

large lemon

juiced

1/2

cup

olive oil

salt

to taste

pepper

to taste
Instructions
Preheat the oven to 450 degrees.

Arrange the cauliflower on a sheet pan. Drizzle with the oil and season with salt and pepper. Toss to combine.

Roast for 20-25 minutes, turning once half-way through, until brown and caramelized.

Transfer to a serving platter and spoon approx. 3 tablespoons of the pesto over the cauliflower. Serve extra pesto on the side.
Pesto
While the cauliflower roasts, add the spinach, walnuts, and garlic to the bowl of a food processor. Process until finely chopped.

Add the parmesan and lemon juice and blend to combine. Drizzle in the oil with the processor running and blend until smooth. Season to taste with salt and pepper.

Store leftover pesto in an airtight container in the refrigerator for up to one week.