Orange Scones are tender, buttery, and infused with loads of orange flavor and drizzled with an orange powdered sugar glaze.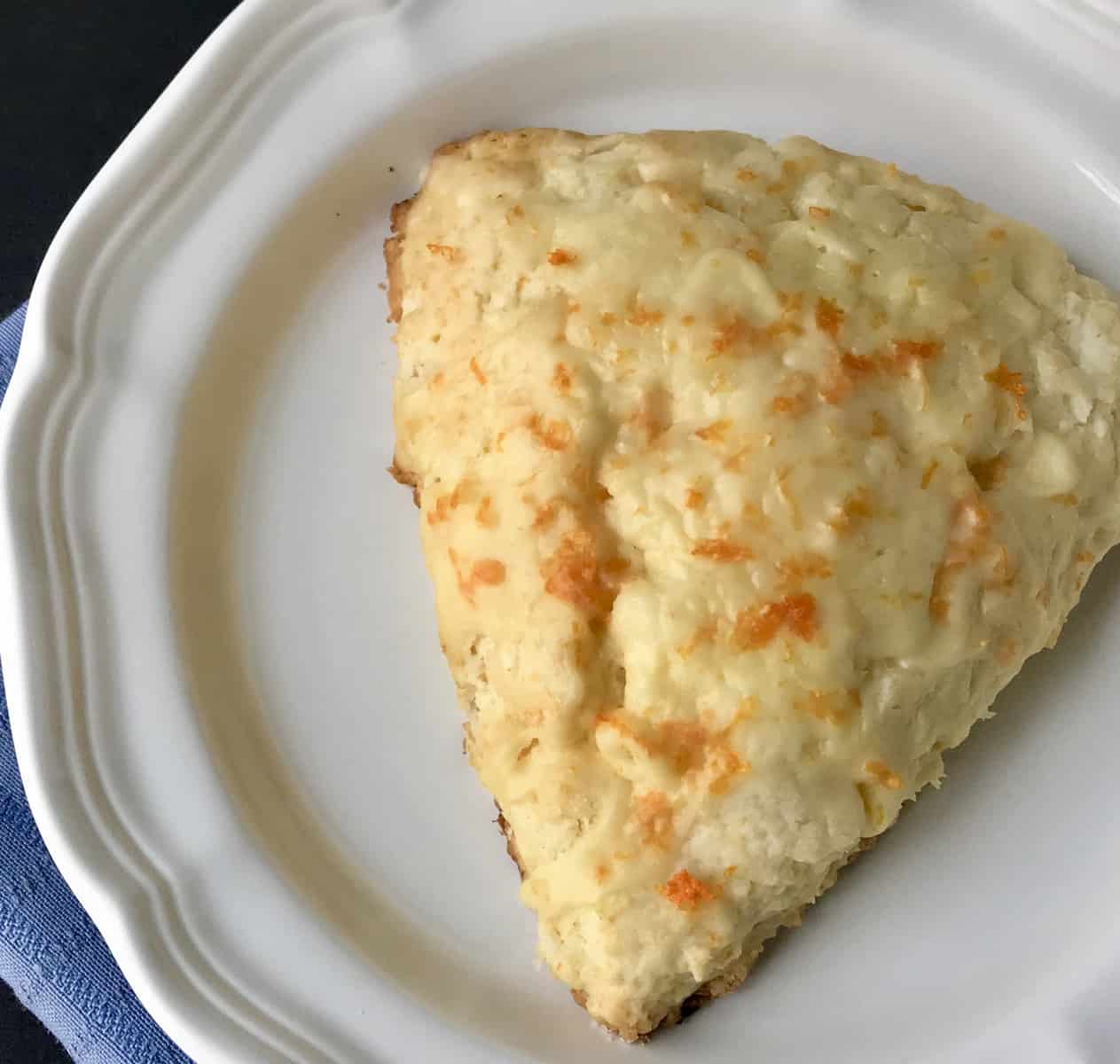 Have you ever had the orange scones at Panera?  If you have, then you know how scrumptious they are.  So full of bright orange flavor. So decadent.
Those scones were my inspiration for this recipe.  I really wanted to infuse tons of orange flavor.  To accomplish this, I added both orange juice and zest to the dough.  Then, I finished the scones with a powdered sugar glaze spiked with more orange juice and more zest.  The flakes of zest are so pretty.  There is no mistaking these are Orange scones.
Ingredients
butter
cake flour
sugar – both granulated and powdered for the glaze
heavy cream
baking powder
salt
oranges – zest and juice
Tips for making scones
Cold butter is essential for flaky scones.  After forming the scones, chill them while the oven preheats to ensure the butter is cold.
Freeze the butter and then grate it to add to the flour.  This takes the place of cutting the butter into the flour with a pastry cutter.  These small shards of frozen butter create a very flaky texture.  If you don't have time to freeze the butter, using cold butter in the tip above works just fine.
Cake flour yields an extra tender crumb, but all-purpose flour can certainly be used.
Don't overwork the dough.  This will create a tough dough.  Work the dough just enough to bring it together and form the scones.
Fresh orange zest and juice – this is a must!  The zest packs so much fresh citrus flavor, as does the juice.  And the zest is so pretty!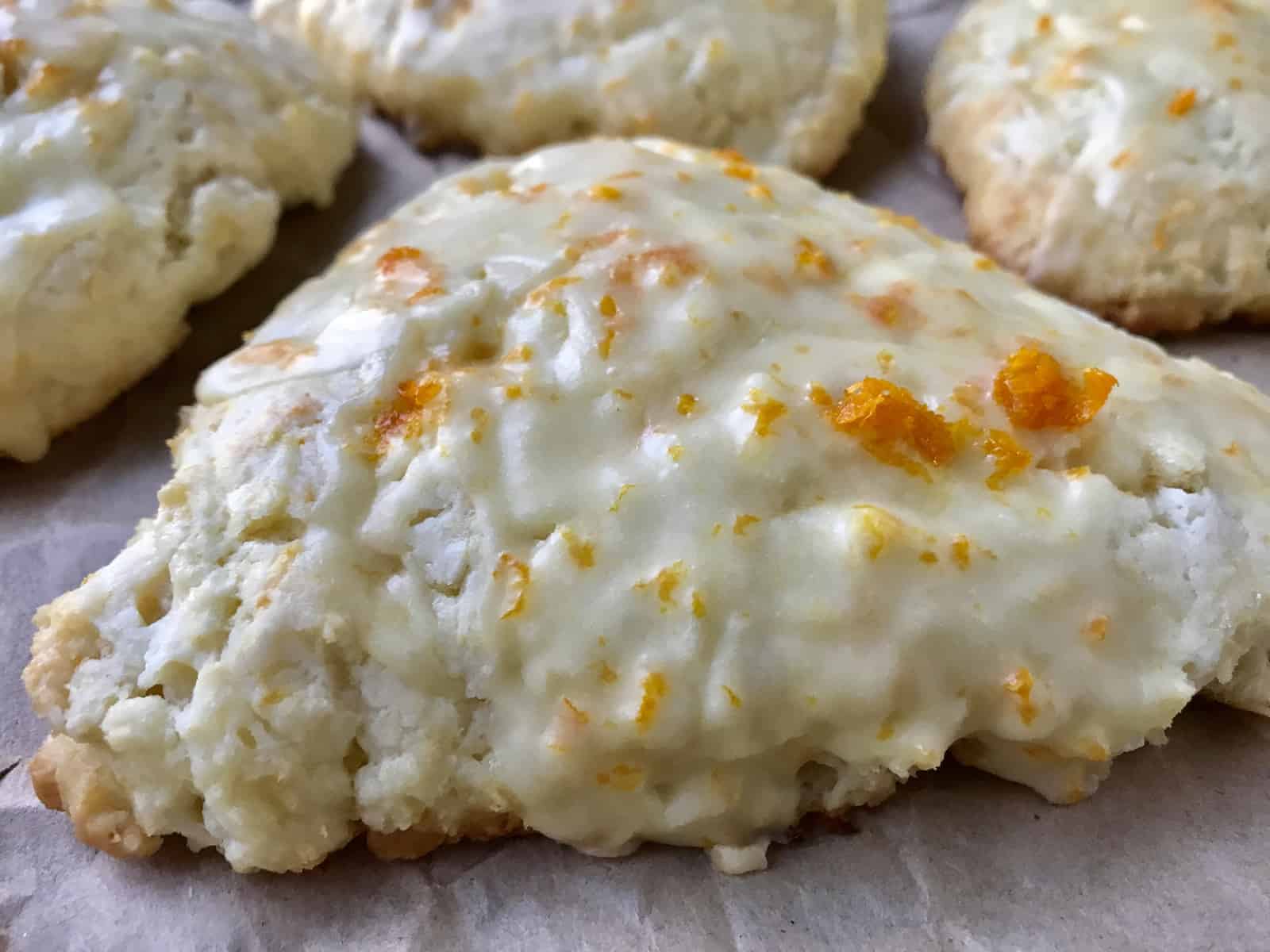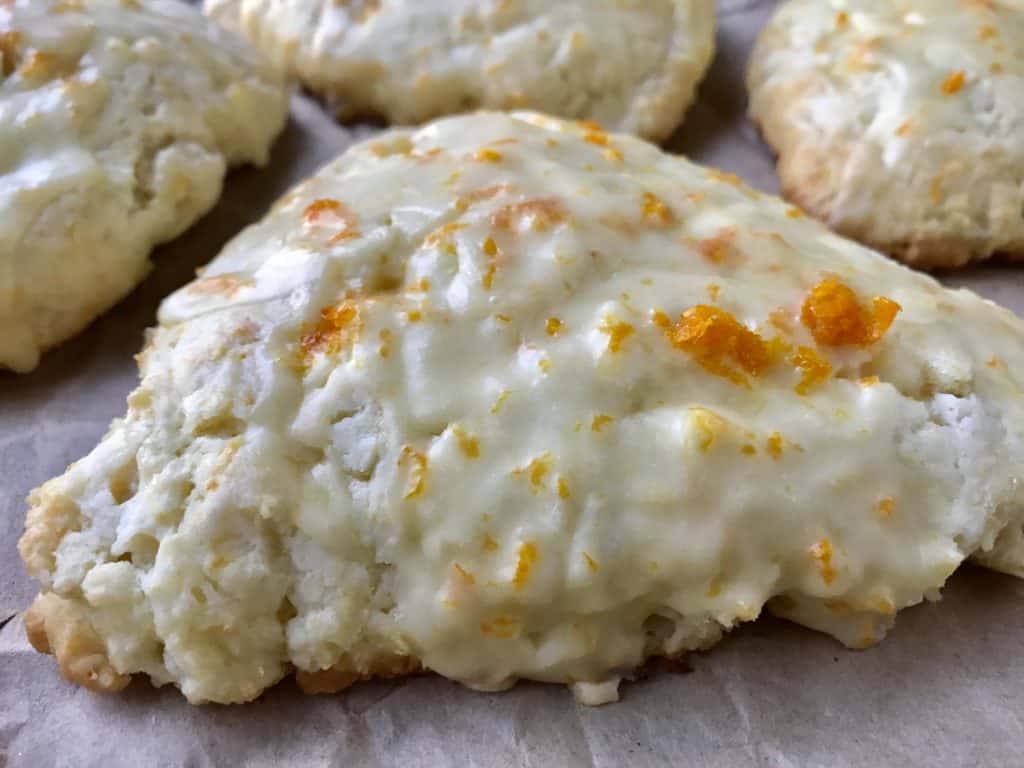 These scones are buttery and light.  The cake flour yields a tender crumb.  The orange juice and zest provide lots of bright orange flavor.  These scones are fabulous!  Grab a coffee and enjoy a scrumptious orange scone.  If you try this recipe, please leave a comment below and tag me on Instagram @mycasualpantry.
Equipment
Mixing bowl | Microplane (zester) | Juicer | Measuring cups | Bench scraper | Sheet pan | Parchment paper | Pastry cutter | Grater
You may also enjoy these scone recipes: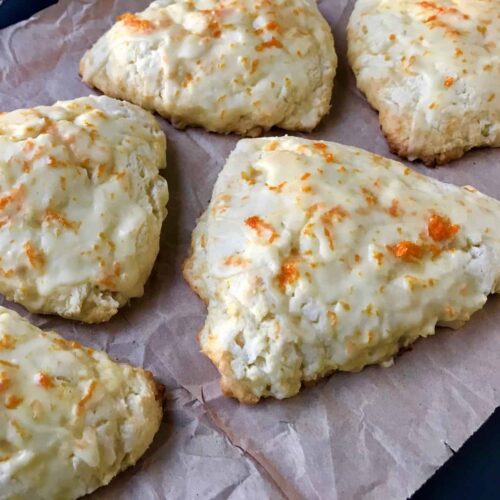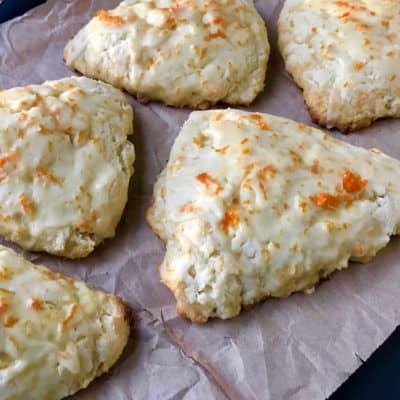 Orange Scones
A tender, buttery scone infused with loads of orange flavor and drizzled with an orange powdered sugar glaze.
Ingredients
Scone dough
7

tablespoons

butter, cold and cubed

2 1/4

cups

cake flour

3

tablespoons

sugar

1

tablespoon

baking powder

1/2

teaspoon

salt

3/4

cup

heavy cream

zest and juice from 3 oranges, divided
Glaze
1

tablespoon

butter, melted

1

cup

powdered sugar

orange juice, approx. 1/4 cup or as needed for desired consistency
Instructions
Zest and juice the oranges. Set aside.

Note: 1/2 of the zest will be added to the dough; the remaining half will be reserved for the glaze.

1/4 cup of the orange juice will be used in the dough. Approx. 1/4 cup will be used to make the glaze.

In a mixing bowl, add cubed butter and cake flour.  Use a pastry cutter to "cut" the butter into the flour until the mixture resembles coarse crumbs.   (Alternatively, freeze the butter, then grate and stir into the flour.) Gently stir in the sugar, baking powder, salt, and 1/2 tablespoon of the orange zest (approx. half of the zest from three oranges).

Add the heavy cream and 1/4 cup of the orange juice (for one cup total liquid).  Stir until dough comes together.  Turn dough out onto a lightly floured board.  Form the dough into a circle one inch thick.  Cut into 6 equal pieces.  Transfer to a parchment-lined baking sheet.  Chill while the oven preheats.

Preheat the oven to 400 degrees. Bake the scones for 15-20 minutes until lightly browned. Let cool.

For the icing, in a small bowl, combine the melted butter, powdered sugar, remaining orange zest, and enough orange juice to achieve desired consistency. Approx. 1/4 cup will yield a drizzling consistency.
Notes
Store in an airtight container for 2-3 days.  The scones will be freshest if eaten in 1-2 days.