Grilled Jerk Shrimp - this easy grilled shrimp is perfect for hot summer days. Slightly spicy and full of flavor, serve with grilled corn, on a bed of rice, or alongside a salad.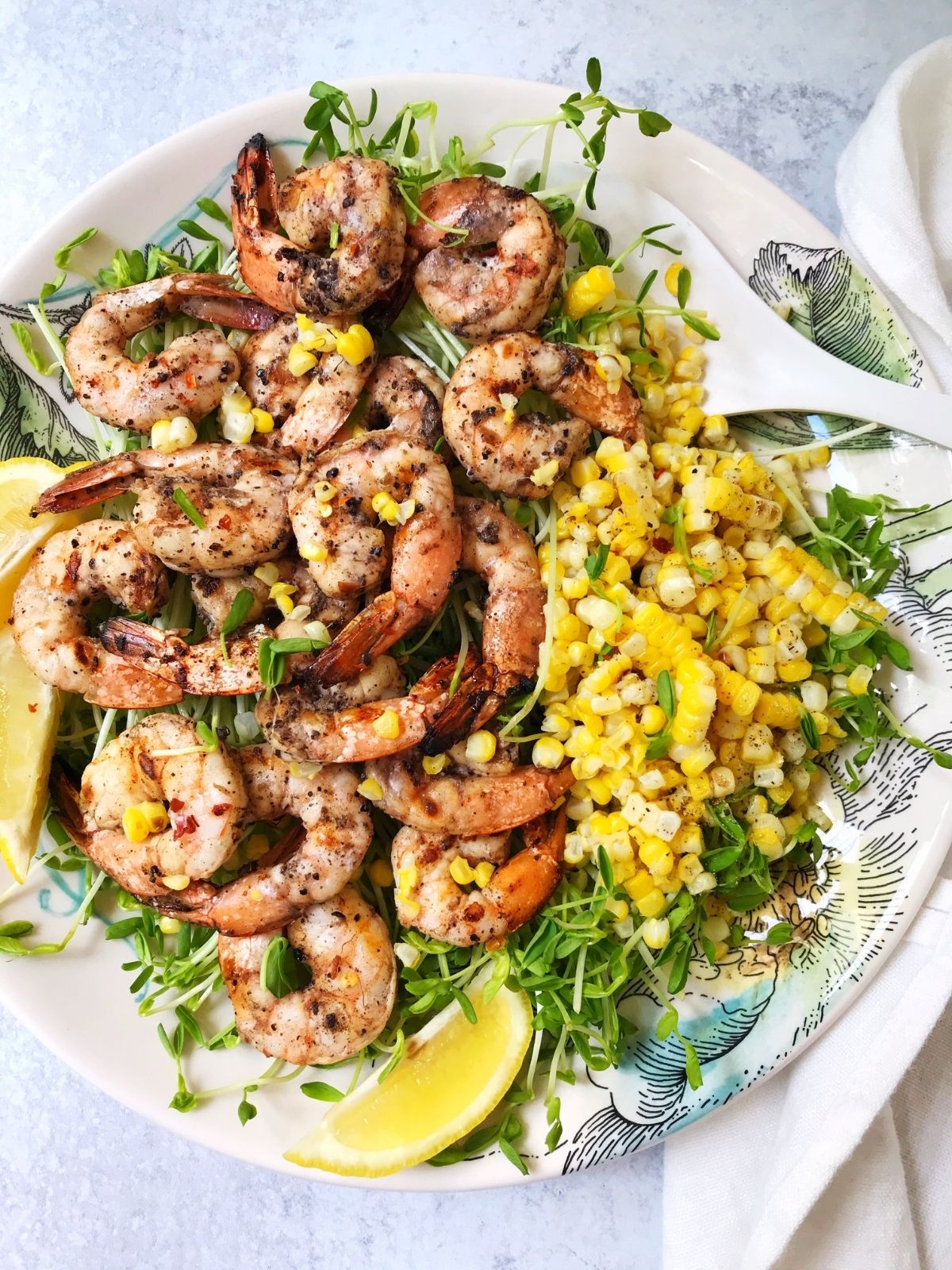 Grilled jerk shrimp is the summer recipe of my dreams. A quick, flavorful marinade before grilling is all it takes. There's no turning on the oven, very little clean-up, and nothing cooks faster on the grill than shrimp!
And, did I mention this recipe is SO easy? After a quick 20-minutes marinade and a few minutes on the grill, dinner will be on the table. I used a jarred variety of jerk marinade/sauce, but if you have a homemade version you like - go for it. Using prepared sauce keeps this dish extra simple.
For a complete meal, serve the shrimp with cilantro lime coconut rice. This rice is ready in just 20 minutes, keeping this meal quick and easy.
Tips for buying shrimp
Fresh or frozen? Frozen shrimp is incredibly fresh. Shrimp is put on ice as soon as it's caught, freezing it at its optimal freshness. When you buy fresh shrimp at the supermarket, you're buying shrimp that was initially frozen and has now been thawed. I prefer to buy frozen shrimp. It's great to have on hand in the freezer. It thaws quickly so it's great for getting a meal on the table fast.
Size - Shrimp are sold in various sizes. The number on the package denotes the number of shrimp per pound - a smaller number, the larger the shrimp; the larger the number, the smaller the shrimp. Common sizes include extra-jumbo (16-20 per pound), jumbo (21-25 per pound), large (31-40 per pound), and medium (41-50 per pound). Small shrimp work well in salads; larger shrimp work well for entrees or main dishes.
Appearance - you can buy shrimp with the head on or off, the shell on or off, the vein removed (deveined) or intact, and with the tail on or off. What you choose is really a matter of preference. Shrimp that has already been peeled and deveined is convenient and saves time. I usually buy shrimp that is already peeled and deveined but with the tail still on. I like the presentation of the tail-on shrimp.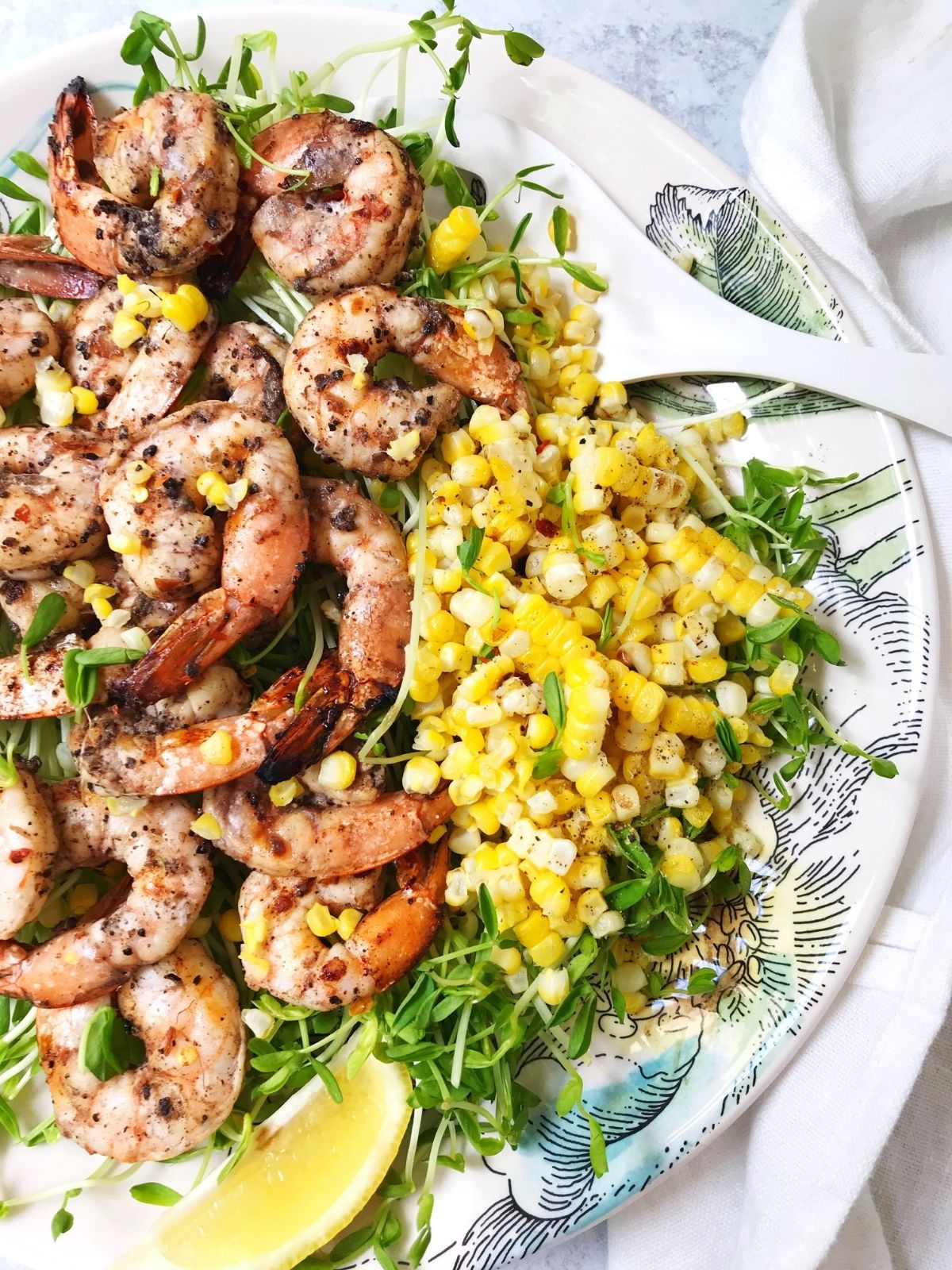 Tips for grilling shrimp
Don't over marinate. Shrimp doesn't need long to marinate - especially if there is an acid in the marinade, such as lemon or lime juice. Acid will start to breakdown the protein in the shrimp and turn it mushy if it marinates for too long.
Pat the shrimp dry before grilling. Moisture on the shrimp will cause them to steam. To ensure a sear, pat the shrimp dry before putting them on the grill.
Use skewers or a grill pan. Shrimp often fall victim to falling through the grates on the grill. To avoid this unfortunate demise, it's best to use skewers or a grill pan.
Keep your eye on the grill. Shrimp cook fast - only 2-3 minutes per side (depending on the temperature of the grill). Overcooked shrimp can have a rubbery texture.
No grill? No problem! Shrimp can easily be cooked in a saute pan. Heat the pan over medium heat. Add a little oil and butter and saute about 2 minutes per side until pink and opaque.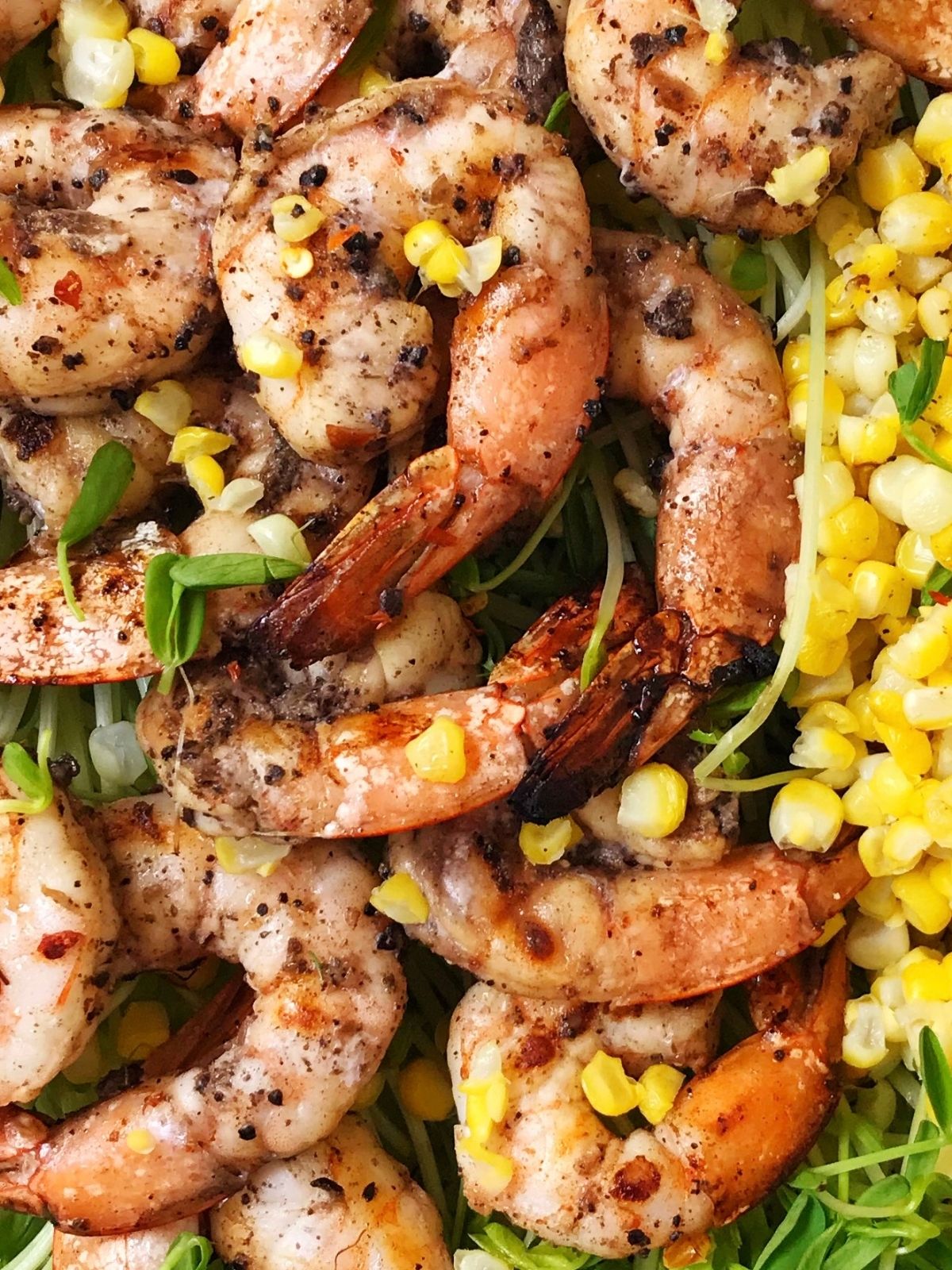 How to make
Thaw the shrimp, if necessary. I used shelled and deveined shrimp with the tail on for this recipe.
Combine the marinade ingredients in a zipper-top bag. Add the shrimp, seal the bag, and toss to coat the shrimp with the marinade. Marinate for 20 minutes.
Grill the shrimp over medium heat for 2-3 minutes per side or until pink and opaque.
Serve the jerk shrimp on a bed of pea shoots alongside grilled corn. Rice or couscous and a green salad are other great serving options.
Equipment
More grilling recipes you may enjoy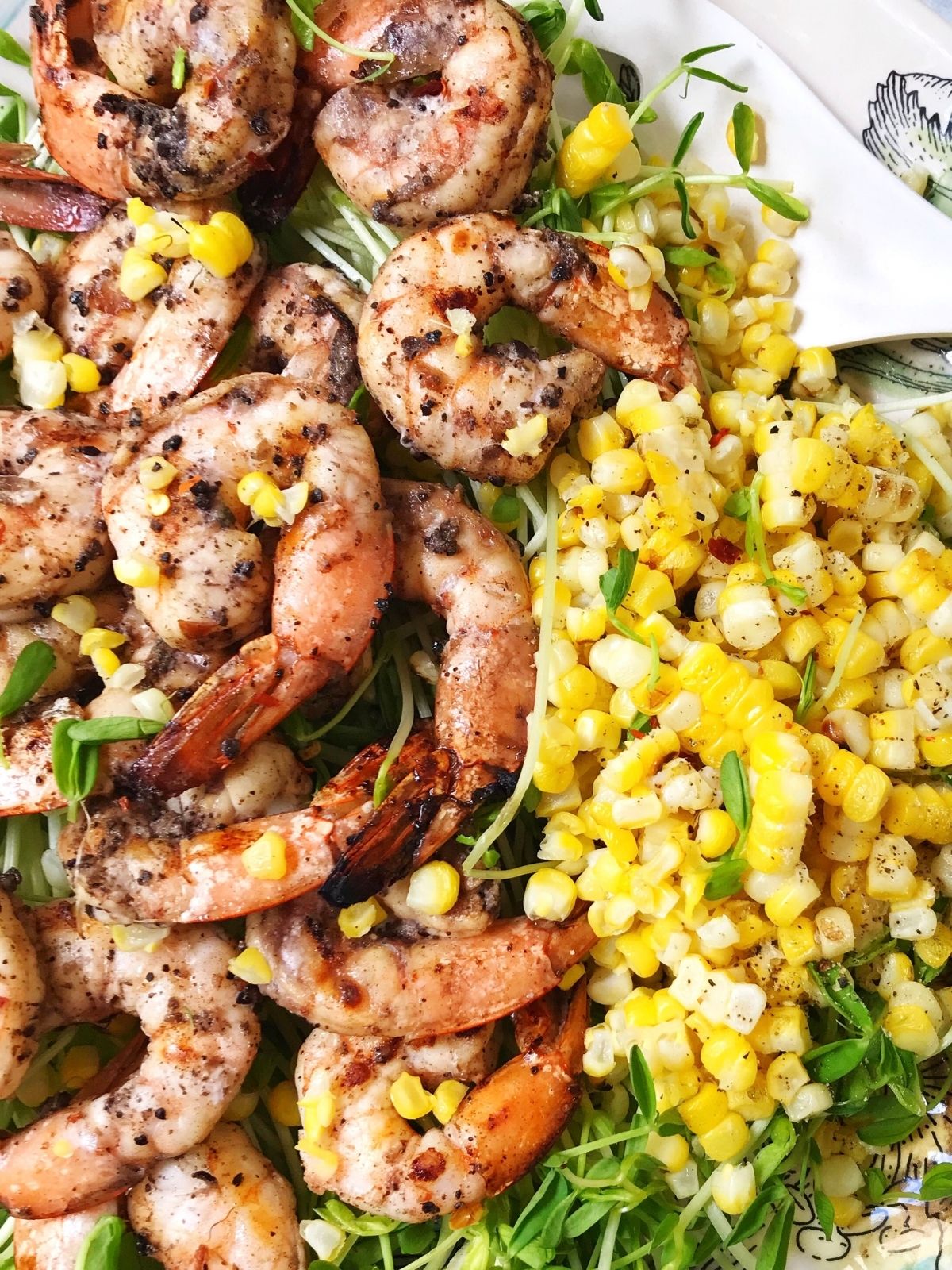 Craving more?
Subscribe to My Casual Pantry to get the latest recipes and ideas sent directly to your inbox.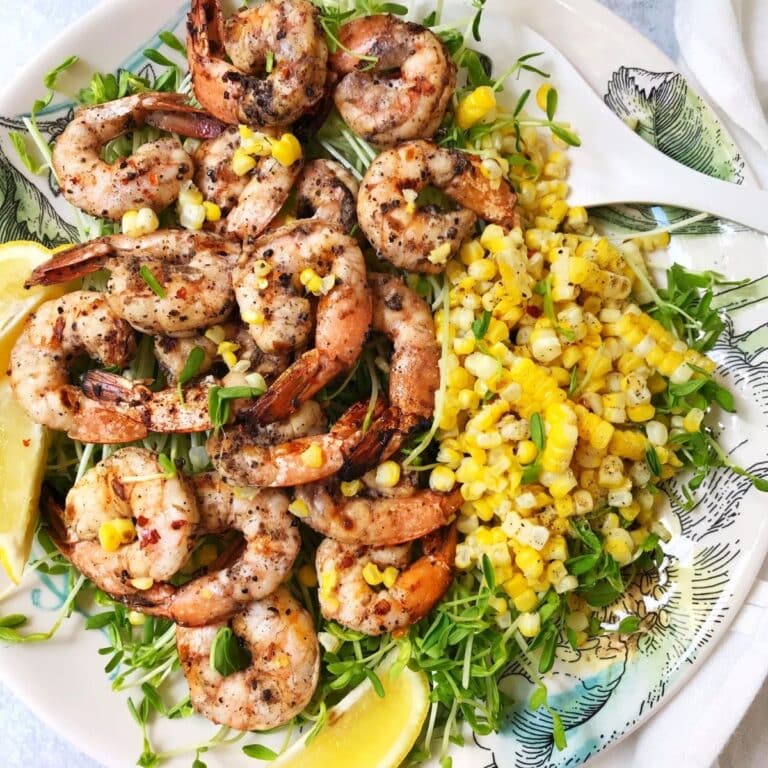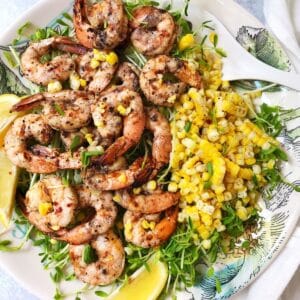 Grilled Jerk Shrimp
Jerk-marinated shrimp is grilled for a quick and fuss-free dinner.
Ingredients
12

ounces

shrimp

(peeled and deveined, thawed, if necessary)

2

tablespoons

jerk marinade or sauce

1

tablespoon

grapeseed oil

(or similar)

1

lemon

(juiced)
Instructions
In a large zipper-top bag, combine the jerk marinade, oil, and lemon juice. Mix together. Add the shrimp and marinate for 20 minutes.

Preheat the grill to medium. Grill the shrimp for 2-3 minutes per side or until pink on the outside and the flesh is opaque (white in color).
Notes
Grill time will depend on the heat of the grill and the size of the shrimp. Watch for the shrimp to turn pink and opaque (white-colored flesh).
Nutrition
Calories:
272
kcal
|
Carbohydrates:
10
g
|
Protein:
36
g
|
Fat:
9
g
|
Saturated Fat:
1
g
|
Polyunsaturated Fat:
6
g
|
Monounsaturated Fat:
1
g
|
Cholesterol:
429
mg
|
Sodium:
1602
mg
|
Potassium:
219
mg
|
Fiber:
2
g
|
Sugar:
5
g
|
Vitamin A:
12
IU
|
Vitamin C:
36
mg
|
Calcium:
261
mg
|
Iron:
4
mg
Nutritional information is an estimate and will vary depending upon the exact amounts and specific ingredients used.
Tried this recipe?
Please leave a comment and rating below.
Love this recipe? Follow on Pinterest for more inspiration!