Caprese Salad with Balsamic Glaze is a summer staple full of fresh ingredients and flavors. Serve as a main or side dish, for brunch or lunch.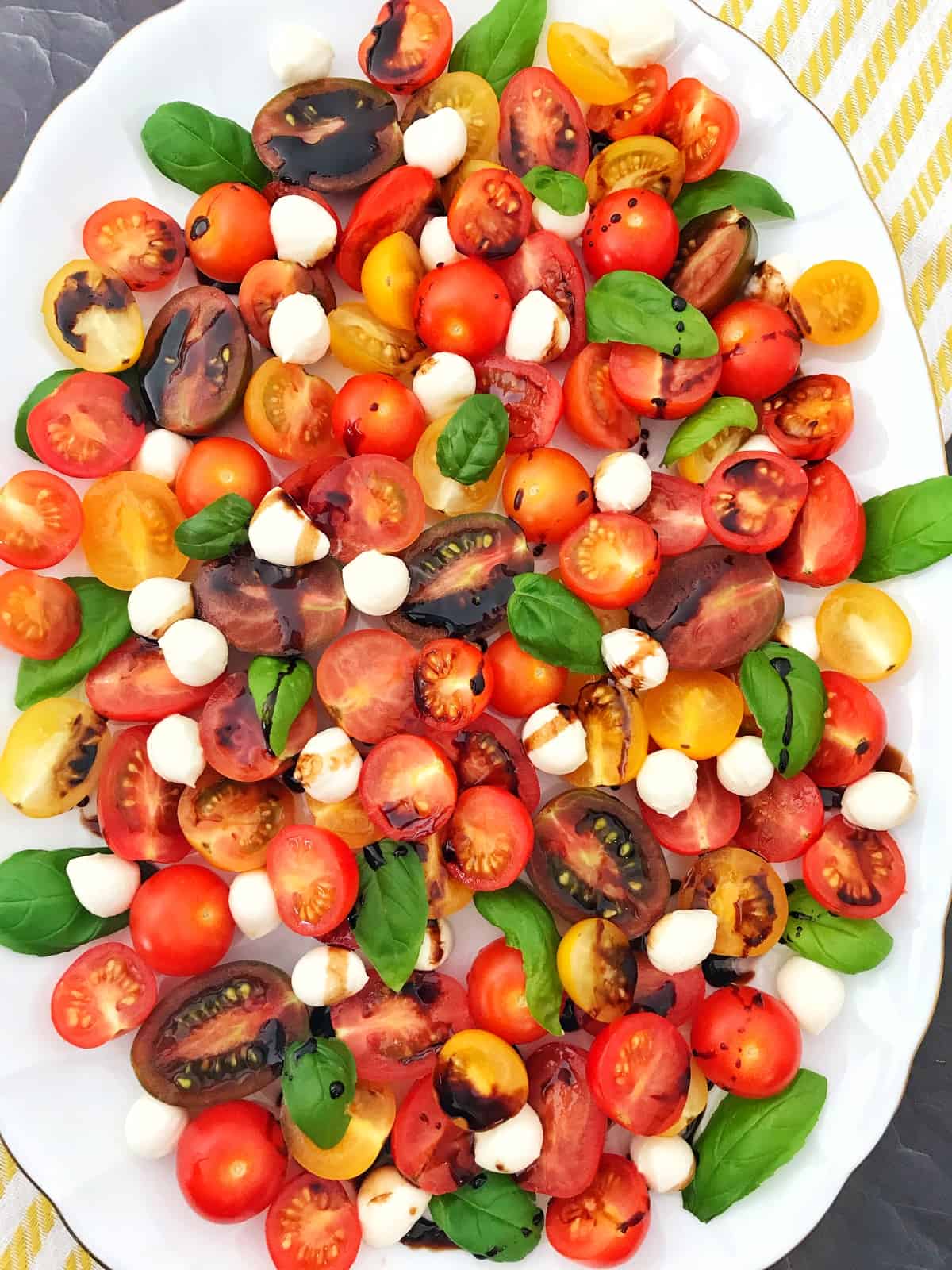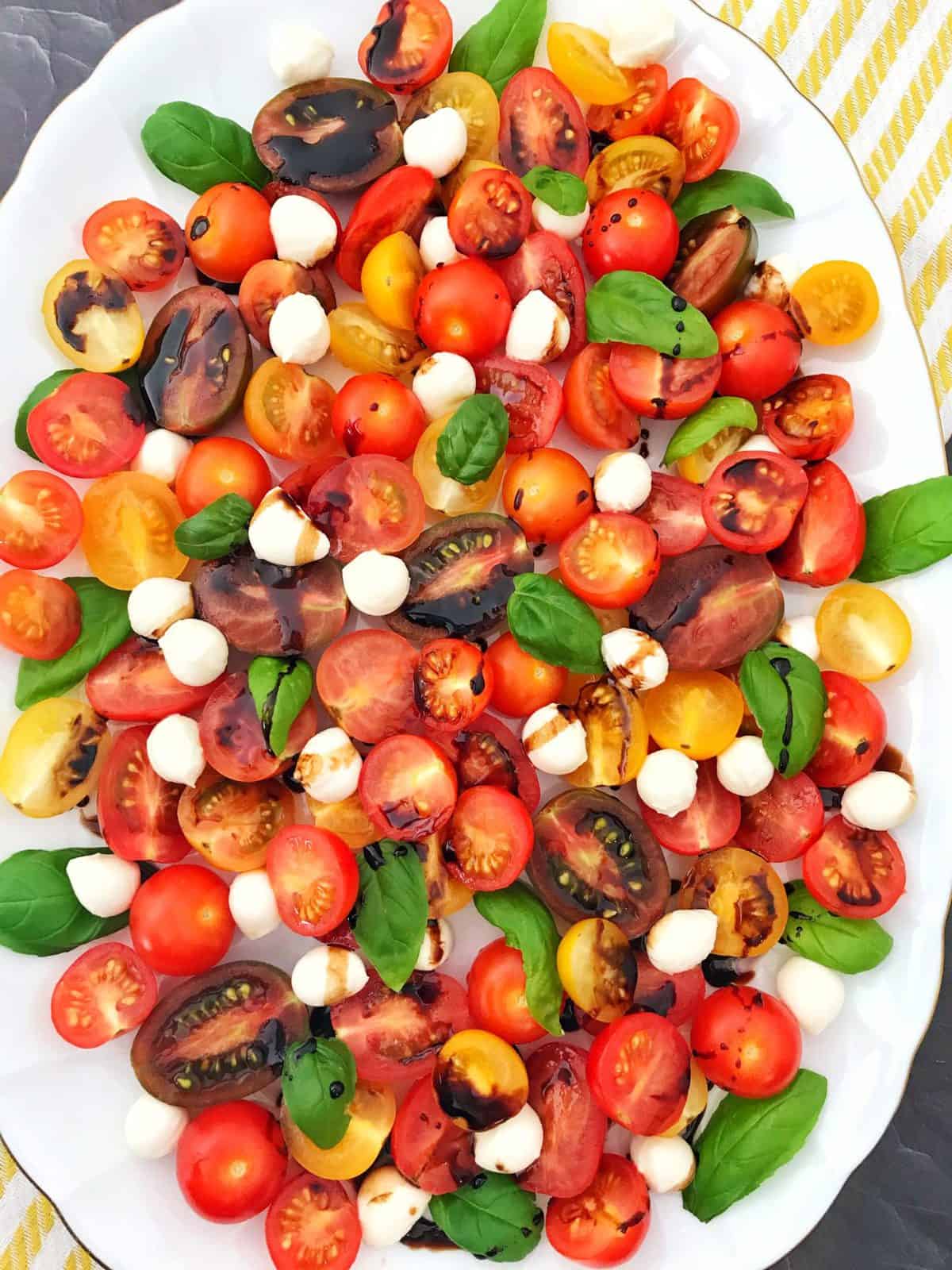 Caprese Salad is one of my favorite summertime salads.  It's so easy to pull together and the flavors are fresh and the colors are vibrant.   
With only four ingredients, each ingredient should be at its peak of freshness.
Cherry or grape tomatoes are garden fresh, sweet, and colorful.
Basil - The fragrance and flavor of fresh basil is unmatched.
Fresh mozzarella - Small "pearls" are perfectly bite-sized and add a deliciously creamy texture.
Balsamic vinegar is wonderfully sweet yet acidic at the same time. It's simmered down to a thick glaze before drizzling over the salad. There are many different types of balsamic vinegar.  Some have a deeper flavor or are more acidic, and some are sweeter.  You may need to try several before finding one you really like. Alico Fattoria Bronze Medal Aged Balsamic Vinegar is my favorite for its deep, yet sweet flavor.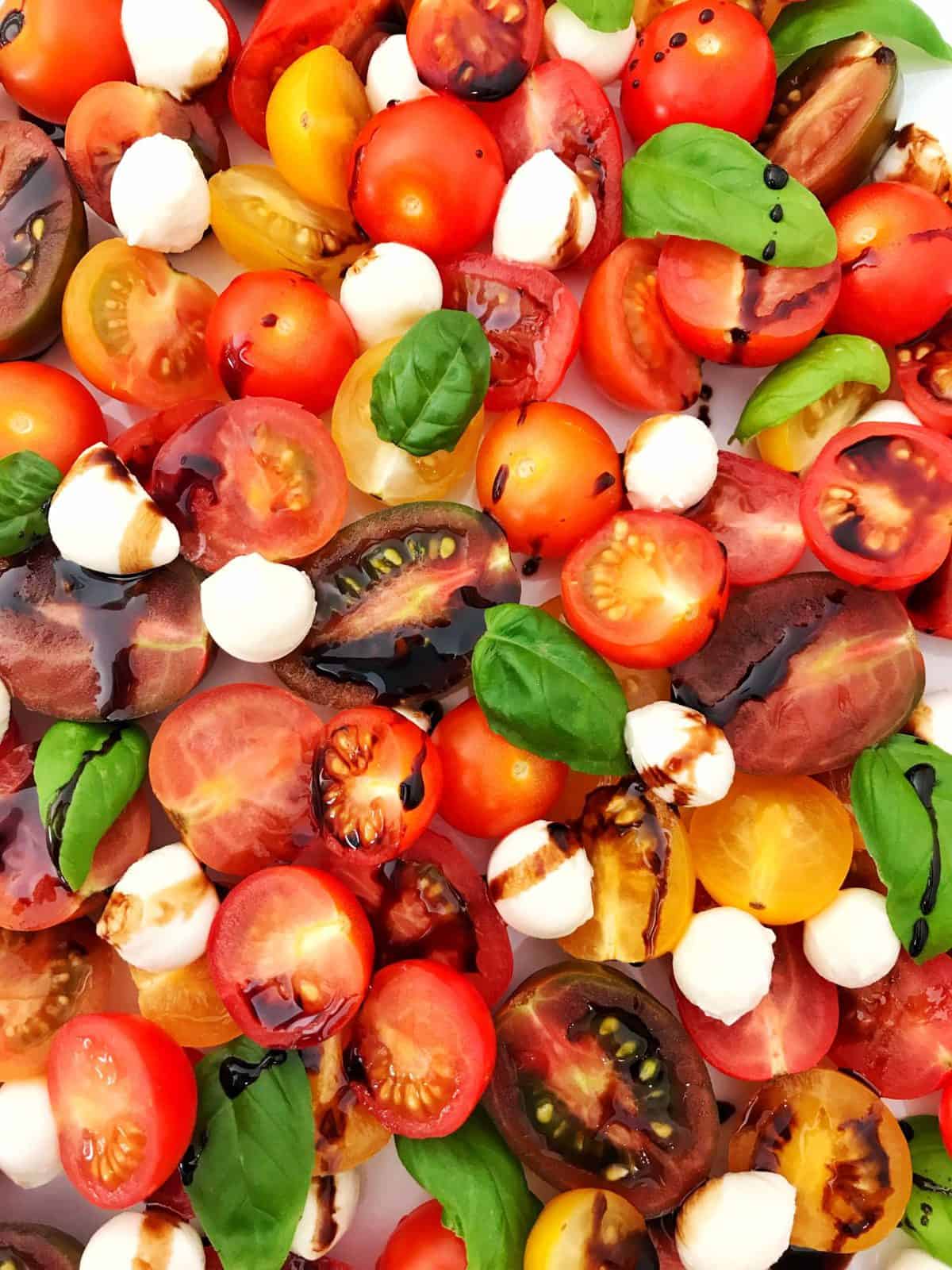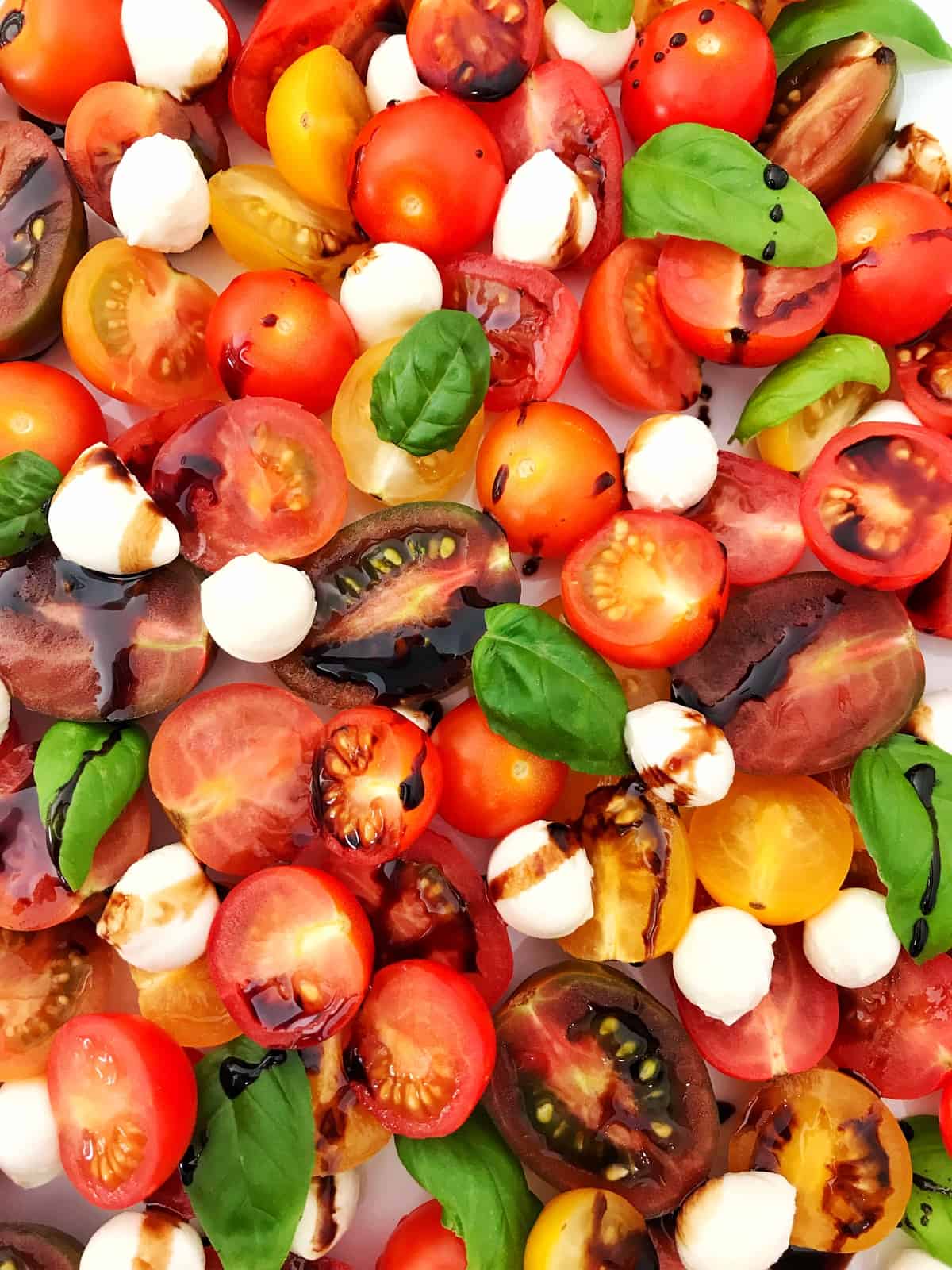 What is balsamic glaze?
Balsamic glaze is balsamic vinegar that has been simmered until it is reduced by half and becomes more syrup-like in consistency. Balsamic glaze can be found in most supermarkets, but you can easily make your own at home.
To make the glaze, add balsamic vinegar to a small saucepan, bring to a gentle boil, reduce heat, and simmer for approx. 10 minutes until reduced by half. The longer the vinegar is simmered, the thicker it will become. Sometimes balsamic glazes have sugar added to the vinegar, but I find that balsamic vinegar is sweet enough on its own.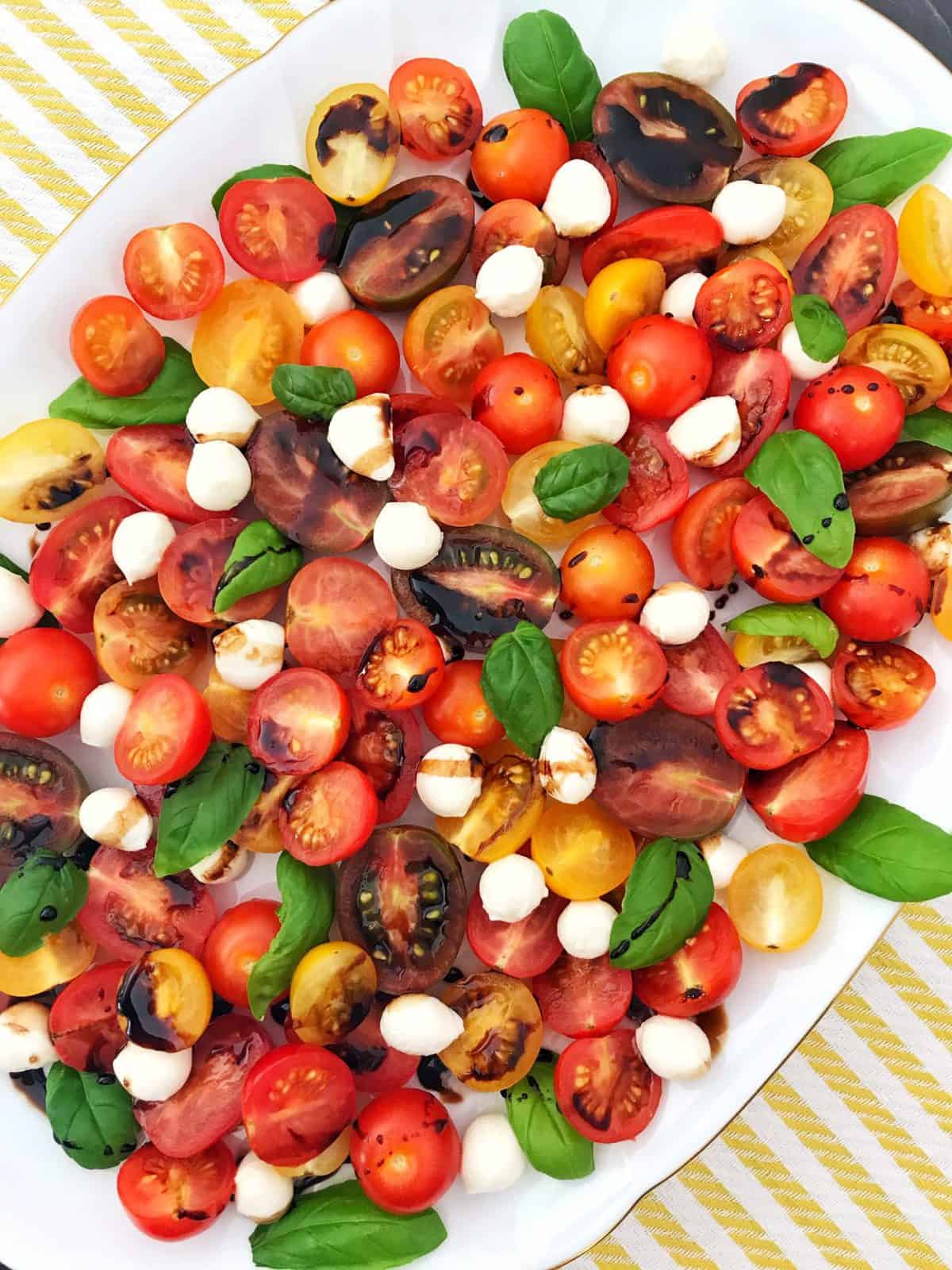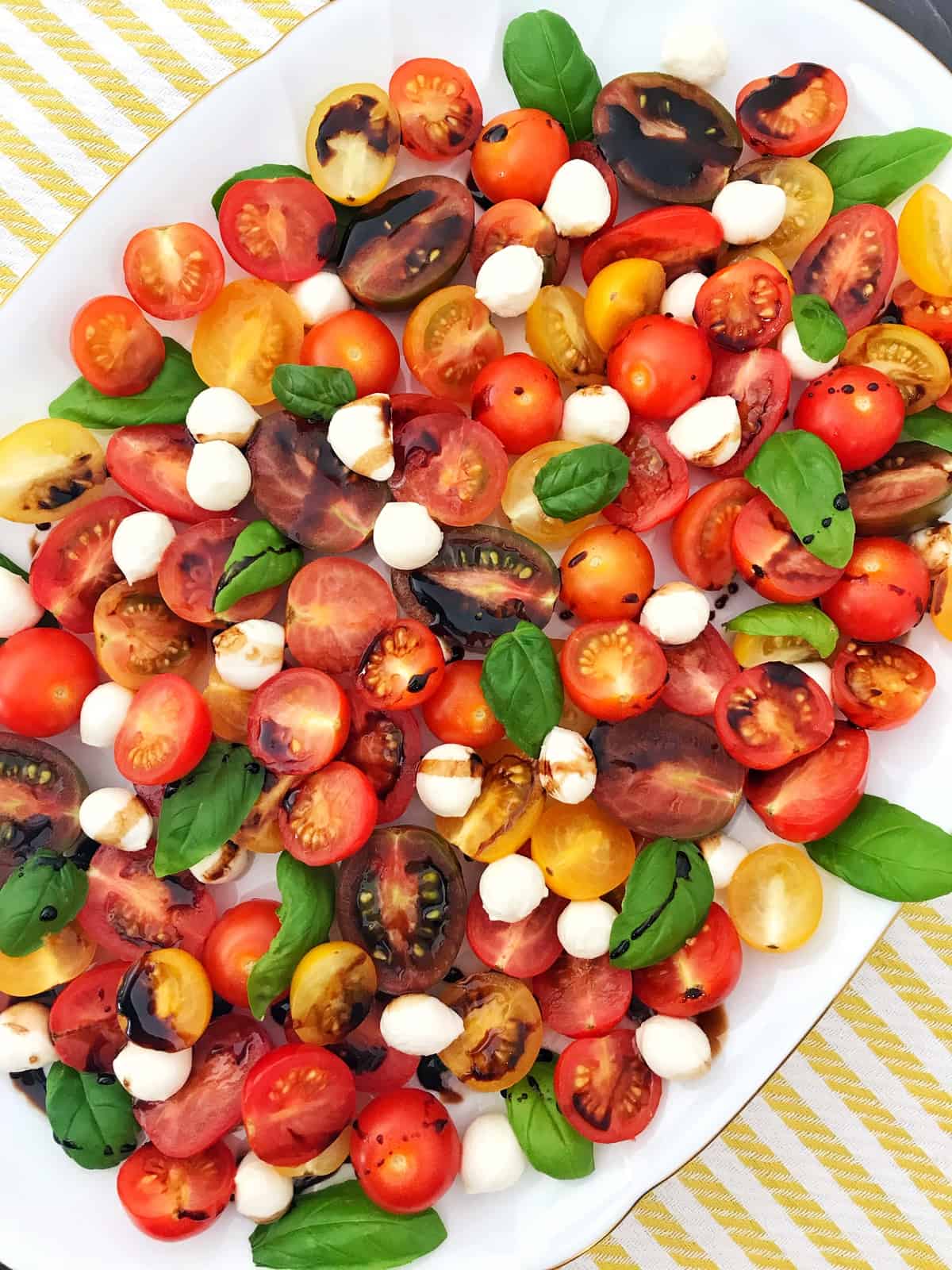 Serving ideas
This salad works wonderfully as a light lunch or as a side dish. Add this to a brunch buffet or pack it for a picnic.  The red, white, and green palette is so colorful and a beautiful addition to any table. 
Frequently asked questions
Is balsamic glaze the same as balsamic reduction?
Balsamic glaze - often called balsamic reduction - is made by simmering balsamic vinegar until it reduces by half, creating a thick glaze with a maple syrup-like consistency.
What goes best with Caprese salad?
Caprese salad can be served as an appetizer with crostini or as a light lunch or dinner alongside Ciabatta garlic bread. As a side dish, it pairs beautifully with grilled chicken or fish.
Can I use balsamic vinegar in place of balsamic glaze?
Balsamic glaze acquires a more concentrated sweetness and a syrup-like consistency from the cooking process, as compared to balsamic vinegar. Therefore, it is not recommended to use balsamic glaze and balsamic vinegar interchangeably in this salad.
What can I use in place of basil in a Caprese salad?
Baby spinach is a great substitute with a similar texture and vibrant color, although it does not have the same fragrant profile as basil. Baby arugula is another option. It stands up well in salads but will lend a different flavor profile with its peppery bite.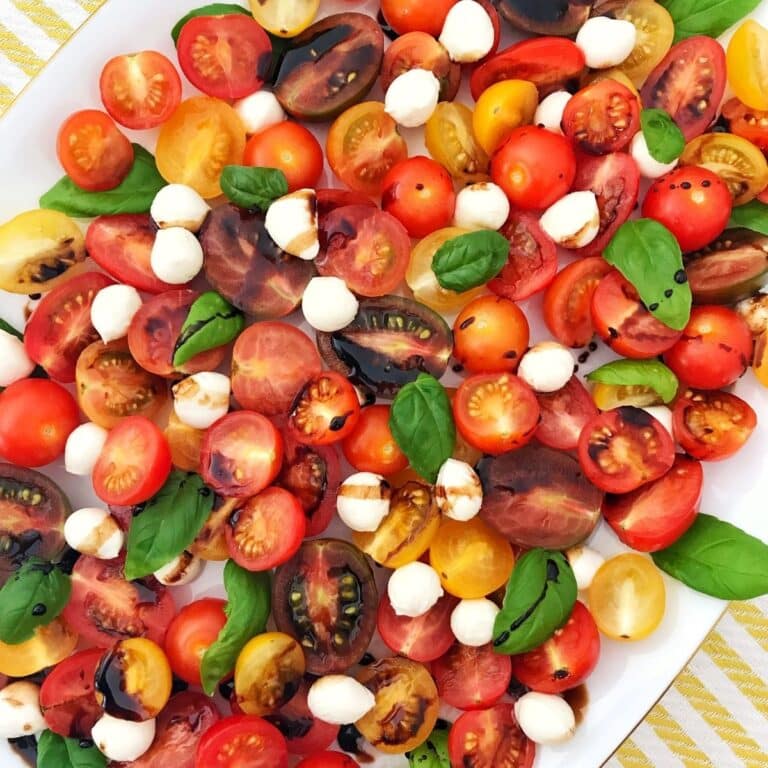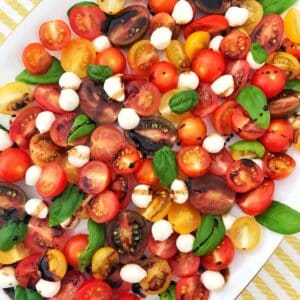 Caprese Salad with Balsamic Glaze
A summer staple, this salad has tomatoes, basil, and fresh mozzarella dressed with a balsamic vinegar glaze.
Ingredients
½

cup

balsamic vinegar

(for glaze)

1.5

pounds

cherry or grape tomatoes

(mixed variety)

⅔

cup

fresh mozzarella pearls

(small balls)

18-20

basil leaves
Instructions
Balsamic Glaze
Add the balsamic vinegar to a small saucepan. Heat to a gentle boil, reduce heat and simmer for 10 minutes or until reduced by half. Remove from heat and let cool.
Caprese Salad
Meanwhile, add the tomatoes to a serving platter or bowl, cutting the larger ones in half. Add the fresh mozzarella and basil. Toss to combine. Drizzle with the cooled balsamic glaze.
Nutrition
Calories:
101
kcal
|
Carbohydrates:
12
g
|
Protein:
5
g
|
Fat:
4
g
|
Saturated Fat:
1
g
|
Polyunsaturated Fat:
1
g
|
Monounsaturated Fat:
1
g
|
Cholesterol:
6
mg
|
Sodium:
28
mg
|
Potassium:
444
mg
|
Fiber:
2
g
|
Sugar:
9
g
|
Vitamin A:
1512
IU
|
Vitamin C:
24
mg
|
Calcium:
88
mg
|
Iron:
1
mg
Nutritional information is an estimate and will vary depending upon the exact amounts and specific ingredients used.
Tried this recipe?
Please leave a comment and rating below.
Love this recipe? Follow on Pinterest for more inspiration!