Homemade Guacamole - so fresh and easy to make with just four ingredients. Serve with tortilla chips, fresh vegetables, or spread on toast. A delicious topping for tacos, fajitas, and nachos.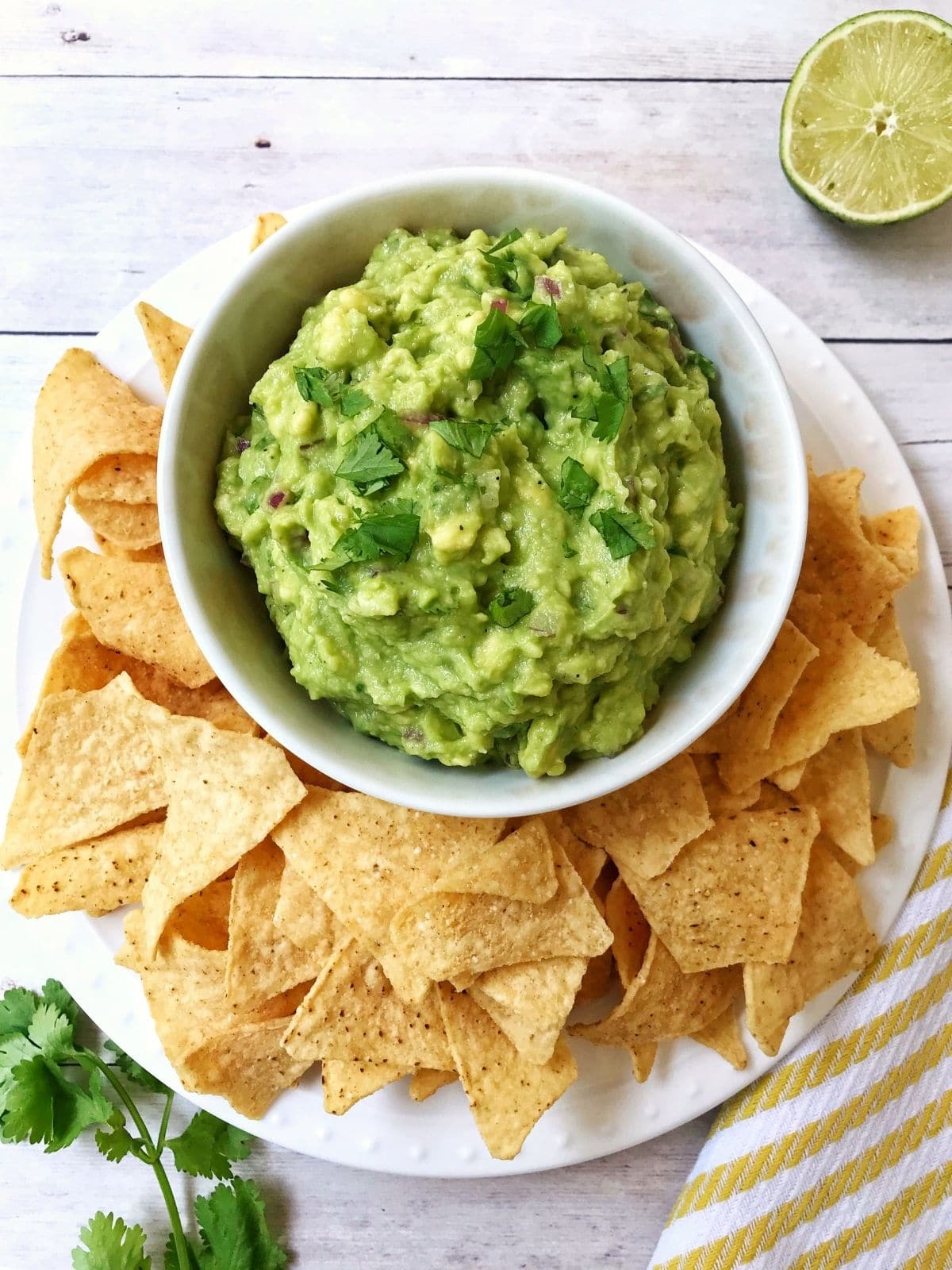 If you love chips and dip as much as I do, this recipe is for you! Homemade guacamole is so easy to make and full of fresh flavor. All it takes is 10 minutes (at most) and four ingredients (five if you opt for jalapenos).
Why you will love this recipe
Homemade guacamole doesn't require a long list of ingredients and prep time is short. Each ingredient packs flavor and freshness. It's an extremely versatile condiment ideal as avocado toast for breakfast to a snack-time dip to a topping on rice bowls for dinner.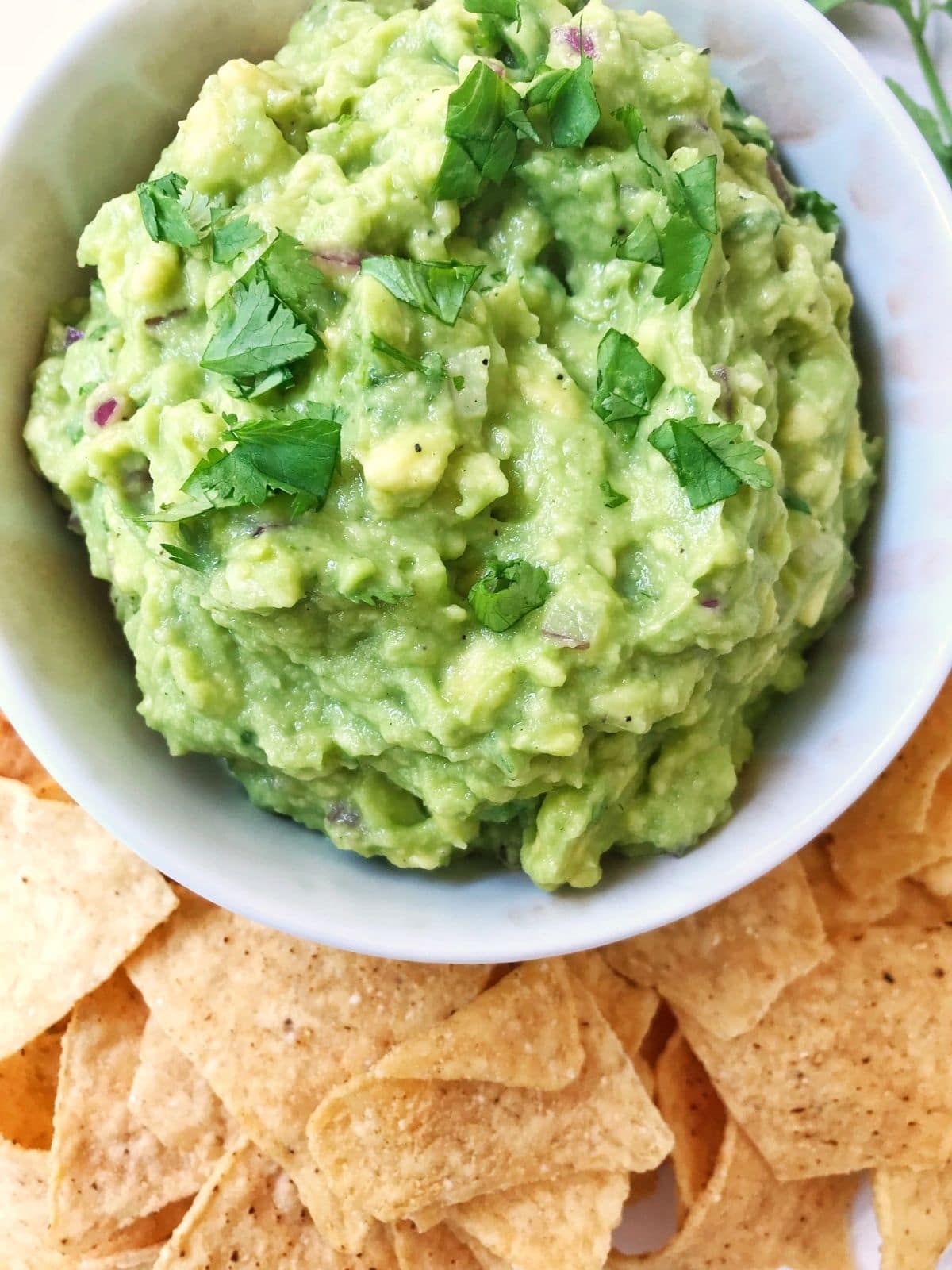 What is guacamole?
Guacamole is a dip or spread made from avocados. Avocados have a buttery texture, a creamy consistency, and a mild sweet flavor.
What to look for when buying avocados
A ripe avocado will give to firm, gentle pressure. It will feel slightly soft but should not be mushy. Ripe avocados typically have darker skin, but it's best to go by feel and color.
Ingredients
Avocados - always use ripe avocados
Lime juice - adds a punch of acidity and brightness and also prevents the avocados from turning brown.
Red onion - adds sharp flavor and I also love the pop of color. Yellow onion can also be used.
Cilantro - adds lots of fresh flavor. I love the flavor of cilantro, but I realize it isn't for everyone. If desired, parsley can be substituted.
Jalapeno - completely optional. If you like a punch of heat in your guacamole, add some finely diced jalapeno.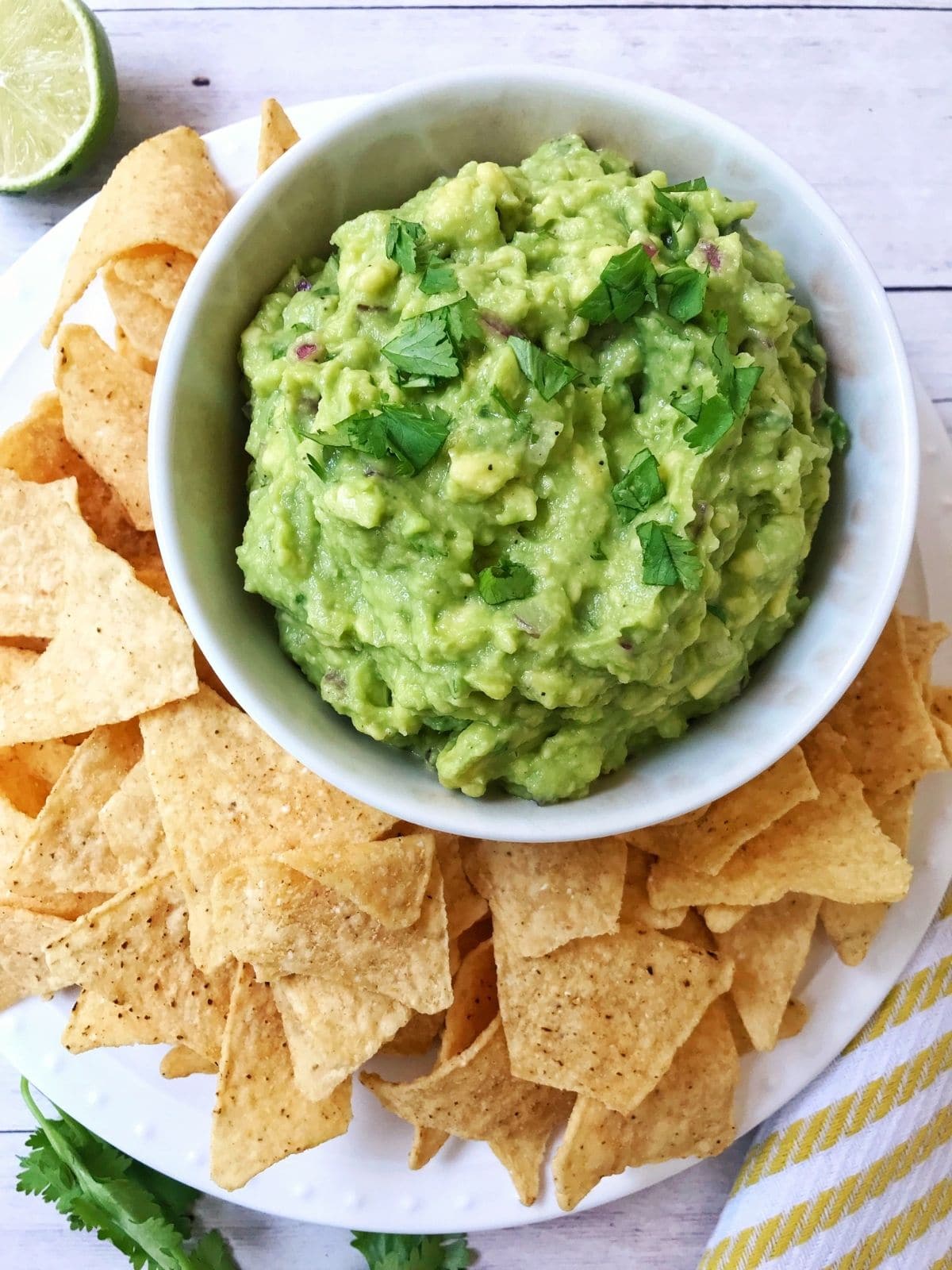 Tips
Preparation is so easy. Mash the avocados to the desired consistency. I like mine with some chunks and texture. Then, stir in the remaining ingredients. Yes, it is really that easy!
Make the guacamole right before you want to serve it. Avocados turn brown easily, so it's best not to make it ahead of time. The lime juice is key here - the acid helps prevent the avocado from turning brown.
Customize the flavors to your taste. Adjust the amount of onion, jalapenos, and cilantro based on your personal preference.
Add ins: Stir in chopped tomatoes, cotija or feta cheese, or grilled corn. Get creative with different flavor combos.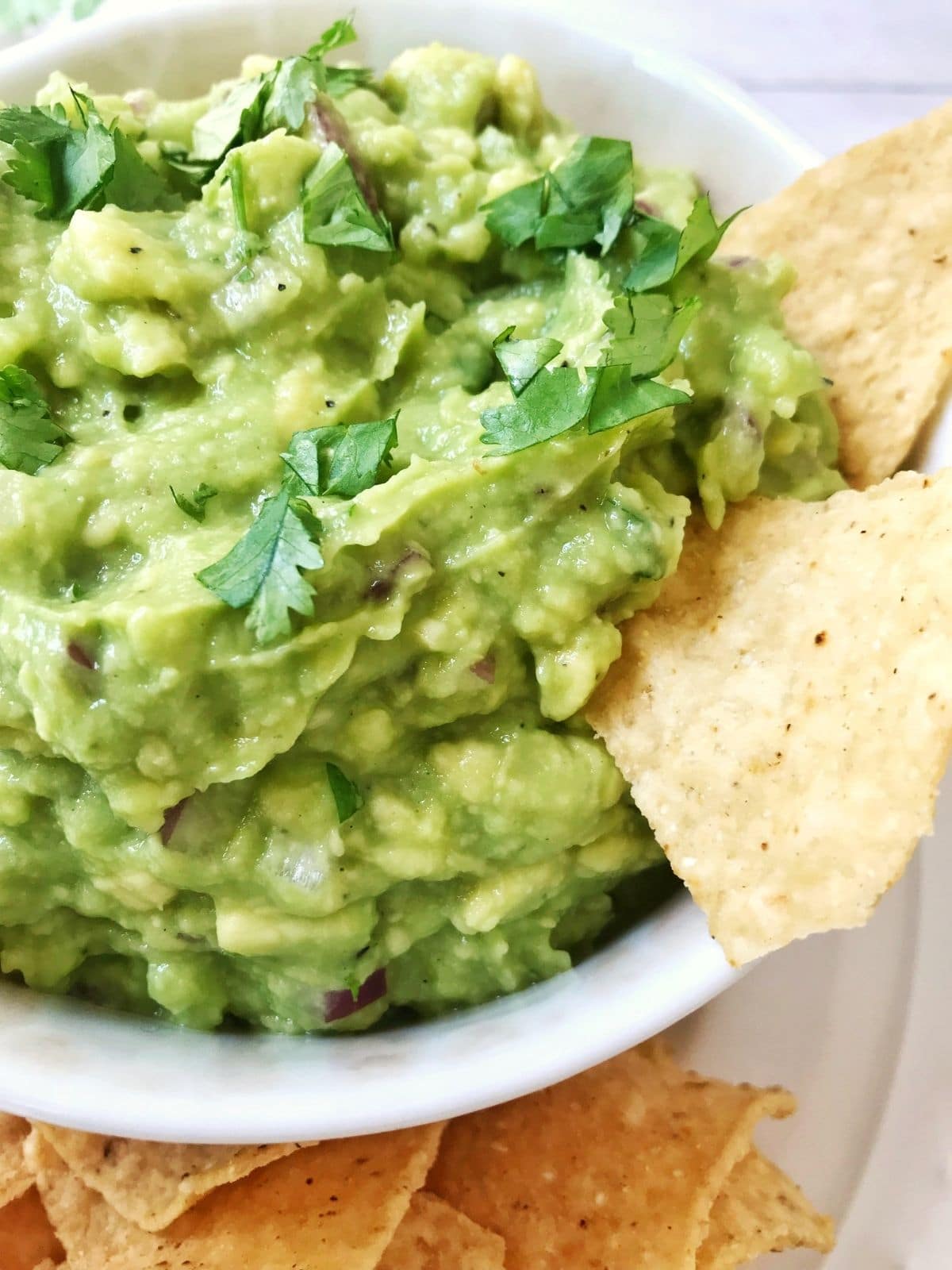 Serving ideas
Serve homemade guacamole with tortilla chips or veggies for dipping.
Spread the guacamole on toast and sprinkle with flaky salt, everything bagel seasoning, or top with a sliced hard-boiled egg. This is one of my favorite breakfasts.
Add guacamole as a topping on tacos, fajitas, taquitos, nachos, rice bowls, and more.
Use as a spread on burgers or grilled chicken.
How to store homemade guacamole
Avocados turn brown easily once exposed to the air. Adding acid like lime juice helps tremendously, but it's important to store the guacamole in an airtight container in the refrigerator to slow down discoloration.
PRO TIP: Transfer the guacamole to an airtight container. Place plastic wrap over the guacamole, pressing the wrap so that's it's touching the surface of the guacamole and blocking exposure to air. Secure the lid and store in the refrigerator for up to 3-4 days.
More dip recipes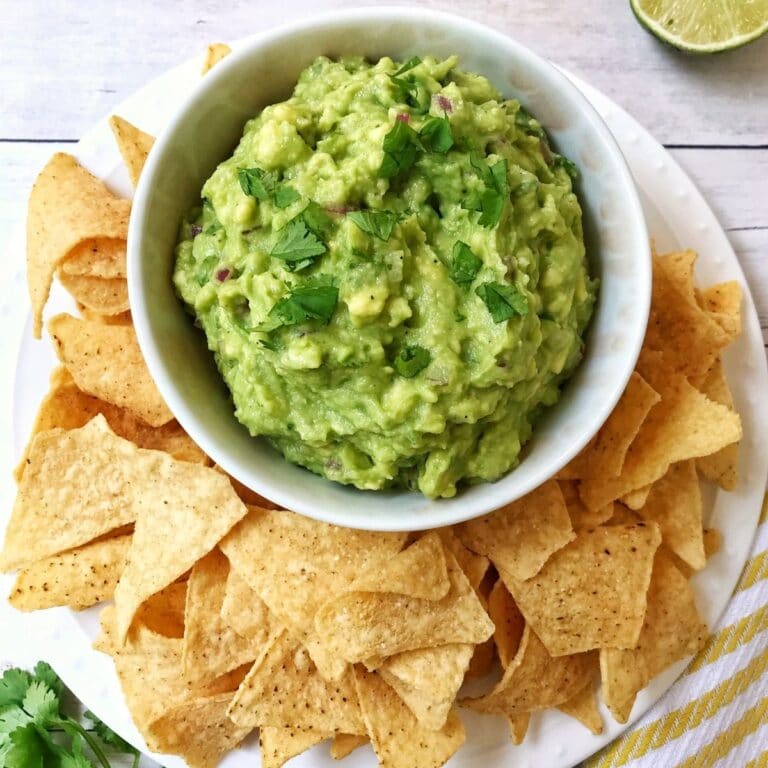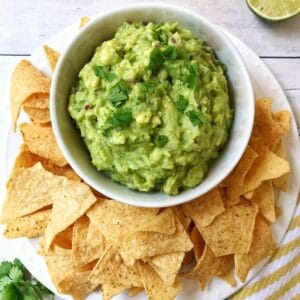 Best Homemade Guacamole
Guacamole is so fresh and easy to make with just four ingredients.  Serve with tortilla chips, fresh vegetables, or spread on toast. A delicious topping for tacos, fajitas, and nachos.
Ingredients
4

avocados

1 ½

limes

juiced

½

cup

finely diced red onion

1

jalapeno

finely diced with seeds and membrane removed (optional)

½

cup

chopped cilantro

¼

teaspoon

black pepper

¾

teaspoon

salt
Instructions
Slice the avocados in half lengthwise. Carefully remove the pits. Using a knife, make horizontal and vertical cuts int he avocado, being careful not to cut through the skin. Scoop out the avocado flesh and add to a mixing bowl.

Squeeze the fresh lime juice over the avocado and using a fork, mash the avocado until it reaches the desired consistency.

Stir in the finely diced red onion, jalapeno (optional), chopped cilantro, and season with salt and pepper. Serve immediately or store tightly covered in the refrigerator for 3-4 days. (See blog post for additional storage tips).
Author's note: This post was originally published in August 2019 and has been updated.