Chocolate Christmas Bark is a quick and easy treat that is also delicious and versatile. Simply melt chocolate and top with sprinkles or candy, nuts or dried fruit.
When the holidays get hectic, it's great to have a quick and easy recipe when you need a treat and don't have a lot of time. And when the recipe is also delicious and versatile, it's even better! Chocolate Christmas Bark is the perfect festive go-to treat.
hostess gifts
homemade gifts
cookie platters or dessert boards
dessert buffets
last-minute teacher gifts
game-day snacking
a simple indulgence for you after a busy day
What type of chocolate can be used to make bark?
Chocolate bark is all about the chocolate, so it's important to use good quality chocolate. I prefer Ghiradelli. It is readily available and reasonably priced. Dark chocolate is my favorite so I use either dark chocolate melting wafers or bittersweet 60% chocolate cacao baking bars.
The melting wafers do not require tempering (more on this later). The baking bars should be chopped into small pieces to facilitate melting and do require tempering. Chocolate chips are not recommended for making chocolate bark. The additives in chocolate chips affect the way they melt.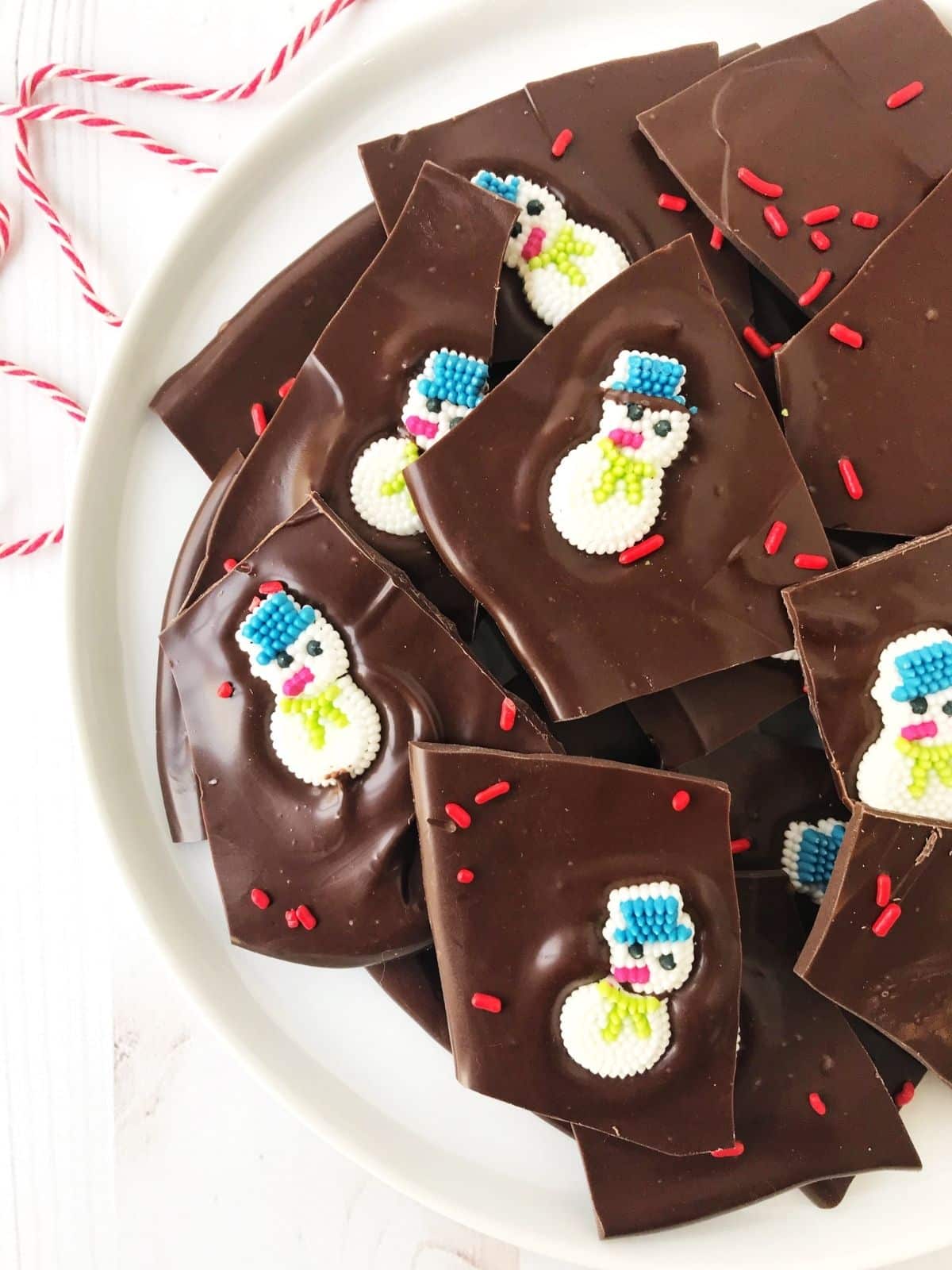 How to melt chocolate
Melting chocolate is not difficult, but it does require a little patience. Heating chocolate too quickly can cause it to cease up. Chocolate can be melted using one of two methods.
Double boiler method - this is often a preferred method because it is easier to control the heat and monitor when the chocolate is fully melted. Place a heat-proof bowl over a pan of gently simmering water. The water should not touch the bottom of the bowl. Place the chocolate in the bowl and gently stir with a spatula as the chocolate melts until completely smooth.
Microwave method - it is harder to control the heat using this method because all microwaves have different wattages. This method works very well with the melting wafers. If you are using the melting wafers, melt according to the package directions. If using chopped chocolate, microwave in 30-second intervals at 50% powder, stirring in between each interval, until melted.
What is tempering?
Tempering is a process that helps the melted chocolate retain a glossy finish after it hardens. It prevents the chocolate from having a hazy, grayish look. It also gives the chocolate a crisp snap when bitten into.
When melting chocolate baking bars, chop the chocolate into small pieces. Start by adding ⅔ of the chopped chocolate to a heat-proof bowl. Melt using either the double boiler or microwave method as discussed above. Once melted (remove from heat if using the double-boiler method), add the remaining ⅓ chocolate and stir until completely melted. Be patient as this may take a few minutes, but the residual heat from the melted chocolate will melt the rest of the chocolate.
As noted above, Ghiradelli melting wafers do not require tempering. Melt according to the package directions.
Decorating chocolate bark
Pour the melted chocolate on a baking sheet lined with parchment paper. Using an offset spatula, spread the chocolate into an even layer ¼-inch thick. Sprinkle with toppings of your choice. The possibilities are endless.
seasonal sprinkles or nonpareils
candy - I used festive snowman cake decorations for this recipe
toasted nuts and dried fruit such as almonds or pecans, dried apricots, cranberries, or toasted coconut
crushed candy canes or peppermint candies
flaked sea salt
crushed pretzels and miniature marshmallows for a salty-sweet combo
Allow the chocolate to cool and harden - 30 minutes in the refrigerator or 2-3 hours at room temperature. Break into pieces and enjoy!
Whether you need a hostess gift, a last-minute treat, or a little indulgence for yourself, Chocolate Christmas Bark is super easy, delicious, and so versatile. 
More Christmas sweets
Chocolate Christmas Bark
Melted chocolate topped with festive seasonal candy for a delicious holiday treat.
Instructions
Line a baking sheet with parchment paper. Set aside.

Melt the dark chocolate wafers according to package directions using either the double boiler or microwave method. (If using the baking bars, melt the chocolate using the tempering method discussed above in the post).

When melted, pour the chocolate onto the prepared baking sheet and spread into an even layer approx. ¼-inch thick. Decorate with cake decorations or sprinkles.

Refrigerate for 30 minutes to set. Cut or break into pieces. Store in an airtight container.
Nutrition
Calories:
39
kcal
|
Carbohydrates:
5
g
|
Fat:
2
g
|
Saturated Fat:
2
g
|
Sodium:
8
mg
|
Sugar:
5
g
Nutritional information is an estimate and will vary depending upon the exact amounts and specific ingredients used.
Tried this recipe?
Please leave a comment and rating below.