This creamy Pumpkin and Sage Risotto gets a fall twist with the addition of pumpkin and warm sage. This is a wonderful Autumn side dish or a delicious addition to your holiday menu.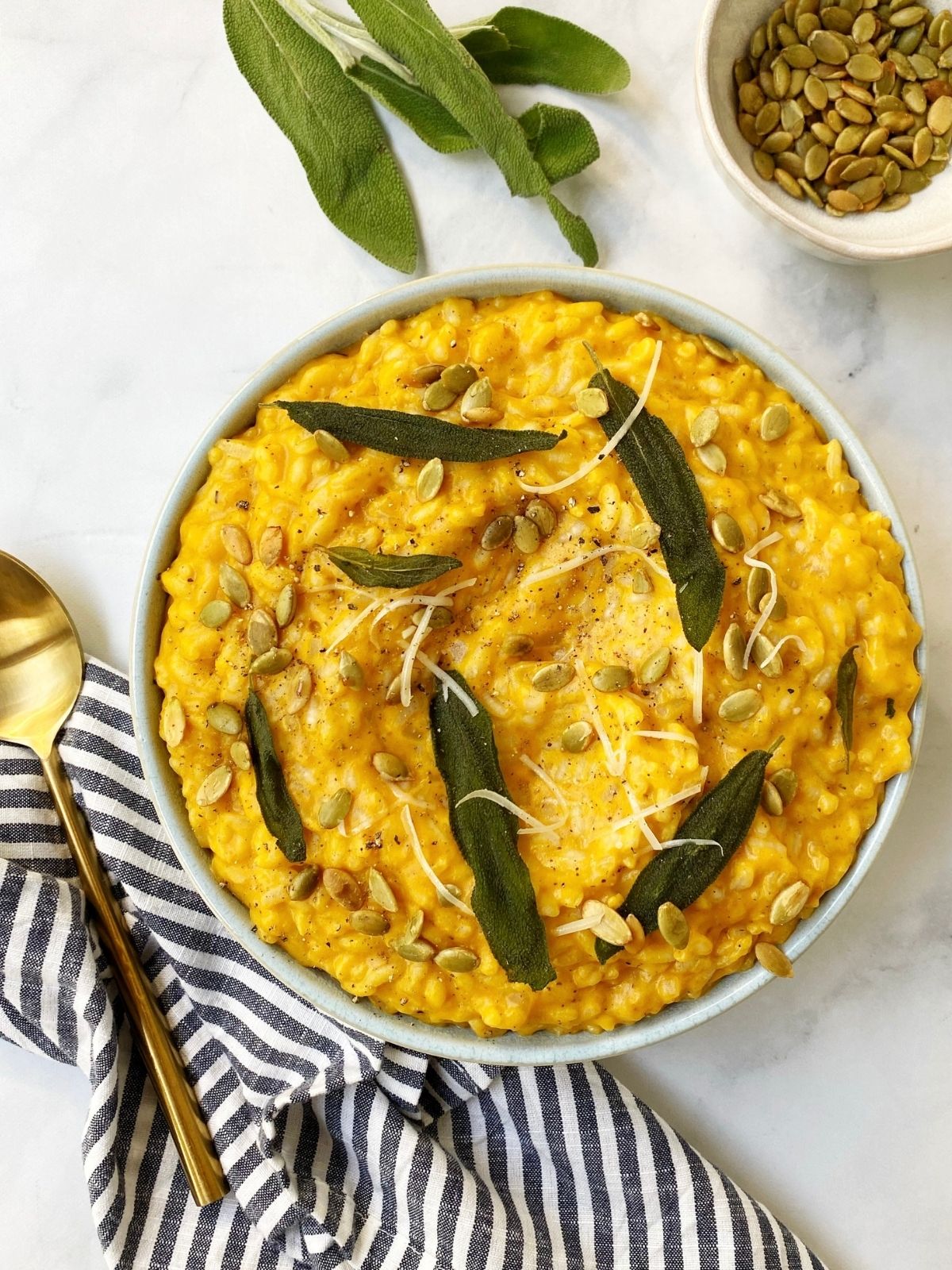 Risotto may seem like an intimidating dish to make, but it is really quite easy. It simply requires a little patience and time. The key to perfect risotto is slowly cooking the rice by gradually adding hot liquid. This process brings out the starches in the rice which creates the creamy consistency that risotto is known for.
Fall-inspired dish
Pumpkin and sage risotto is full of wonderful fall flavor. With sweet pumpkin puree and warm sage, this is a seasonal favorite and is perfect for holiday menus. Serve with beef, poultry, pork, or seafood for a restaurant-style meal at home.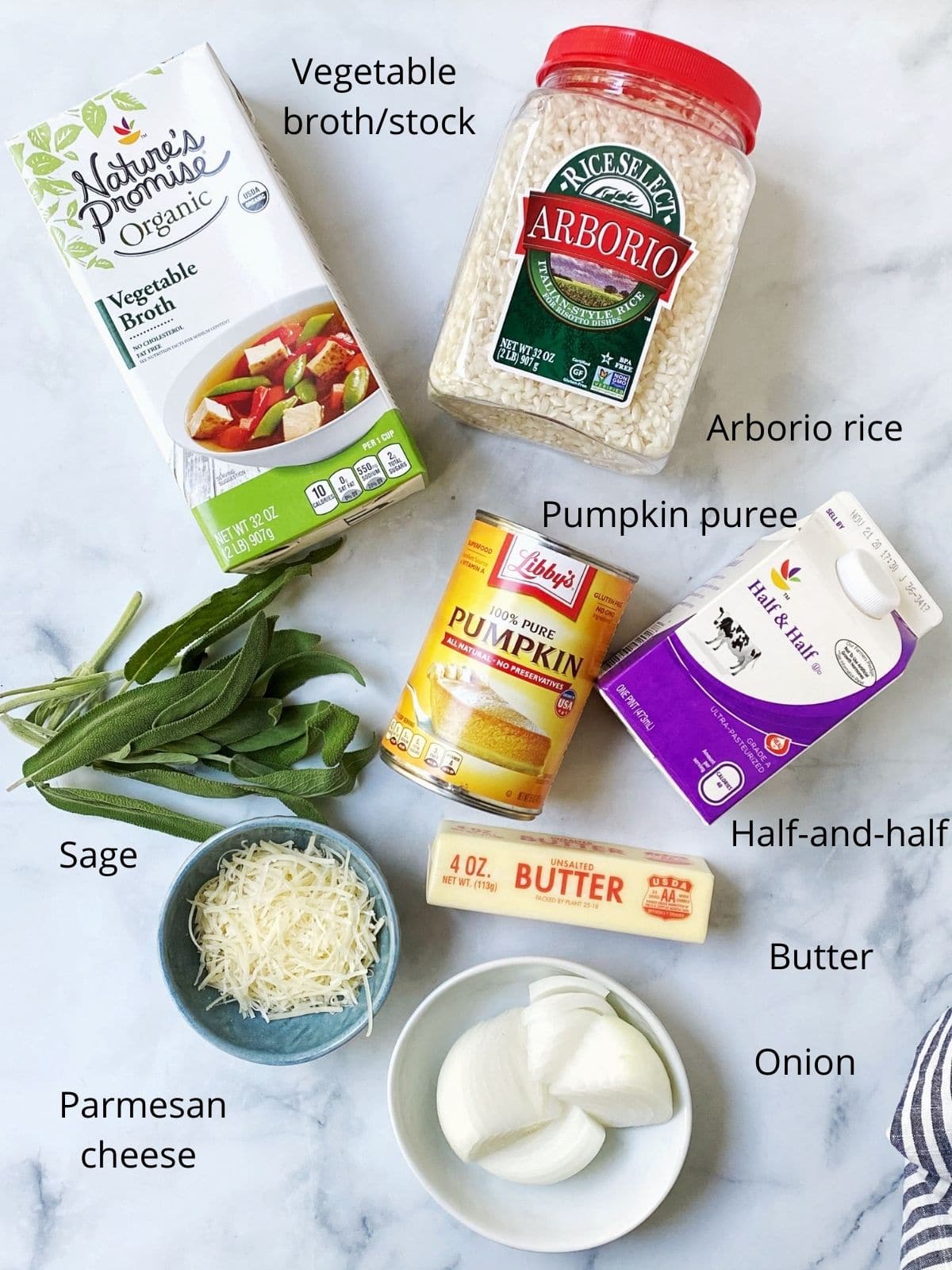 Key ingredients
Arborio rice - the traditional rice for risotto. More discussion about this is below.
Stock/broth - this adds much more flavor than just using water. Vegetable or chicken broth both work fine. I use vegetable broth in this recipe to keep the recipe vegetarian.
Parmesan cheese and cream - added at the end to enhance the creamy consistency.
Pumpkin puree and fresh sage are added to bring wonderful fall flavor to this dish.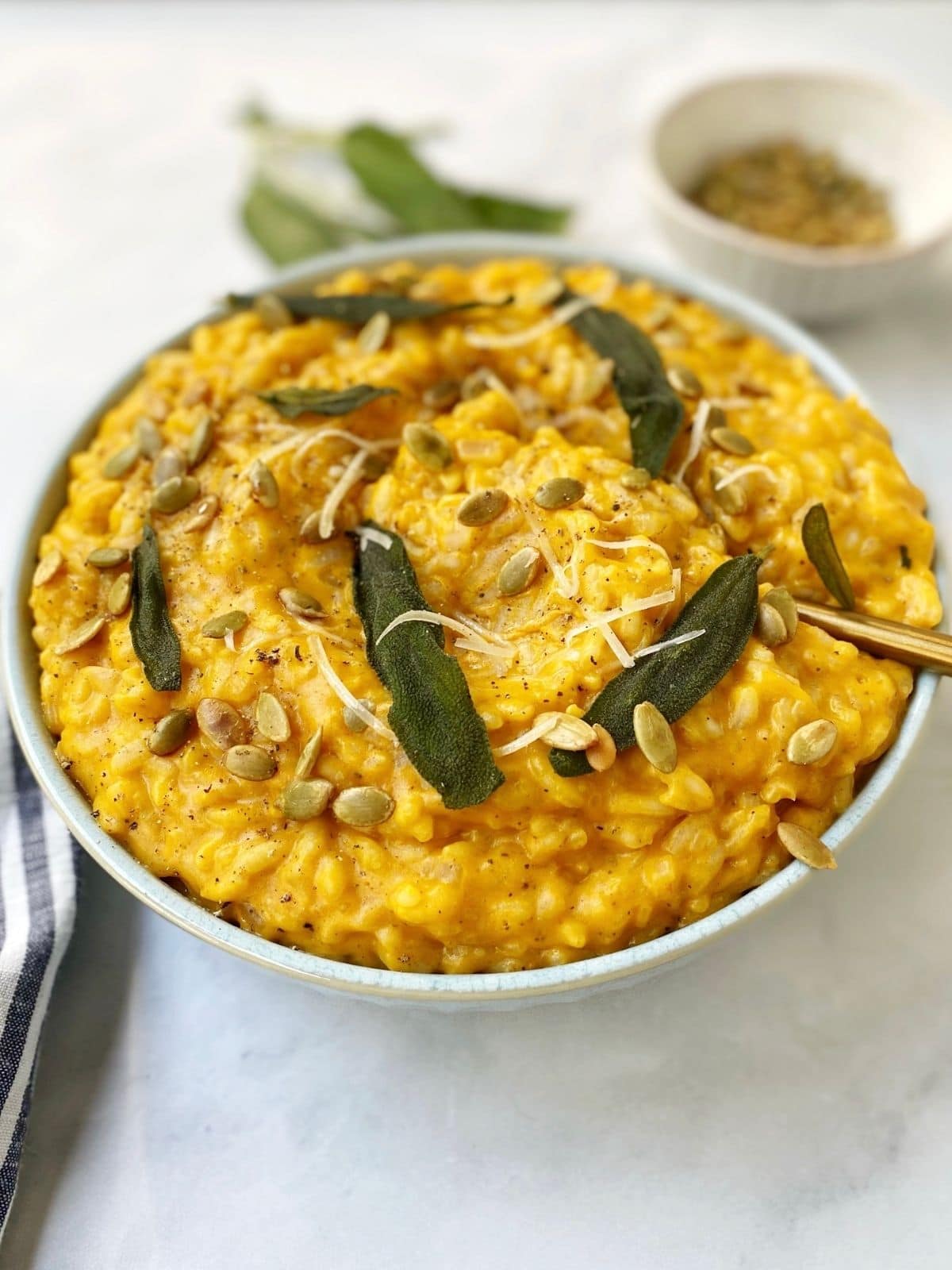 FAQs
What type of rice do I use for risotto?
Risotto is typically made with Arborio rice, a type of short-grain rice.  It's fat and oval-shaped with a white exterior.  Arborio has a higher starch content than other varieties of rice.  This starch is released when cooked, which results in the creamy consistency typical of risotto dishes.
Arborio rice is widely available at most supermarkets and can be found in the rice aisle.
What is the liquid-to-rice ratio for risotto?
Generally, a 3-1 ratio is appropriate:  3 cups of liquid to one cup of uncooked arborio rice.  You can adjust this ratio slightly depending on other ingredients in the recipe.
I prefer using broth or stock as the cooking liquid because it adds additional flavor to the rice.  Purees, such as the pumpkin in this recipe, can also be added for flavor.  You can also add cream at the end of the cooking process, along with cheese, to enhance the creaminess.
How do I cook arborio rice?
Arborio rice is cooked by gradually adding hot liquid and cooking until the liquid is absorbed before adding more.  This process shouldn't be rushed.  This gradual method draws the starch out of the rice and creates a creamy texture.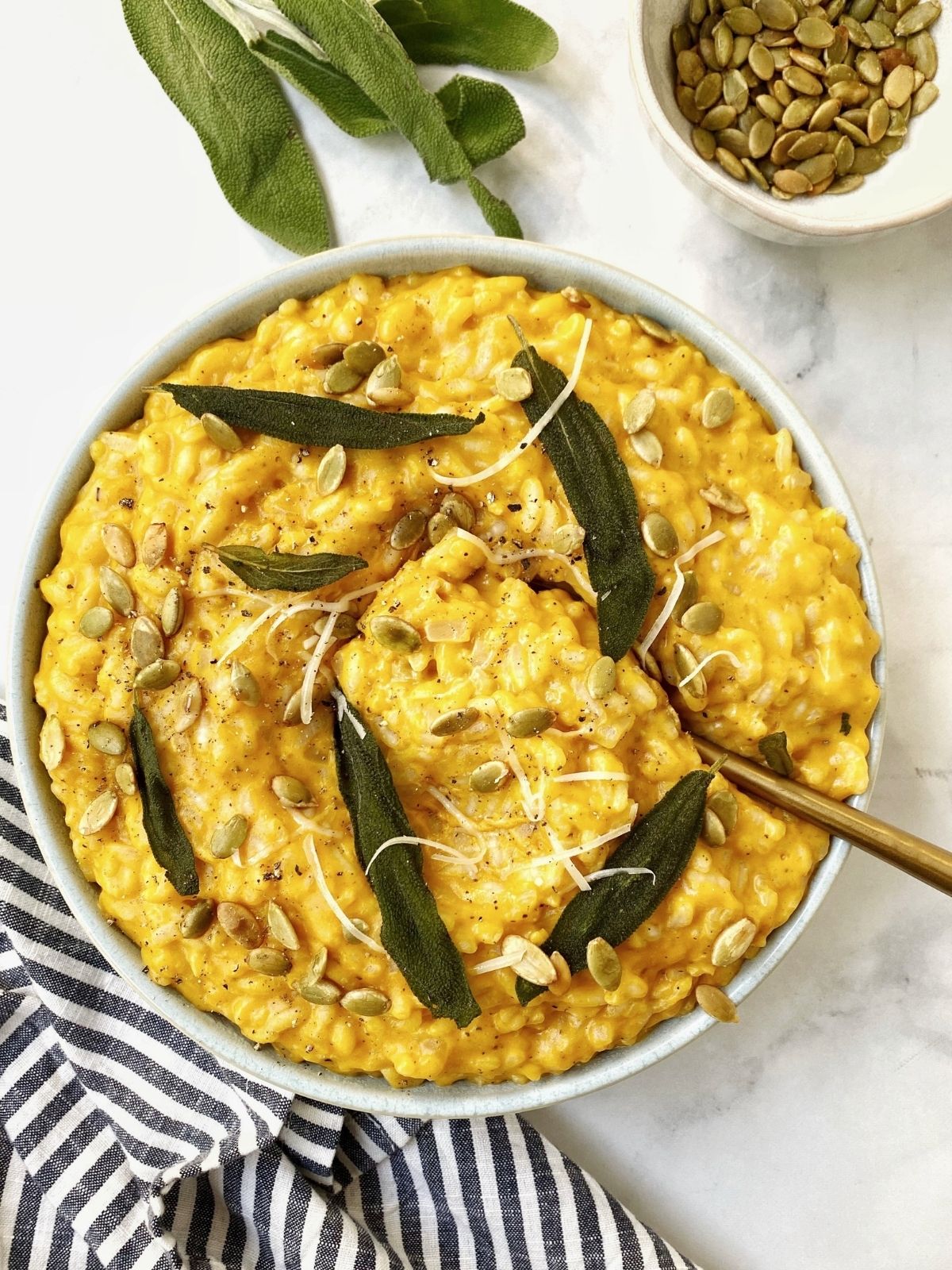 Preparation
Start by sauteing the onion in butter. Meanwhile, heat the broth in a separate saucepan.
Add the rice to the onion and butter and toast it for a few minutes.
Add two ladles of broth to the rice and cook, stirring frequently, until all of the liquid is absorbed.
Continue adding the broth gradually, allowing each addition to be absorbed before adding more. When all of the liquid has been absorbed, the rice should be al dente - cooked but slightly firm. It should not be mushy.
While the risotto cooks heat some oil in a small skillet and "fry" the sage leaves until crisp. Set aside to use as the garnish.
Stir in the pumpkin, cream, and Parmesan. Garnish with sage leaves, pepitas, extra Parmesan, and freshly cracked black pepper.
What to serve with risotto
Pumpkin sage risotto is a delicious side dish that pairs well with any protein - chicken, beef, pork, or seafood.
And, it's also hearty enough to serve as a main dish. Just add a salad.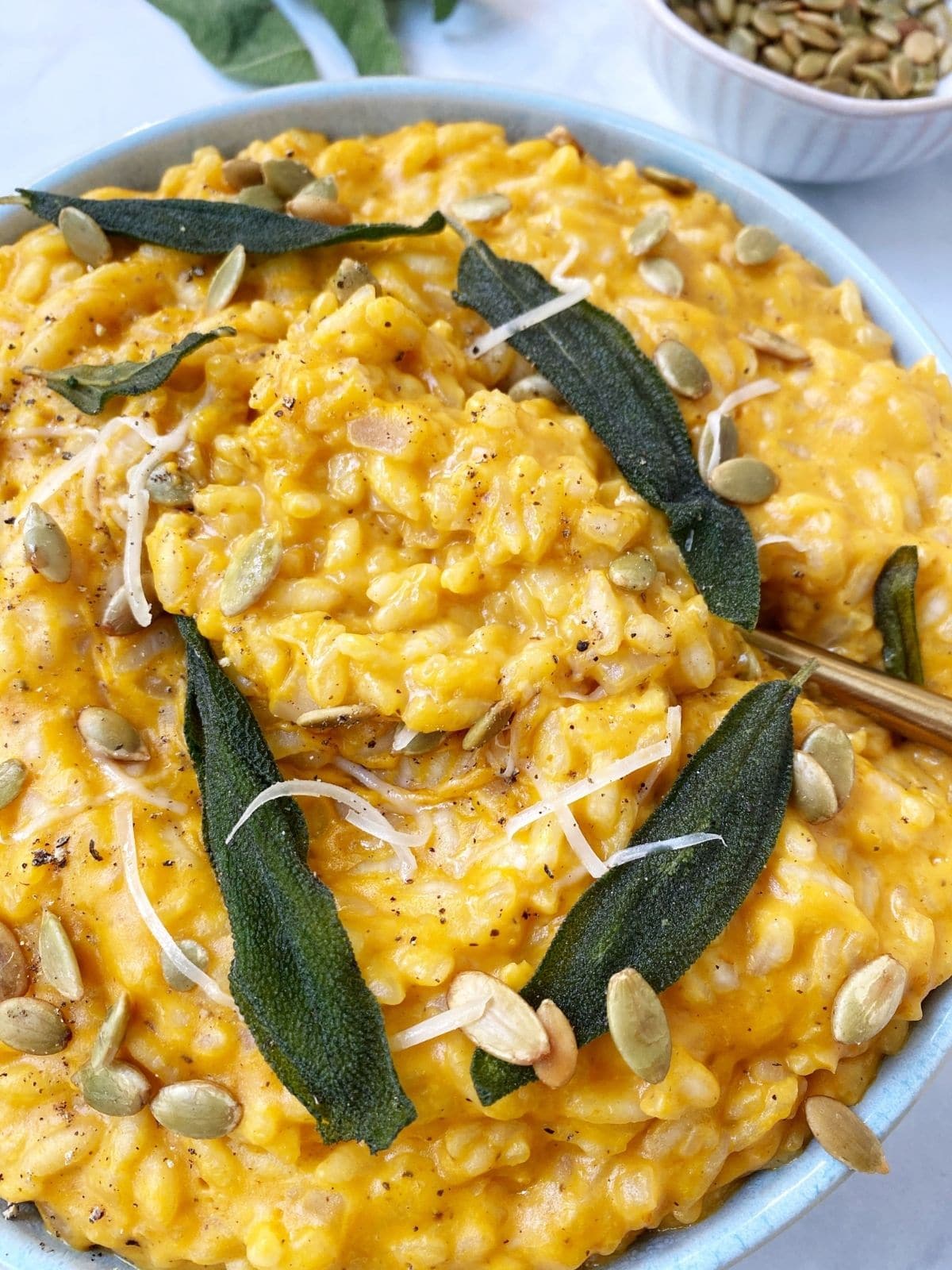 Equipment
Dutch oven | Measuring cups | Liquid measuring cups | Small saucepan | Skillet
Other risotto recipes you may enjoy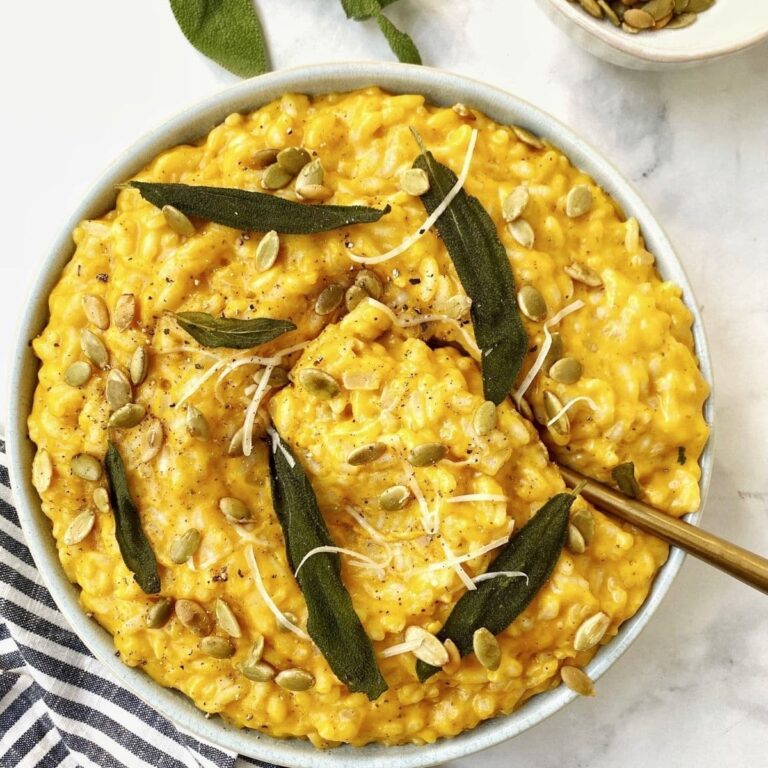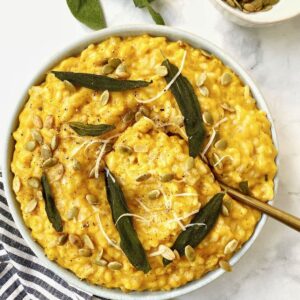 Pumpkin and Sage Risotto
Inspired by the flavors of fall, classic creamy risotto is infused with pumpkin and sage for a comforting side dish.
Ingredients
4

cups

vegetable broth

10

fresh sage leaves

(divided)

2

tablespoons

unsalted butter

½

large

yellow onion

(finely diced)

1 ½

cups

Arborio rice

½

teaspoon

rubbed sage

¼

teaspoon

black pepper

(+ more to taste as needed)

½

teaspoon

salt

(+ more to taste as needed)

½

cup

heavy cream or half-and-half

¾

cup

pumpkin puree

½

cup

shredded Parmesan cheese

2

teaspoons

grapeseed oil

(or similar (for frying sage leaves))

roasted pepitas

(for garnish)
Instructions
Add the vegetable broth to a small saucepan to warm over medium-low heat.  While the broth warms, add 4 large sage leaves to infuse the broth with fresh sage flavor.

Meanwhile, melt 2 tablespoons butter in a heavy bottom pan over medium heat.  Add the diced onion and saute 5 minutes until soft and translucent. Season with rubbed sage, salt, and pepper. Add the arborio rice, stirring to coat the rice with the butter.   Cook for 3-4 minutes to toast the rice. Reduce the heat to medium-low.

Add two ladles of warm broth to the rice, stirring to incorporate.  Cook until liquid is absorbed, stirring frequently.  Add two ladles of stock at a time, stirring and simmering until stock is absorbed before adding more.

Meanwhile, in a small skillet over medium heat, fry the remaining sage leaves in the oil until crisp, 2-3 minutes. Transfer to a paper towel-lined plate. Set aside.

When all of the stock has been absorbed and the rice is al dente, turn the heat down to low. Add the pumpkin and cream and stir until incorporated. Stir in the parmesan cheese.  Season with salt and pepper to taste if needed.  Garnish with fried sage leaves and roasted pepitas.
Nutrition
Calories:
528
kcal
|
Carbohydrates:
69
g
|
Protein:
11
g
|
Fat:
23
g
|
Saturated Fat:
13
g
|
Polyunsaturated Fat:
2
g
|
Monounsaturated Fat:
6
g
|
Trans Fat:
1
g
|
Cholesterol:
67
mg
|
Sodium:
1487
mg
|
Potassium:
221
mg
|
Fiber:
4
g
|
Sugar:
4
g
|
Vitamin A:
8372
IU
|
Vitamin C:
4
mg
|
Calcium:
180
mg
|
Iron:
4
mg
Nutritional information is an estimate and will vary depending upon the exact amounts and specific ingredients used.
Tried this recipe?
Please leave a comment and rating below.
Love this recipe? Follow on Pinterest for more inspiration!