Green Eggs and Ham Quiche is overflowing with asparagus, kale, scallions, ham, and cheese and topped with lemon arugula pesto.
Do you have a favorite Dr. Seuss book? Perhaps The Cat in the Hat or One Fish, Two Fish, Red Fish, Blue Fish? Don't worry! Today's post is not a book review, but this recipe is inspired by Dr. Seuss' Green Eggs and Ham.
Let me start by clarifying that this recipe is not a literal interpretation. I don't think green eggs are particularly appetizing. Instead, I loaded this quiche with green vegetables and ham and topped with arugula pesto - plenty of green to go with the theme.
My green vegetables of choice for this quiche are roasted asparagus, sauteed kale, and chopped scallions. The lemon and arugula pesto adds more freshness and color, and the burst of lemon enhances all of the flavors.
Quiche is one of my favorite breakfast dishes to make. It's so versatile, and the flavor combinations are endless. It's a great way to use up whatever veggies are in your fridge. When baked in a tart pan, a quiche looks fancy, but yet is so easy to make.
Quiche is delicious served hot as well as at room temperature. Leftovers keep well and can easily be reheated for breakfast throughout the week. A slice of quiche paired with a salad makes a perfect lunch, too!
Tips for making Green Eggs and Ham Quiche
Store-bought and homemade pie crusts both work just fine.
I like using a tart pan, but a pie dish can also be used.
Change up the veggies to fit personal preference or what you have on hand.
I used Jarlsberg cheese (which is sometimes marked as Swiss), but any swiss or gruyere cheese is a delicious option and pairs perfectly with ham.
I recommend placing the tart pan on a baking sheet to catch any spills.  It's also much easier to transfer the very full pan to the oven.
Quiche is really delicious any time of day. I hope you try this recipe and please leave a comment if you do - or tag me on Instagram #mycasualpantry.
Other quiche recipes you may also enjoy
Green Eggs and Ham Quiche
A savory quiche filled with asparagus, kale, scallions, ham and swiss. Delicious for breakfast or brunch.
Ingredients
1

pie crust for a 9-inch tart pan

10

spears asparagus, trimmed

2

stalks kale, stems removed and chopped

1

scallion, chopped

½

cup

diced ham

1

cup

shredded Jarlsberg or Swiss cheese

3

eggs

1 ½

cups

heavy cream

½

teaspoon

black pepper

salt, to taste

lemon arugula pesto, for topping (see recipe below)
Instructions
Preheat oven to 450 degrees. Press the pie crust into a 9-inch tart pan, either trimming the excess or folding over to form a thicker edge. Prick the bottom of the crust with a fork. Cover with aluminum foil and fill with pie weights or dry beans. Bake for 10 minutes. Remove the aluminum foil and bake another 5 minutes until lightly brown. Set aside.

Reduce oven temperature to 400 degrees. Place asparagus spears on a sheet pan. Drizzle lightly with oil and sprinkle with salt and pepper. Roast for 10 minutes. Set aside.

In a skillet over medium heat, add a drizzle of oil and the kale. Season with salt and pepper and saute until wilted, about 5 minutes. Set aside.

Cut the asparagus into one-inch pieces. Layer the asparagus, kale, scallions, and ham in the pie crust. Sprinkle with the cheese.

In a bowl, whisk together the eggs, heavy cream, and black pepper. Pour the mixture over the vegetables, ham, and cheese. Place the tart pan on a baking sheet and bake for 25 - 30 minutes until center is set. Let cool for 5-10 minutes before slicing. Serve with a dollop of lemon arugula pesto (recipe below). Refrigerate leftovers.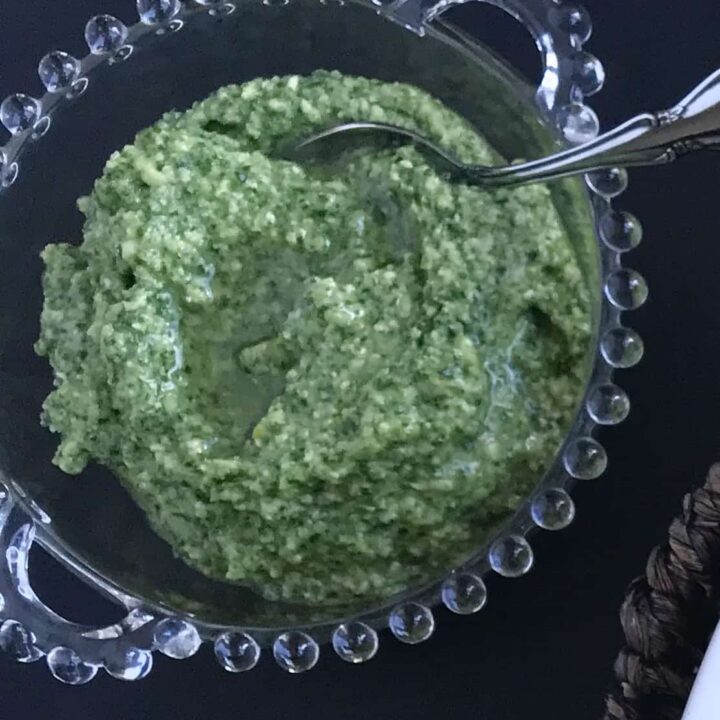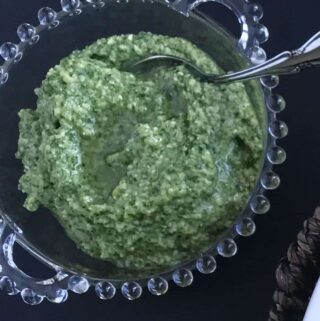 Lemon Arugula Pesto
A delicious pesto with arugula and plenty of lemon.
Ingredients
3

cups

(lightly packed) arugula

¼

cup

pine nuts, toasted

⅓

cup

parmesan cheese, grated

3

cloves of garlic, smashed

zest and juice of one lemon

¼

cup

grapeseed (or olive) oil, plus more if needed to achieve desired consistency
Instructions
To the bowl of a food processor, add the arugula, toasted pine nuts, garlic, parmesan cheese, and lemon zest and juice. Pulse until arugula is finely chopped. With the food processor running, drizzle in the oil until the mixture comes together and is a spreadable consistency.
Notes
This recipe yields approx. 1 cup of pesto.