Roasted Potatoes are seasoned and oven-roasted until tender and caramelized. The perfect accompaniment to steak, chicken, pork - well almost anything!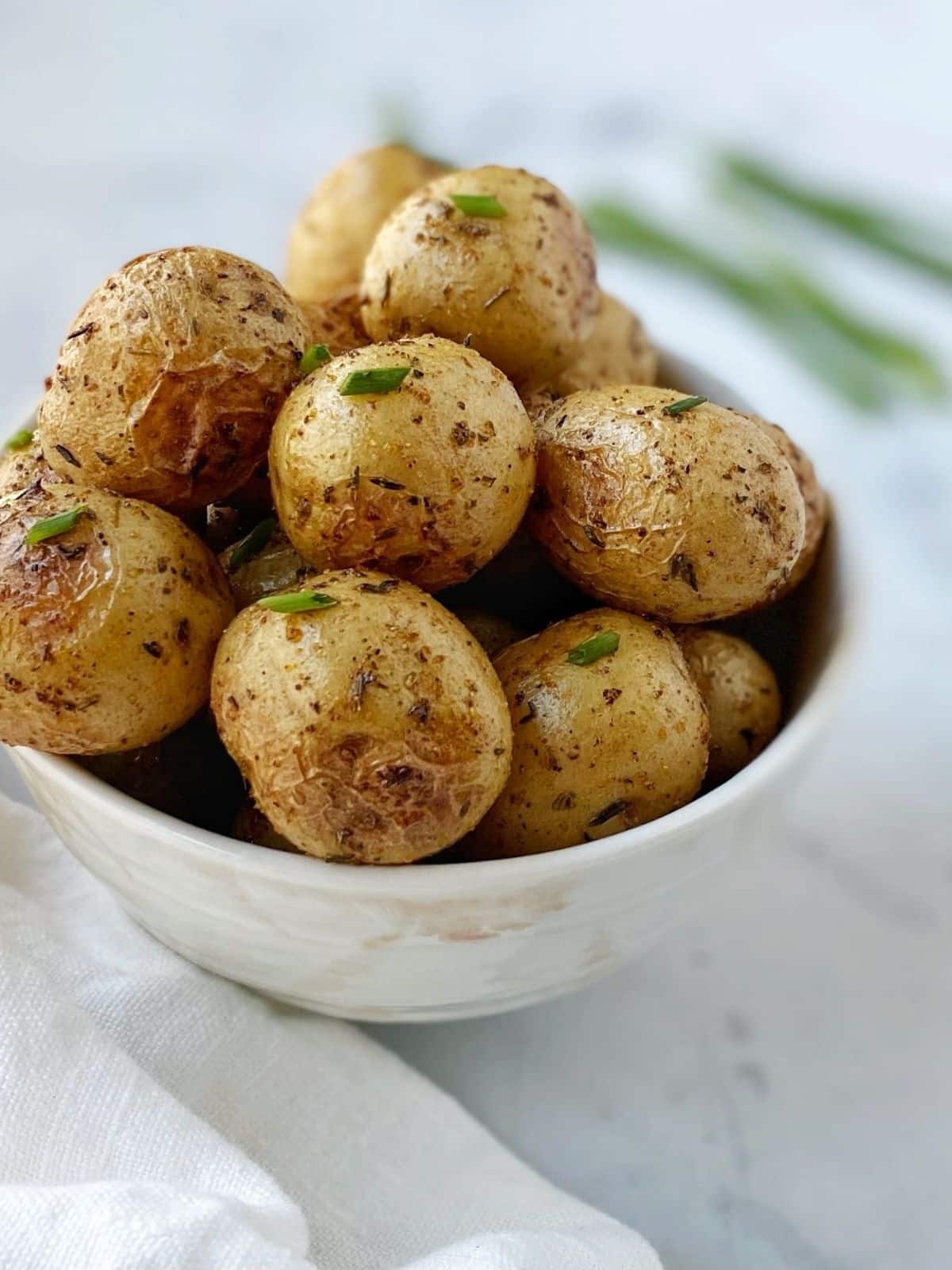 Easy side dish
Roasted potatoes are one of my favorite go-to side dishes. They are easy to prepare and can be seasoned any way you like. They are a delicious side dish for everything from steak and chicken to pancakes and eggs. Leftovers are equally yummy in hash or frittatas.
Types of potatoes for roasting
I like using baby potatoes because they cook quickly and are so creamy on the inside. Use red or white or a combination of both. Larger potatoes can also be used. Just cut the potatoes into smaller, uniformly-sized chunks. It's important for the potatoes to be cut into uniform pieces so they roast evenly.
fingerling - cut in half lengthwise before roasting for a pretty presentation
russets
Yukon gold
red potatoes
sweet potatoes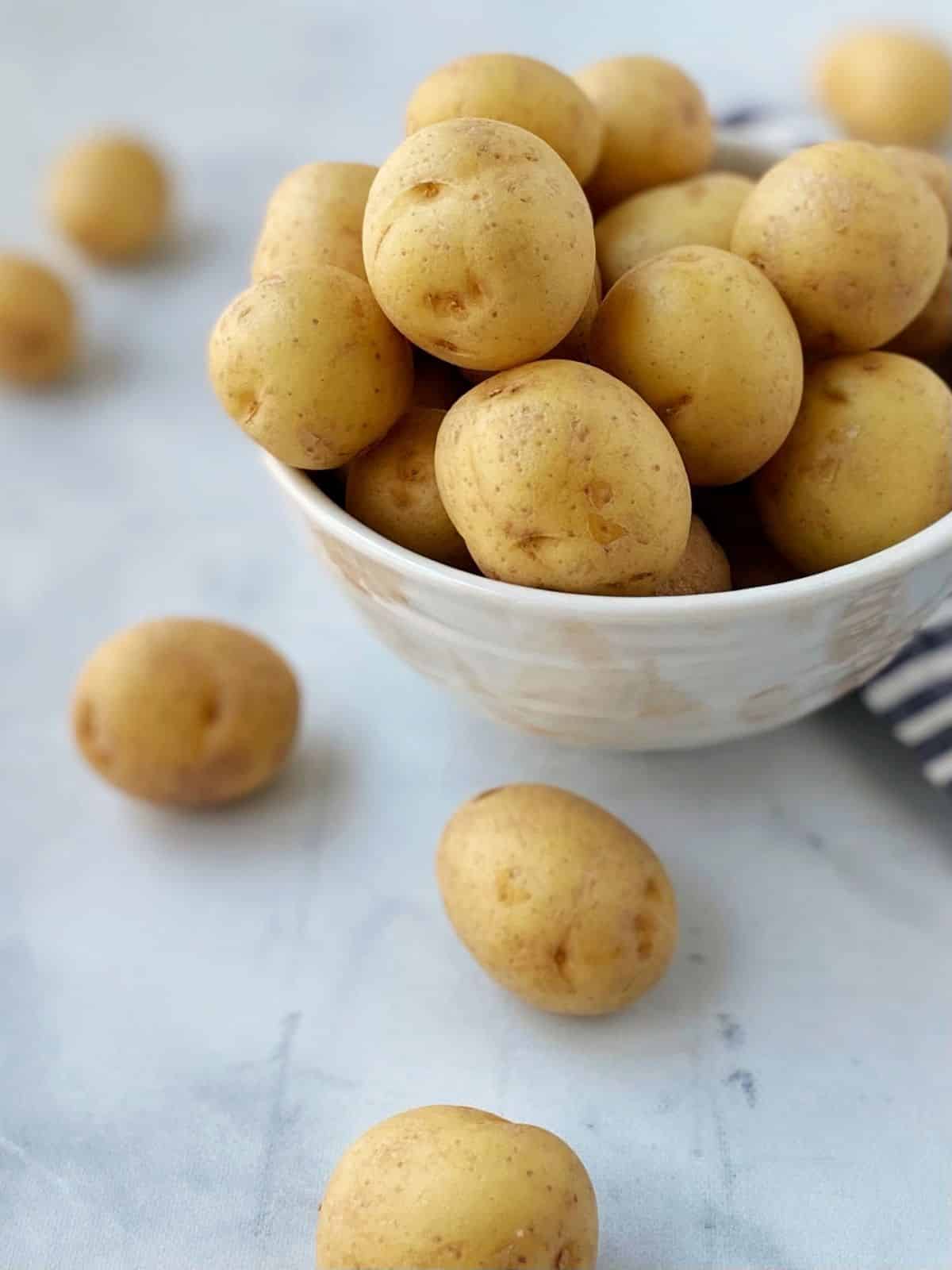 Seasonings
Potatoes can be seasoned with a variety of herbs and spices. You can customize the flavors to compliment the rest of the meal. Some of my favorite seasonings for roasted potatoes include:
onion powder
garlic powder
paprika
lemon-pepper seasoning
dried thyme, oregano, or rosemary
freshly ground black pepper
steak seasoning (such as Montreal)
chili powder
cumin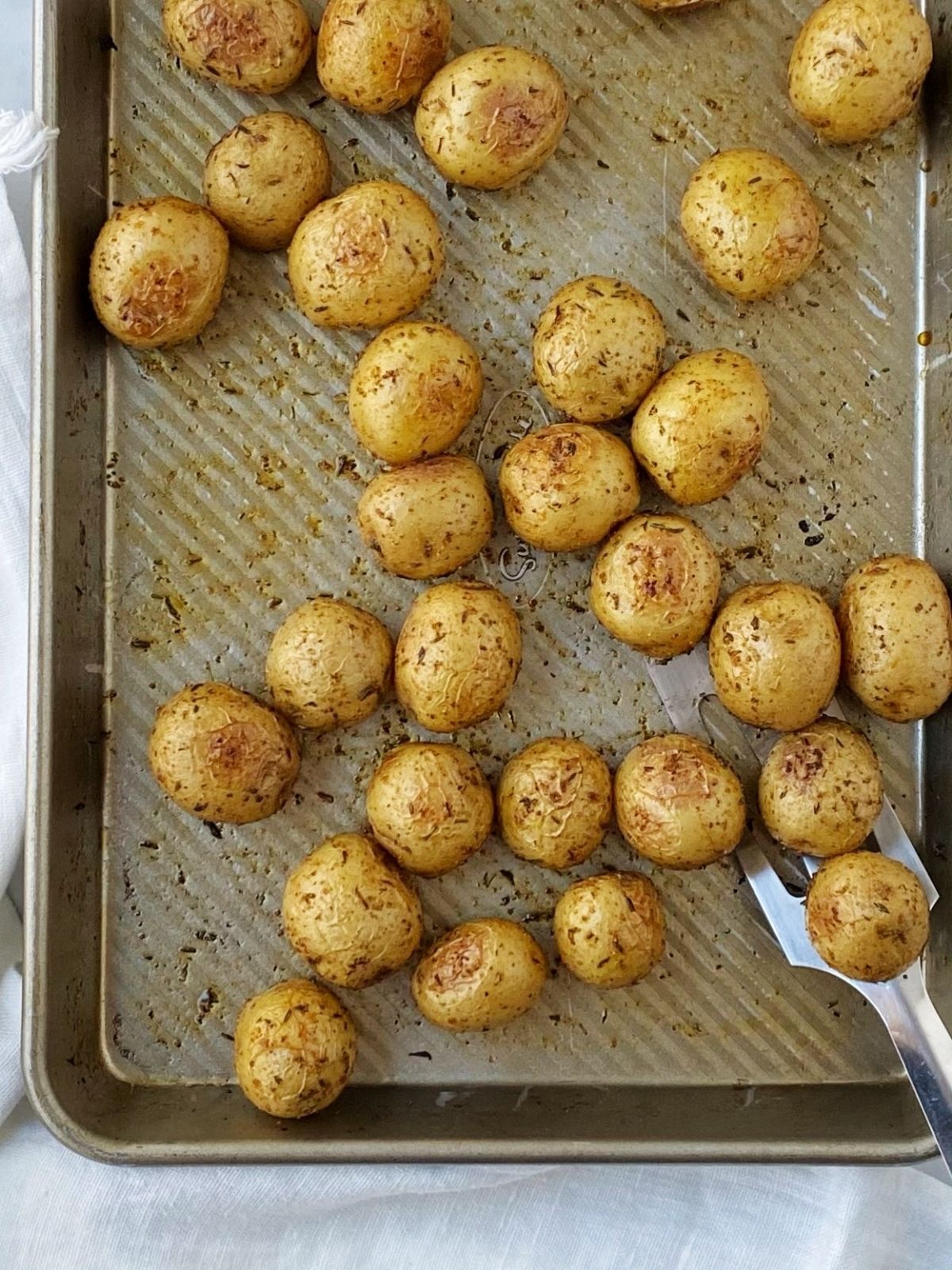 Tips for making
Cut the potatoes into uniformly-sized pieces for even roasting. For baby potatoes, leave the smallest ones whole and cut the larger ones in half.  For larger potatoes, cut into ¾-1 inch pieces.
Use a bowl to toss the potatoes with oil and seasonings.  This helps use less oil and allows for even distribution of the oil and seasonings over all of the potatoes.
Preheat the sheet pan in the oven.  A hot pan helps to prevent the potatoes from sticking. The potatoes will start cooking as soon as they hit the hot pan (I love that sizzle)!
Don't overcrowd the baking sheet. If crowded, the potatoes will steam instead of roast, and we want the potatoes to brown and caramelize.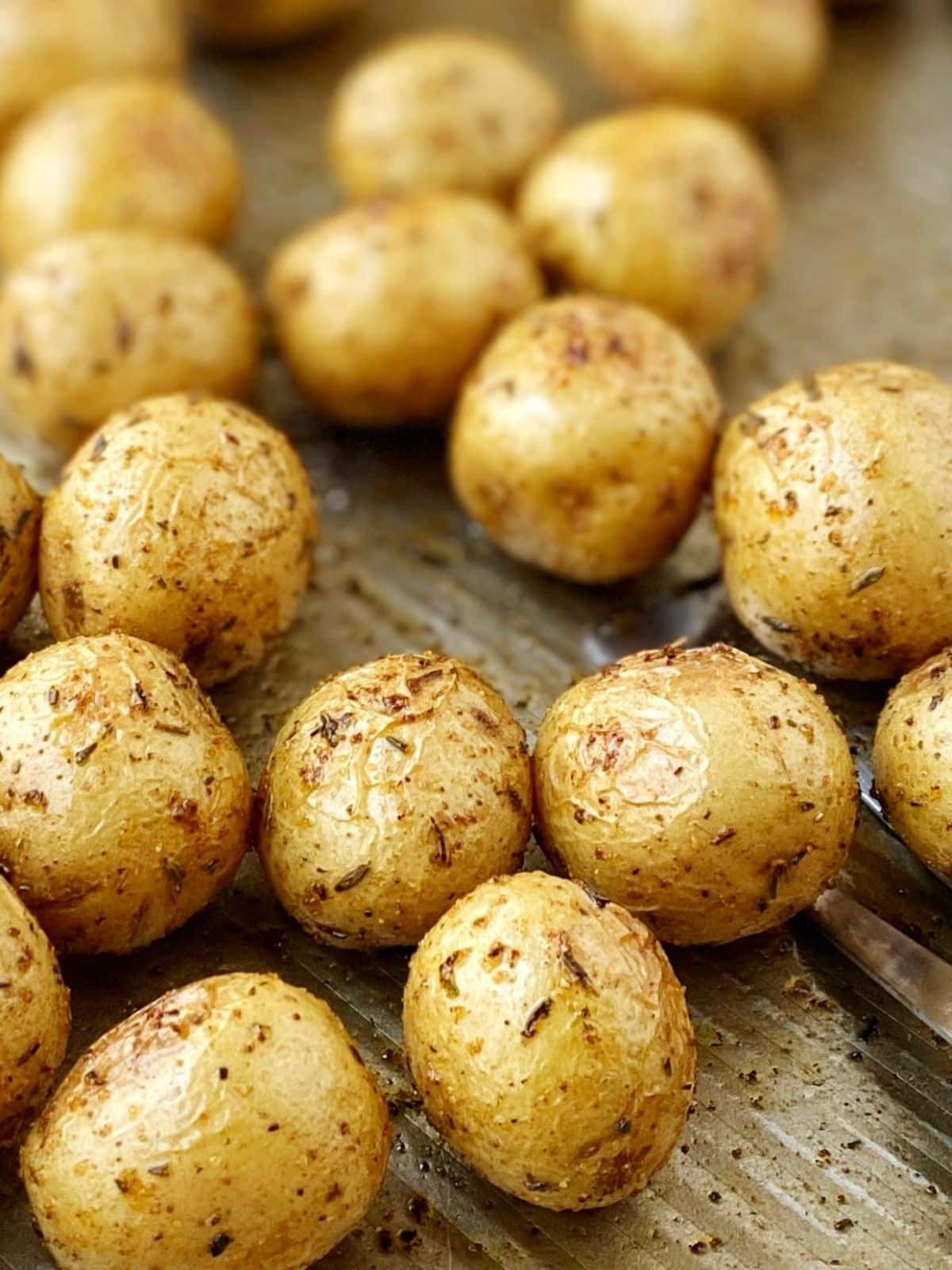 Serving
There are so many options for garnishing and serving these creamy, roasted gems.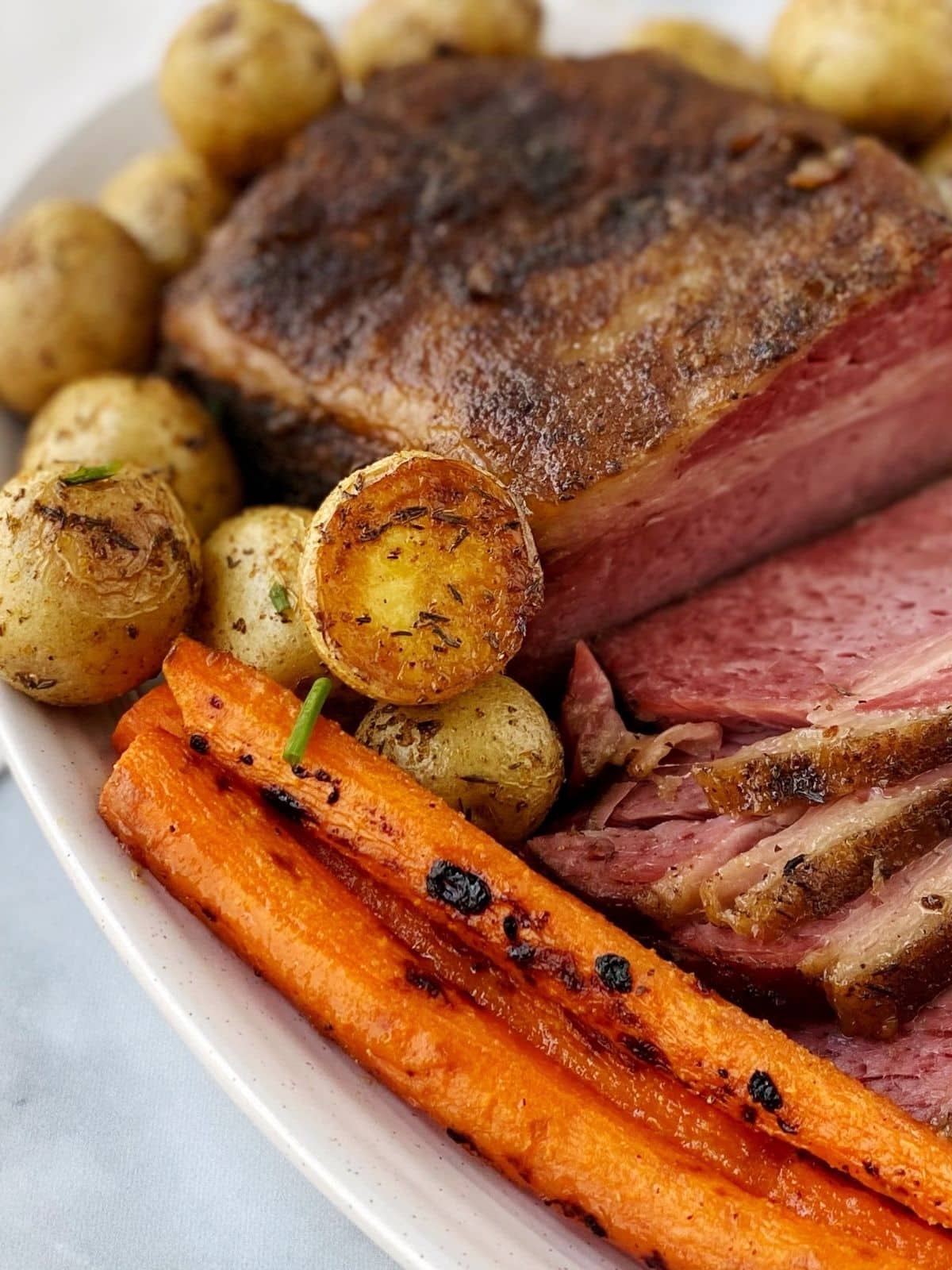 If you try this recipe, please leave a comment below and tag me on Instagram @mycasualpantry so I can see your creation.
More potato recipes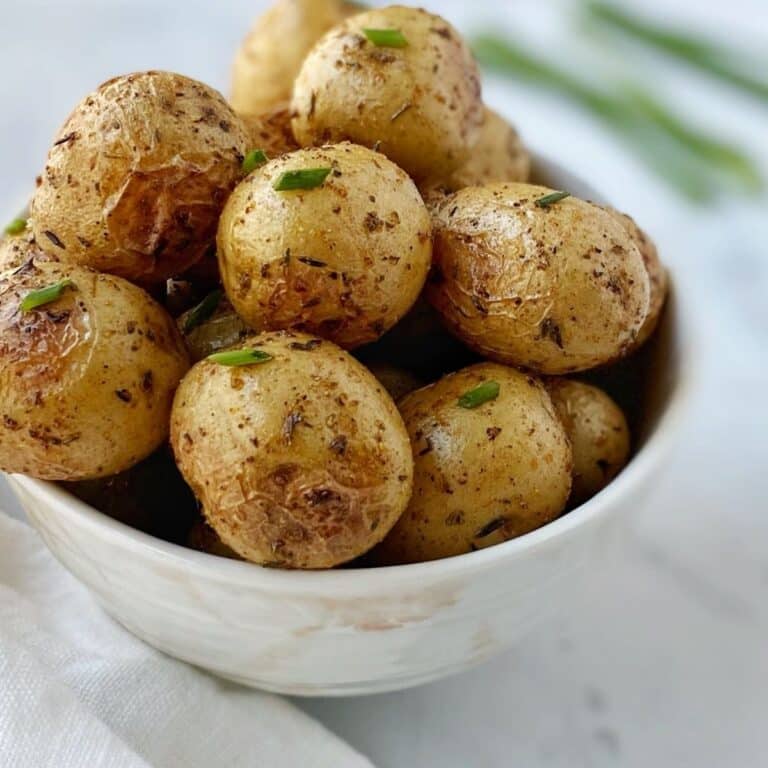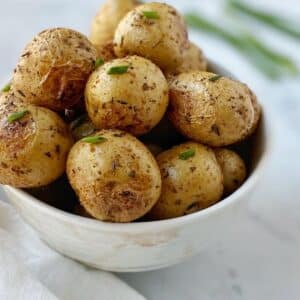 Easy Roasted Potatoes
Baby potatoes seasoned and roasted until they are creamy and tender and caramelized on the outside.
Ingredients
24

ounces

baby potatoes

1

tablespoon

oil

¼

teaspoon

garlic powder

¼

teaspoon

onion powder

½

teaspoon

paprika

½

teaspoon

dried thyme

¼

teaspoon

black pepper

½

teaspoon

salt
Instructions
Preheat oven to 425 degrees.  Place the sheet pan in the oven to preheat.

Cut the larger potatoes in half and leave the smaller ones whole.  To a mixing bowl, add the potatoes, oil, and seasonings.  Toss to combine. 

Spread the potatoes on the baking sheet.  Bake for 10 minutes and toss the potatoes. Bake for another 10 minutes or until the potatoes are caramelized on the outside and tender on the inside. 
Have you tried this recipe?
Please leave a star rating and comment below and share a photo on Instagram. Tag @mycasualpantry and use hashtag #mycasualpantry
Author's note: This post was originally published in March 2019 and has been updated.