Cheesy Mummy Bratwurst - cheese, crescent roll dough, and green olives are all you need to turn brats into a festive fall and Halloween-themed snack.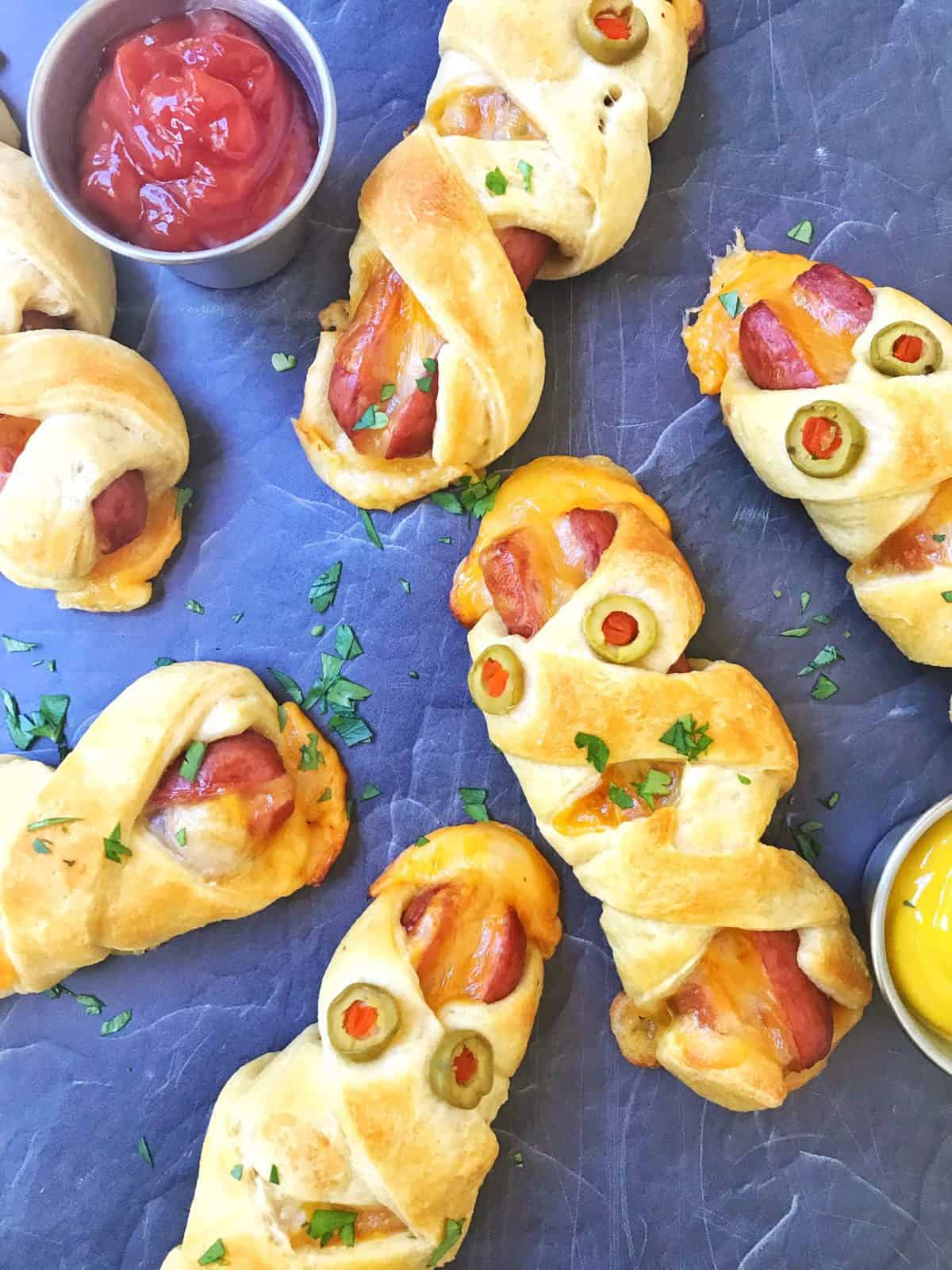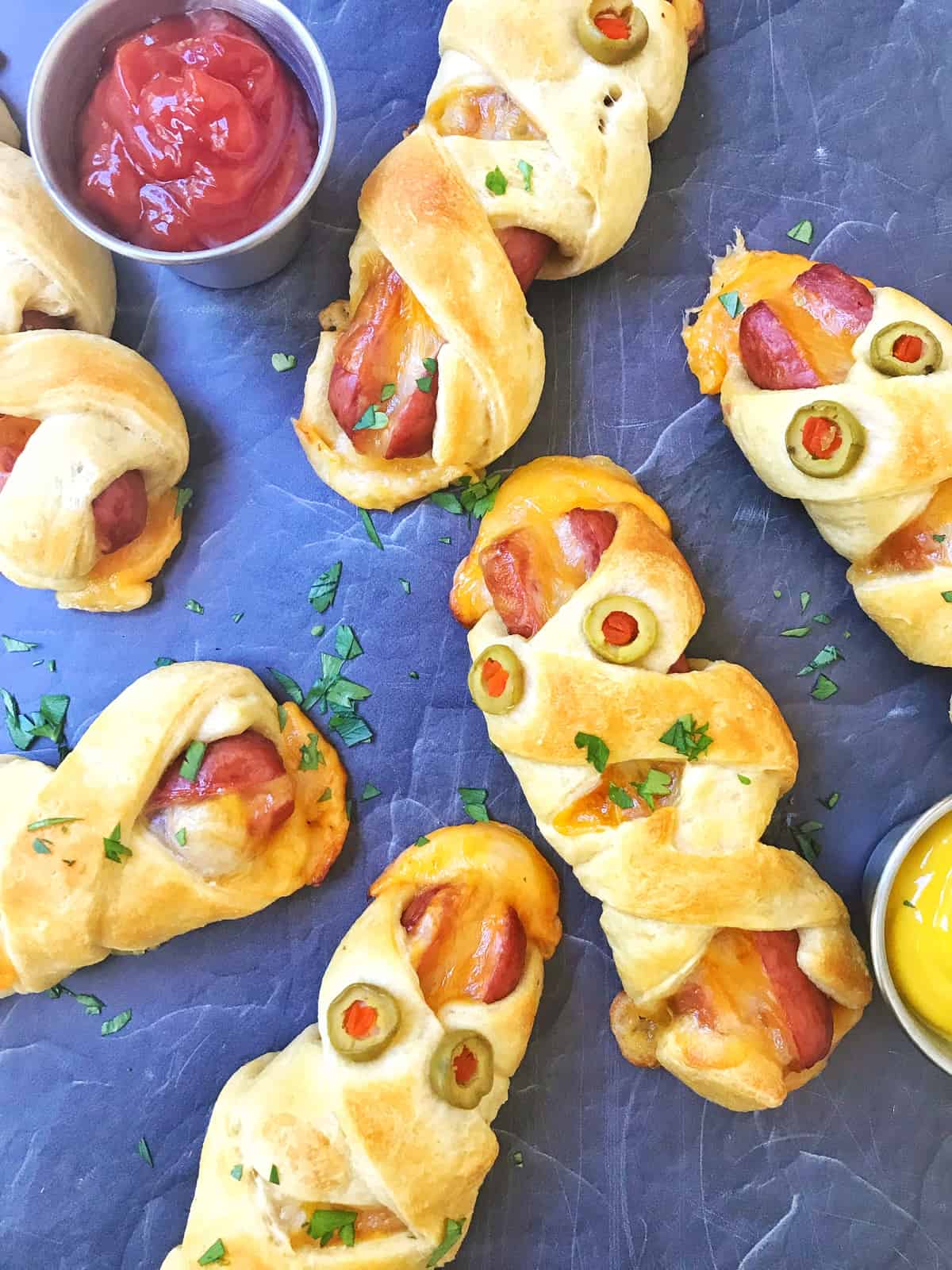 We're more than half-way through September and there's been a nip in the morning air lately, so I think it's appropriate to have a little fun with festive ghoulish food! There's something about Halloween-themed food that is fun for all ages. Kids and adults alike love these Cheesy Mummy Bratwurst.
Cheesy Mummy Bratwurst
With a pigs-in-a-blanket flair, these bratwursts are stuffed with cheese, wrapped in dough in a mummy-like fashion, and adorned with green eyes for that ghoulish twist. Who can resist a cheese-filled brat wrapped in buttery dough? They are absolutely ghoulicious!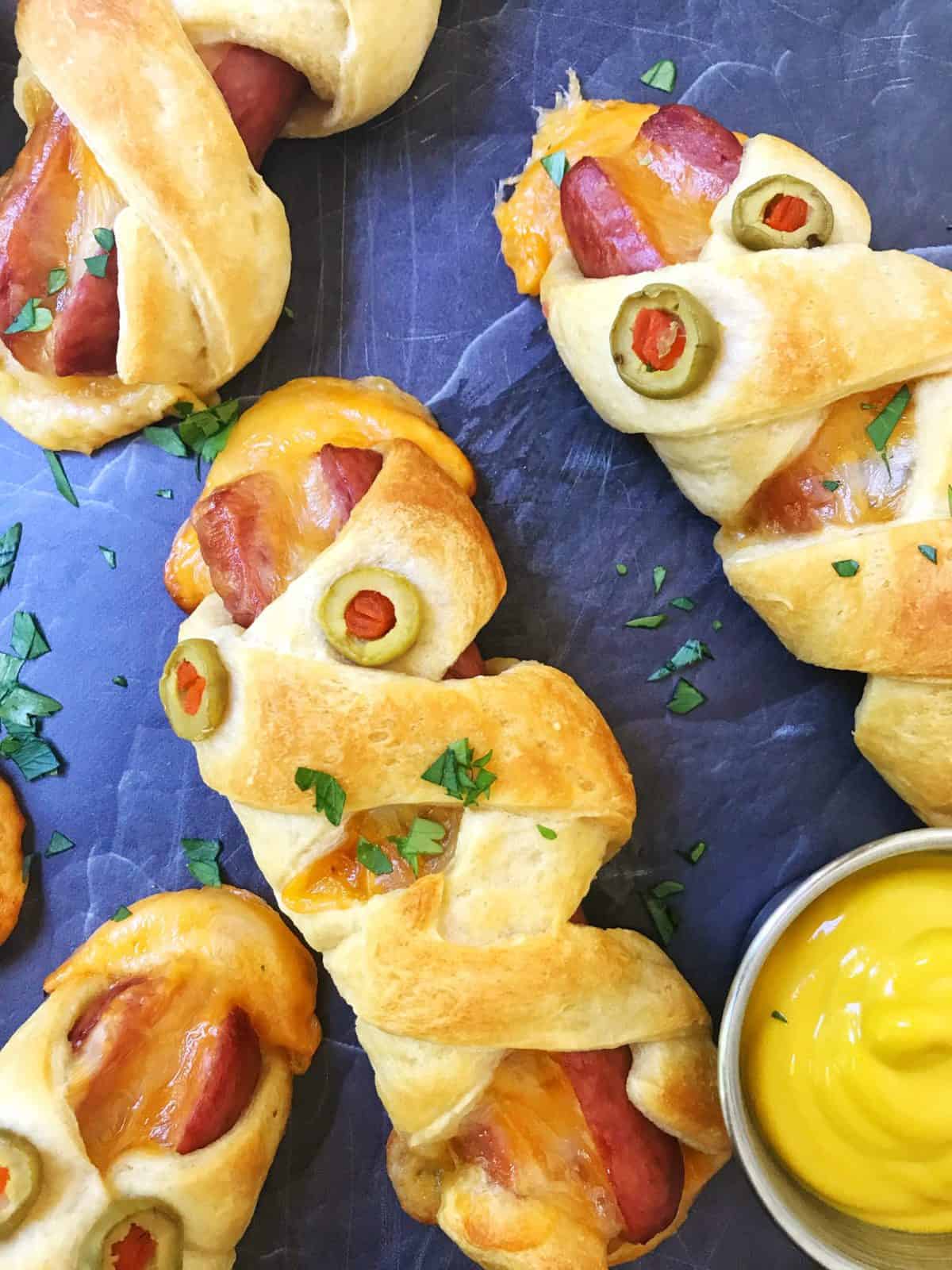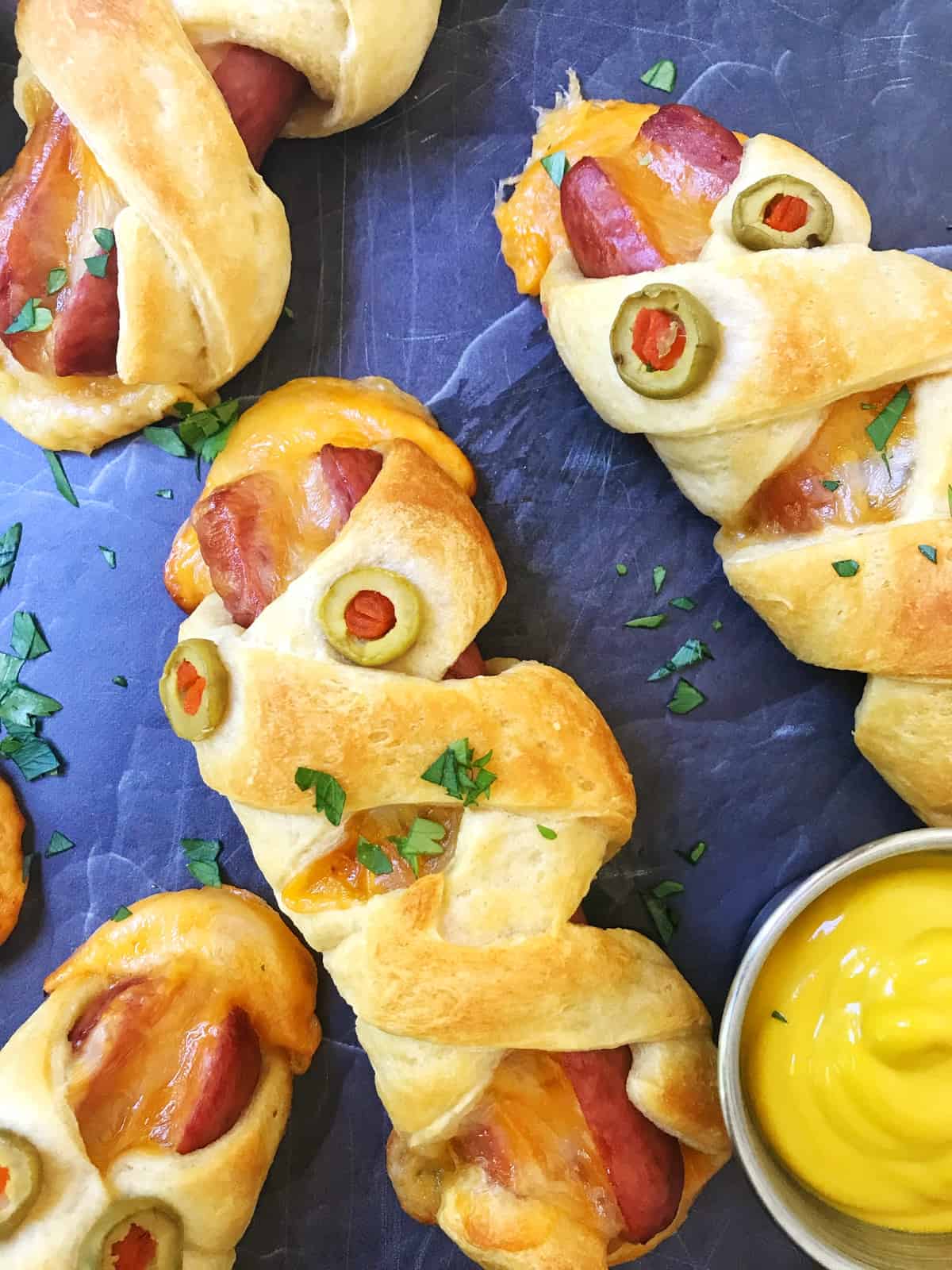 Preparing these brats is quick and easy and only requires four ingredients.
Pre-cooked brats - the pre-cooked brats only need to be heated through. Uncooked brats likely wouldn't have time to cook all the way through since they are only baked long enough for the dough to brown and the cheese to melt.
Cheese sticks - I like using individually wrapped cheese sticks which are the perfect size for stuffing the brats. Cheddar and Colby is my favorite, but Pepperjack cheese would be delicious too.
Crescent roll dough - simply crack open the can, press the seams together, cut into strips, and wrap around the brats in a mummy-like fashion. I prefer the reduced-fat variety because it isn't so greasy.
Spanish manzanilla olives - these green olives stuffed with pimentos are the perfect ghoulish touch for mummy eyes.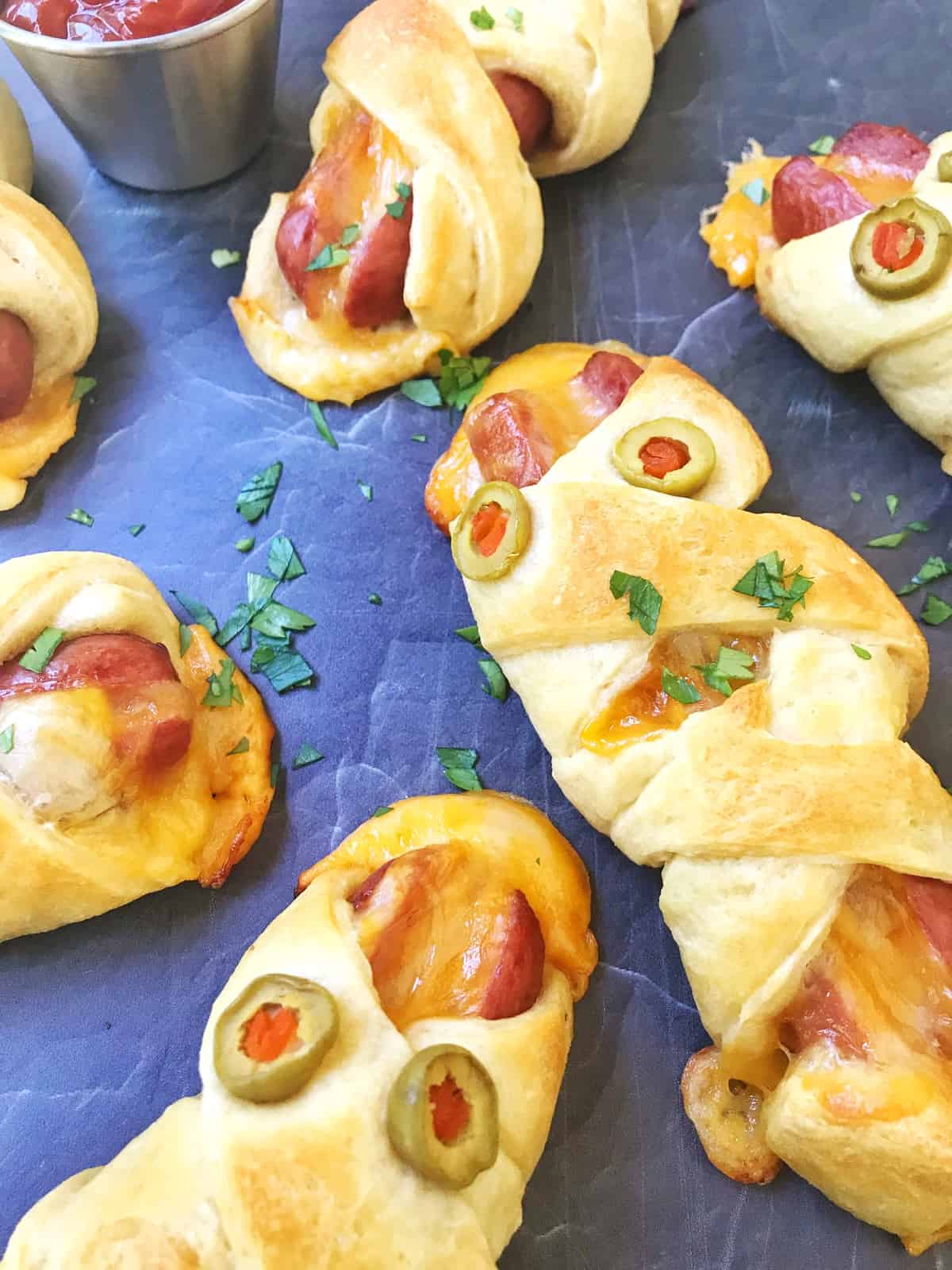 Bake for approx. 15 minutes until golden brown. Serve with mustard and ketchup for dipping. Festive enough for a Halloween snack spread, but delicious for dinner any time of the year. Cheesy Mummy Bratwurst are sure to be a hit with the whole family. If you try this recipe, please leave a comment below and tag me on Instgram @mycasualpantry so I can see your ghoulish creation.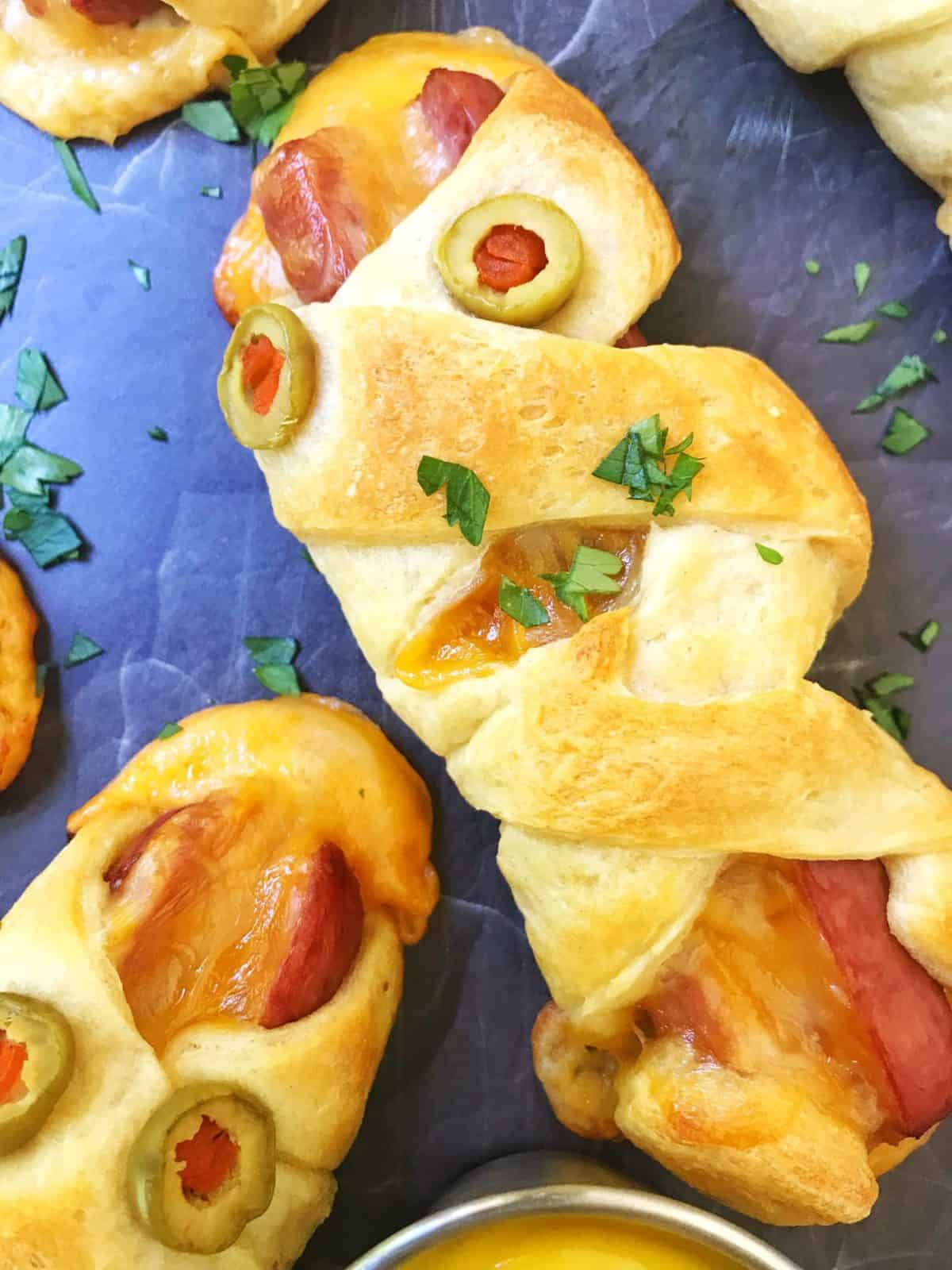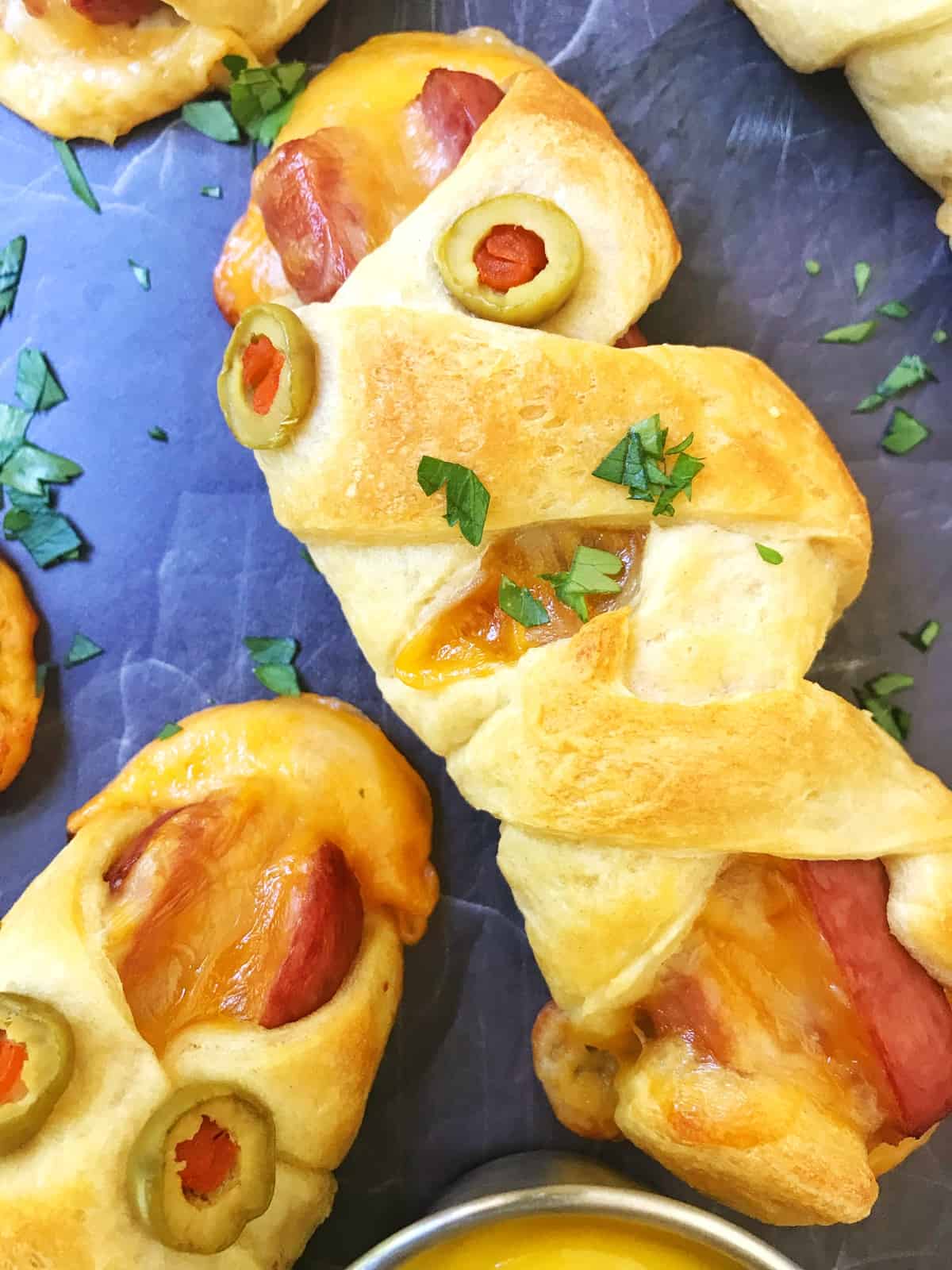 More fall recipes you may enjoy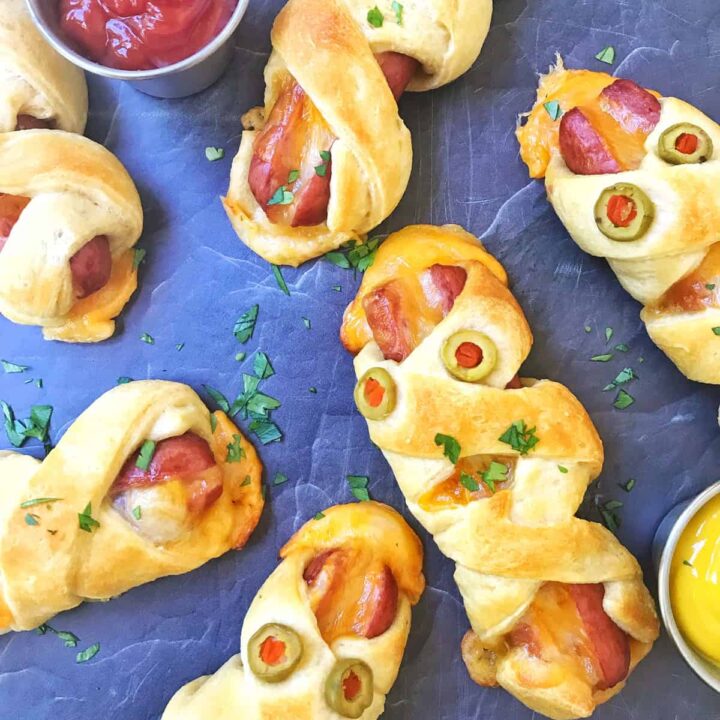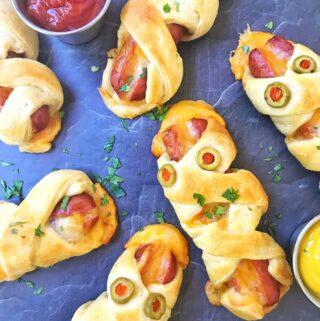 Cheesy Mummy Bratwurst
Bratwurst stuffed with cheese and wrapped in crescent roll dough. Olive slices add to the festive Halloween theme of these brats.
Ingredients
6

pre-cooked bratwurst

6

sticks

cheddar or Colby cheese

8

ounces

crescent roll dough

reduced-fat (or regular)

3-4

Spanish manzanilla olives

(need 12 thin slices)
Instructions
Preheat oven to 375 degrees.

Cut a slit lengthwise in the bratwurst without cutting completely through. Place a stick of cheese in the slit of each bratwurst. Set aside.

Cut the olives into thin slices. You need 12 slices in total. Set aside.

Unroll the crescent roll dough and press the perforations together to create a rectangle of dough. Cut the dough into twelve even strips. Wrap two strips around each brat, alternating direction, to achieve a "mummy" look. Place two olive slices for the eyes on one end of each bratwurst.

Bake for 15-16 minutes until crescent roll dough is golden brown and cheese is melted. Serve with ketchup and mustard for dipping.